Why The Public Will Never Know KFC's Secret Recipe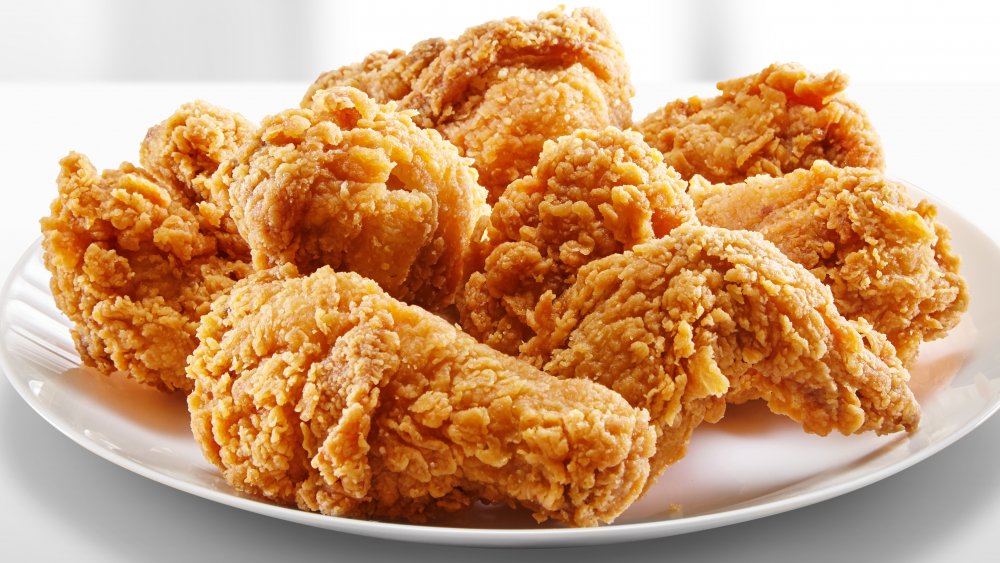 Shutterstock
Secret recipes still exist, even in these days of information overload. The Coca-Cola Company takes great pride in keeping its formula a secret. Some once-confidential treats are available: You can find out how to make DoubleTree's gooey chocolate chip cookies, revealed this year by Hilton themselves to comfort fans during Covid. McDonald's opened up in 2020, too, and tweeted the elements needed for a perfect Sausage & Egg McMuffin this year. As did IKEA, who told the public how to make those famous meatballs and sauce. There's an abundance of web resources to ease your craving when you want to whip up something iconic without going to the store — for example, from Tasty, we learn how to make our very own Oreos. That being said, you would think that somewhere within the nooks and/or crannies of the internet someone would have already divulged the special ingredients in Colonel Harland Sanders' Kentucky Fried Chicken, but no one has ... yet. Where's the love, KFC?
Maybe the details remain unknown because of the great lengths the company goes to keeping those 11 herbs and spices undiscovered. KFC uses two companies to prepare the ingredients necessary to make that delicious crusty chicken, so only one person at each of those manufacturers knows just half the materials used. A computer processing system is then used to blend the two separate parts together. Presto: yummy fast food.
Colonel Sanders Creates a Legacy With One Recipe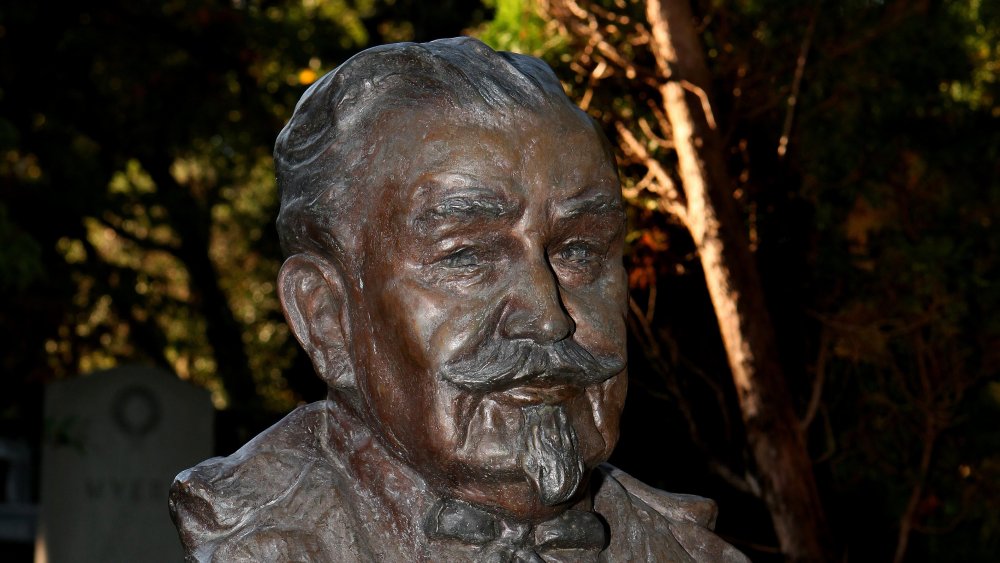 Raymond Boyd/Getty Images
The actual full recipe, written in the Colonel's own hand, is kept in a safe to which only one person has the combination, according to Gizmodo. The vault, in the legal department at KFC headquarters, looks innocuous — not like the Mission: Impossible locked spaces seen in the movies. It looks more like a broom closet, actually. Next to the coffee machine.
Then again, Colonel Sanders was rather eccentric himself. Think of his daily dress — spectacles, black skinny tie, goatee, and all-white clothes. A self-made man, Sanders worked multiple jobs until the age of 40. He never really succeeded in anything until striking it big selling comfort foods like ham and okra out of a gas station to travelers, according to the History Channel. Ironically, chicken wasn't on his regular menu, because pan-fried chicken took 30 minutes to prepare. But in 1939, said The New Yorker, Sanders began using a pressure cooker to make the chicken, and that singular, remarkable innovation allowed him to cook it to perfection much more quickly. In 1952, he hooked up with his friend, Pete Harman, who owned a restaurant, and taught Harman the secret of this special process. As Harman's business grew, other restaurant owners made informal franchise agreements, and gave Sanders four cents for each chicken served.
It was quite canny on his part. The New York Times reported in 2018 that human beings the world over consume 65 billion chickens every year.
Maybe the secret recipe isn't so secret?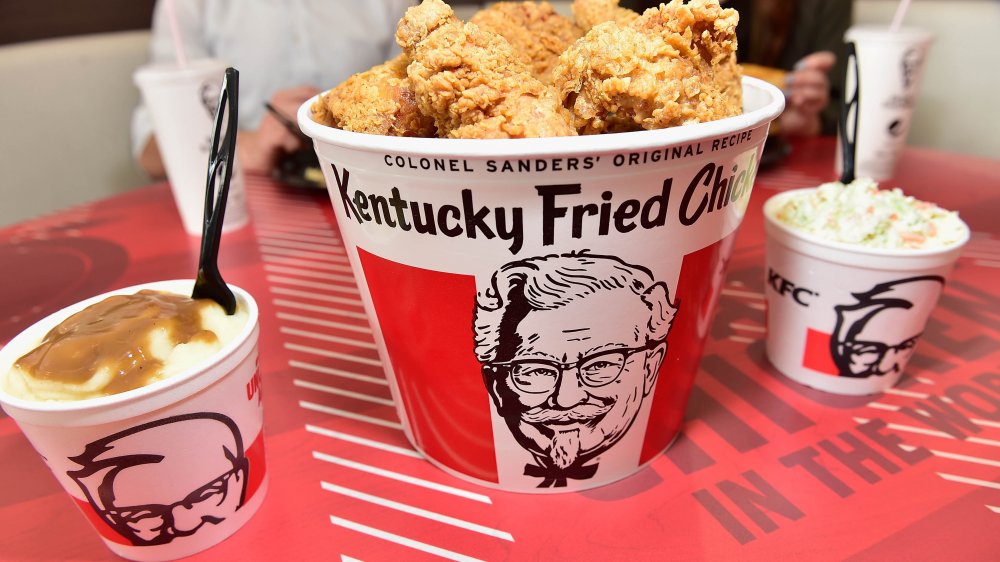 Moses Robinson/Getty Images
Clearly, the Colonel was on to something. Sanders decided franchising was his key to success and hit the road looking for restaurants to buy into his methodology, according the The New Yorker. Several years later, people began approaching the Colonel, offering to go into business with him. Sanders never gave anyone his recipe. His wife would mix the secret formula and then ship it to the restaurants. By 1963, he had more than 600 franchises in the United States and Canada.
Lovers of the special 11 herbs and spices got excited in 2016 when the Chicago Tribune published an article about seeing a revelation in a scrapbook that had belonged to Sanders's second wife, "Aunt Claudia" Ledington. It seems that hopes of KFC lovers soared when a reporter saw a handwritten note on the back of her last will and testament, titled "11 Spices — Mix With 2 Cups White Fl" that detailed all the ingredients. Staff at the newspaper used the document to make a batch of fried chicken and declared it "finger lickin' good." So was it the real deal? When asked about the document by journalist Jay Jones, the KFC corporation admitted nothing.
We may never know the truth, but fried chicken fans can fry up their own dinner (using that version or the many suggestions on YouTube) and see what they think.