The Truth About Neil Diamond's Sweet Caroline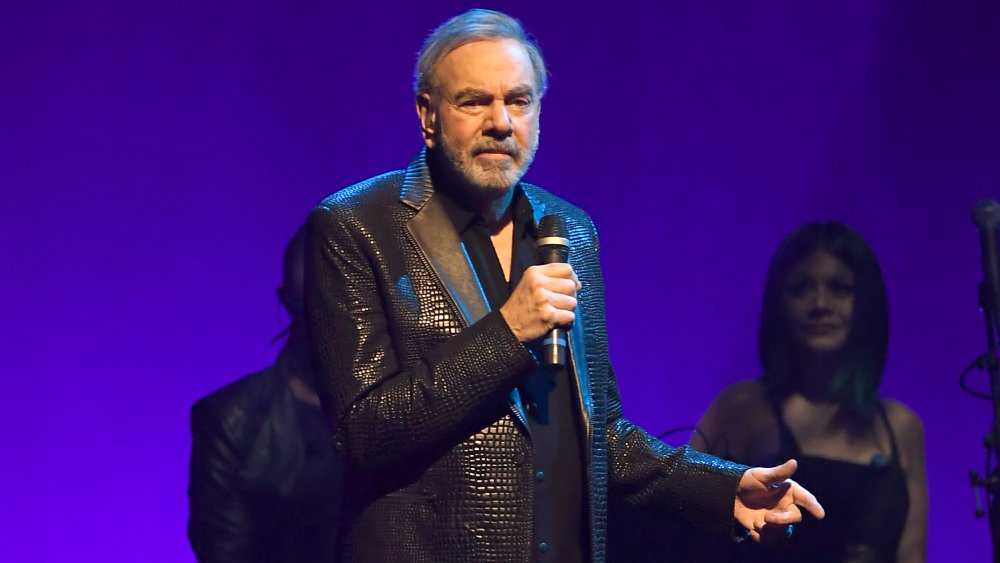 Bryan Steffy/Getty Images
When Neil Diamond released "Sweet Caroline" in 1969, he probably had no idea that the song would follow him throughout the rest of his career and remain well-known and well-loved over 50 years later. The second single off Diamond's album Brother Love's Traveling Salvation Show (an extremely 1969 album name if ever there was one), the song was released with the title "Sweet Caroline (Good Times Never Seemed So Good)" and went to number four on the Billboard Hot 100 chart. The song did even better on Billboard's Easy Listening chart, where it peaked at number three — surprising for a song that would be used to hype up crowds at sporting events. 
Diamond told the Association Press in 2007 (as reported by The Guardian) that the inspiration for the song came while he was staying at a Memphis hotel. There he saw a photograph of then-nine-year-old Caroline Kennedy, daughter of United States President John F. Kennedy, in a magazine. "It was a picture of a little girl dressed to the nines in her riding gear, next to her pony," remembers Diamond. "It was such an innocent, wonderful picture, I immediately felt there was a song in there." Diamond eventually got to share this story with Caroline Kennedy Schlossberg herself when he performed the song for her on her 50th birthday. Says Diamond, "I thought she might be embarrassed, but she seemed to be struck by it and really, really happy."
Sweet ... Marsha?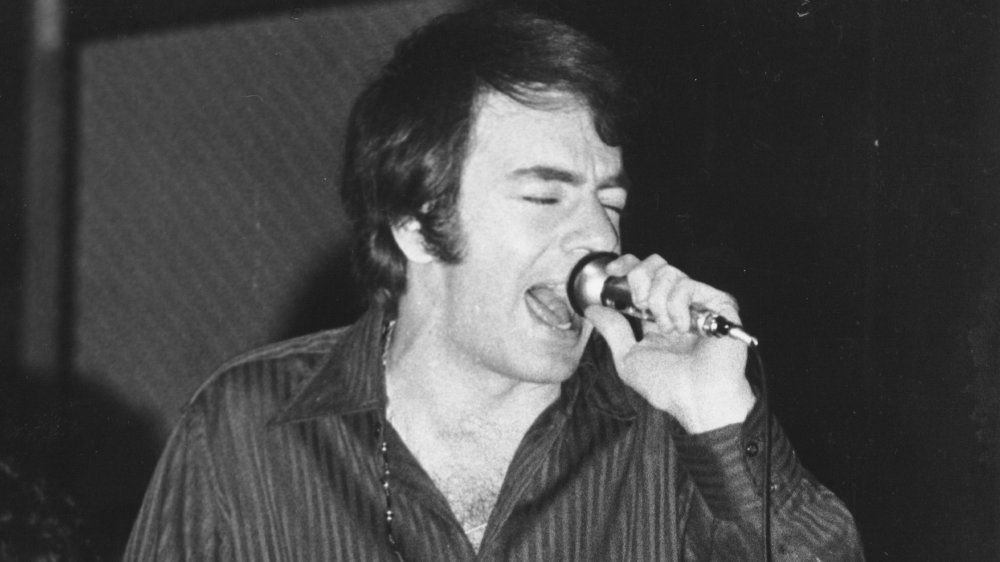 Michael Ochs Archives/Getty Images
Just when we thought we had all the necessary facts on the origins of "Sweet Caroline," Diamond later told a different story about how the song came to be. When he appeared on the Today show in 2014 to sing the song on-air, he told interviewers that he was aware of Caroline Kennedy, but noted, "I was writing a song in Memphis, Tennessee, for a session. I needed a three-syllable name. The song was about my wife at the time — her name was Marsha — and I couldn't get a 'Marsha' rhyme." It's true. "Sweet Marsha" doesn't have quite the same ring to it. 
One of the more surprising aspects of "Sweet Caroline" is its popularity as a hype song at sporting events. Iowa State, the University of Pittsburgh, and Penn State all play the song during games, and UFC fighter Darren Till used it as his walk-on music in 2018 to thunderous applause, explaining that "he wanted to create a party atmosphere in the arena so opted for the sing-song classic courtesy of Neil Diamond." Perhaps the most notorious sports association with "Sweet Caroline" is that of the Boston Red Sox baseball team. The song has been a staple at Fenway Park since 1997, when, according to MLB, "Amy Tobey, who was one of the employees in charge of music at the ballpark during that season, played 'Sweet Caroline' because someone she knew had just had a baby named Caroline."
Hands ... washing hands ...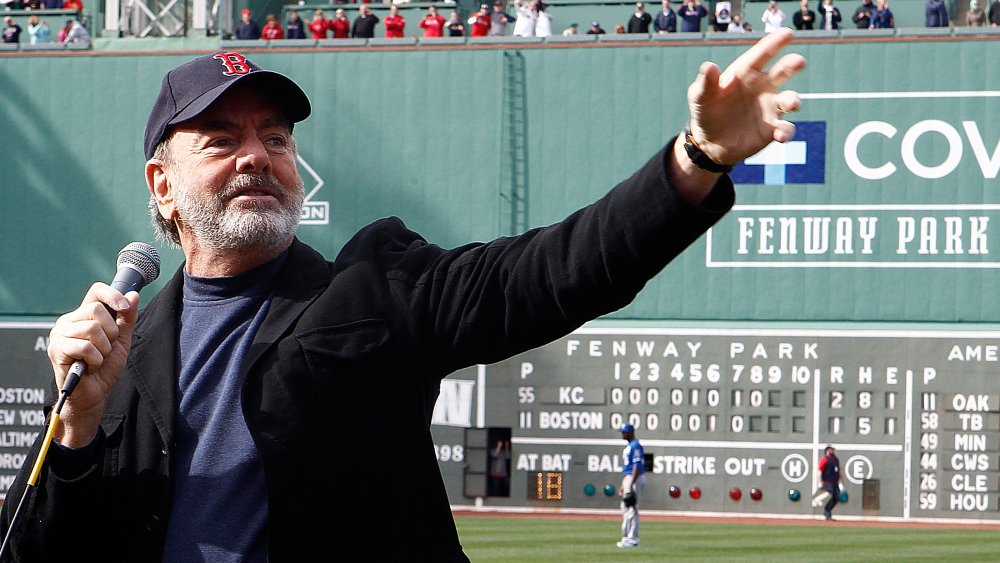 Jim Rogash/Getty Images
In 2002, Red Sox Executive Vice President/Public Affairs Charles Steinberg asked about "Sweet Caroline" and was told that the song was only used when the Red Sox were having an especially good day. As posted at MLB, Steinberg responded, "'I think the song may have transformative powers and it may be able to lift the melancholy crowd and lift the spirits. ..." From then on, "Sweet Caroline" has been a beloved eighth inning fan sing-along tradition at Fenway. The association of team and tune is famous throughout baseball. In 2013, after the Boston Marathon bombings that killed three and injured 176, several other teams played the song during their games in tribute to Boston, including longtime rivals the New York Yankees, whom Neil Diamond himself thanked in a tweet. Diamond showed up for a surprise visit at Fenway Park just a few days after the bombings to lead fans in a "Sweet Caroline" sing-along. Per CBS Sports, Diamond "hopped on a 4:30 a.m. PT flight out of Los Angeles, landed in Boston at 12:30 p.m. ET and, as noted above, called up Fenway and asked to sing."
To this day, Diamond uses "Sweet Caroline" to cheer up people when they need it most. In March of 2020, reports CNN, he took to Twitter and performed an acoustic version with new lyrics reflecting social distancing recommendations: "Hands ... washing hands ... Reaching out ... don't touch me, I won't touch you!" Bad times never seemed so momentarily good.