The Truth About Kamala Harris And Jill Biden's Relationship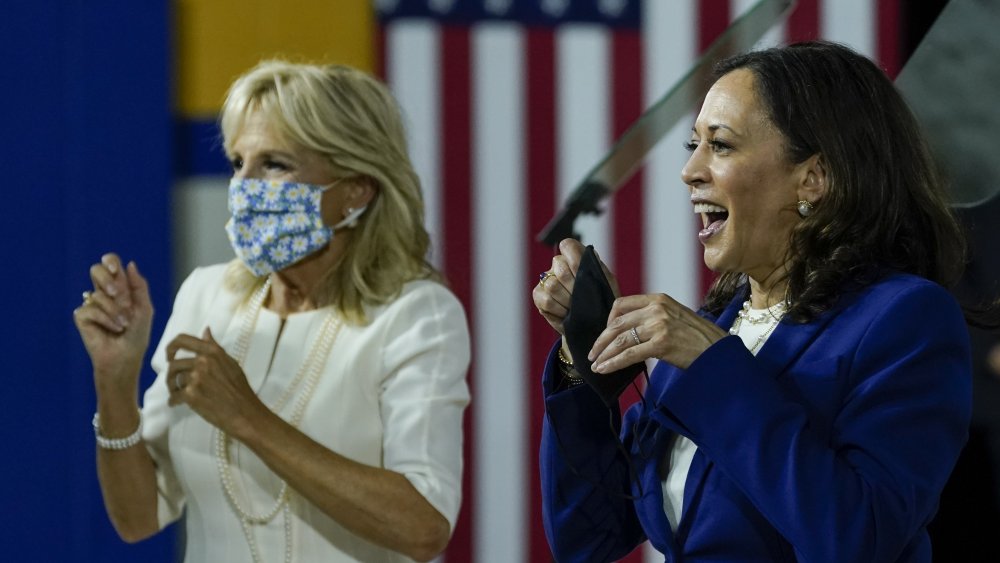 Drew Angerer/Getty Images
Democratic presidential candidate Joe Biden made history in August 2020 when he picked U.S. Senator Kamala Harris as his running mate. Those paying attention to the drama of the race may have been surprised that the pick came with the full endorsement of Biden's wife, Jill, as she seemed taken aback by Harris's criticism of Joe Biden's political record in a Democratic primary debate in June 2019. As The New York Times reported, the two clashed on stage over Biden's history of opposing policies designed to abolish school segregation in the 1970s. Although Harris prefaced her censure of Biden's past by saying she didn't believe he is a racist, the former vice president's actions as a senator decades ago don't help his case that he isn't one, and his wife appeared to take Harris's comments as an attack on his character.
In an interview with CNN, Dr. Jill Biden called the remarks "the biggest surprise" in the race to date, but said she believed the American people "didn't buy it." She seemed to dismiss her husband's record, saying that "the one thing you cannot say about Joe is that he's a racist." From the looks of it, Jill and Kamala weren't going to be gal pals anytime soon. But the two would be singing a different tune a year later, just before Biden made his historic decision. How did our possible future vice president and first lady patch things up?
Harris's relationship with Jill Biden's late son, Beau, helped them bond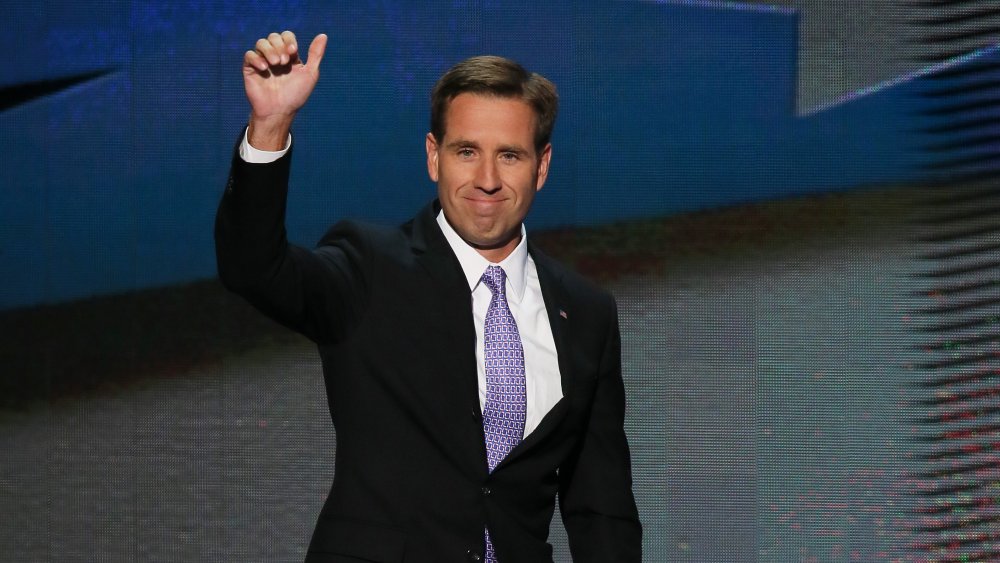 Alex Wong/Getty Images
Kamala Harris already knew the Biden family well before the 2020 presidential race. During her time as California Attorney General from 2011-2017, she worked closely with the Bidens' son Beau, who served as the Attorney General of Delaware from 2007 until his tragic death from brain cancer in 2015. According to The Guardian, Kamala considered Beau an "incredible friend and colleague" who was always watching out for her. "There were periods, when I was taking heat, that Beau and I talked every day, sometimes multiple times a day," Harris said. "We had each other's backs."
And as it turned out, despite the public's perception of animosity between Harris and Jill Biden, the truth is that their relationship was already quite strong before the debate quarrel with Joe. The List reported that after Biden's announcement of his choice of Kamala for running mate, "Jill and Harris forged a bond early on, rooted in their relationships with the late Beau Biden and cemented in their similarities as hard-working women and devoted stepmothers."
The two have since been given more reasons to bond, as the unrelenting, yet unsurprising attacks on their character have poured in since Harris joined the presidential ticket. The Daily Beast reported the obligatory sexist remark from Fox News host Tucker Carlson, who said that Harris "clearly wasn't picked for her personal charm," among many other uncouth and unkind comments.
Dr. Jill Biden hit it off with Kamala Harris's husband, Doug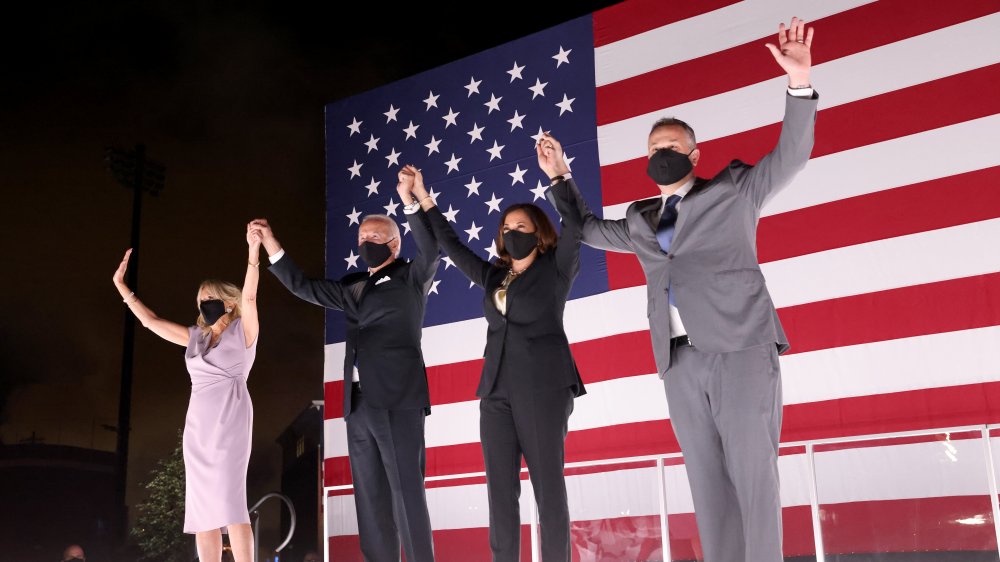 Win Mcnamee/Getty Images
Jill Biden's relationship with Kamala Harris isn't the only one that's improving as we near election day. People magazine reported in August Jill already has "a real bond" with Harris's husband of six years, Douglas Emhoff. It makes sense that the political spouses would find common ground amid the storm of caustic and relentless attacks from political opponents. According to Kamala, that friendship goes beyond merely being in the same boat. "I think that their bond is about that they can genuinely like each other and have that friendship and can do it together," she told People.
In that interview, Harris recalled how the two families deepened their bond after Biden announced her historic spot beside him on the ticket. "One of the first stops was to visit with the vice president and Jill at their home, and we just hung out [with] homemade chocolate-chip cookies and just caught up," she said. Biden even called Doug's parents to surprise them and tell them the news.
Joe — whose relationship with Harris seems to have improved significantly, as well — also commented on the genuine bond between his wife and Harris's husband. "Doug and Jill already were buddies, for real," he said. It would appear that as election day gets closer and closer, the relationship between Kamala Harris and Jill Biden — and the other members of their families — is only growing stronger.