Why NBA Legend Kareem Abdul-Jabbar Can't Stand Michael Jordan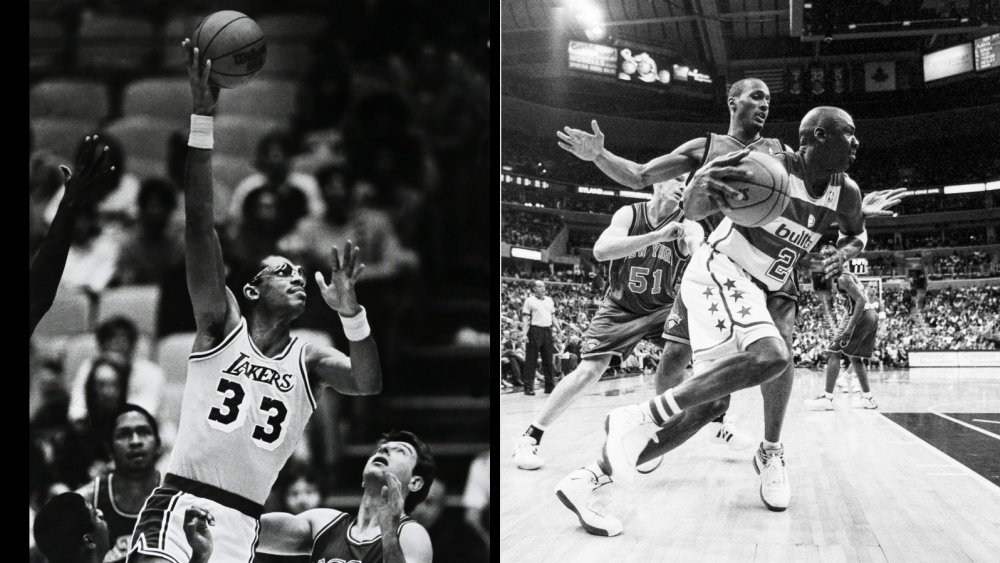 Jayne Kamin-oncea, Simon M Bruty/Getty Images
With a staggering 38,387 career points, Kareem Abdul-Jabbar is still the highest scoring player in NBA history, according to ESPN stats. Despite Michael Jordan coming in at number five on that list (with a measly 32,292 career points), it was notably Air Jordan that topped ESPN's All-Time #NBArank list of the 100 best basketball players ever. Kareem came in at number two, in spite of that 6,000-plus point difference. Debate for the coveted title of basketball's GOAT (Greatest Of All Time) has raged online in recent years, with outlets like Zoom Tens claiming that "ESPN has lied to you" and How They Play offering statistical proof of "Why Michael Jordan is overrated."
While a number of players have their reasons for why they couldn't stand Michael Jordan, most of their contretemps with him came from dealing with MJ on the court. Some couldn't stand the almost constant flow of trash talk from Michael's mouth, and others naturally had problems when that trash talk turned to fisticuffs. There are probably more than a few who soured on Jordan after getting caught up in his extreme gambling habit. But Kareem Abdul-Jabbar's career was waning as Jordan's was just beginning to take flight, and their teams played very rarely. The legendary Laker has his own unique reasons for not wanting to be like Mike, and they have nothing to do with b-ball.
Kareem thinks Jordan should use his influence for good, rather than just selling shoes
Kevork S. Djansezian/Getty Images
For decades, Jordan attempted to remain apolitical, branding himself as an athlete first, and later a businessman. His silence on matters of social justice almost seemed to say more than any outright support of one party or another would have done, but there was one political statement that haunted him for years. As Slate reported in 2016, Jordan was quoted in sportswriter Sam Smith's 1995 book Second Coming as saying that "Republicans buy shoes, too," when asked about why he infamously failed to endorse Black Democratic candidate Harvey Gantt in 1990 when he narrowly lost to unabashedly white supremacist Republican incumbent Jesse Helms.
For Abdul-Jabbar, who has been consistently outspoken since his days at UCLA, Jordan's failure to use his platform for good was simply unforgivable. "You can't be afraid of losing shoe sales if you're worried about your civil and human rights," he told NPR in 2015. "He took commerce over conscience. It's unfortunate for him, but he's gotta live with it."
Abdul-Jabbar knew what it was like to live with the consequences of listening to his conscience. When legendary racial and economic justice advocate Dr. Martin Luther King Jr. was assassinated in 1968, Kareem joined other students at UCLA in protest, despite people's warnings that it could negatively affect his chances to play in the NBA. "To me there was no correlation," he said. "Somebody needed to speak out about what had happened."
Michael Jordan finally goes public with a political statement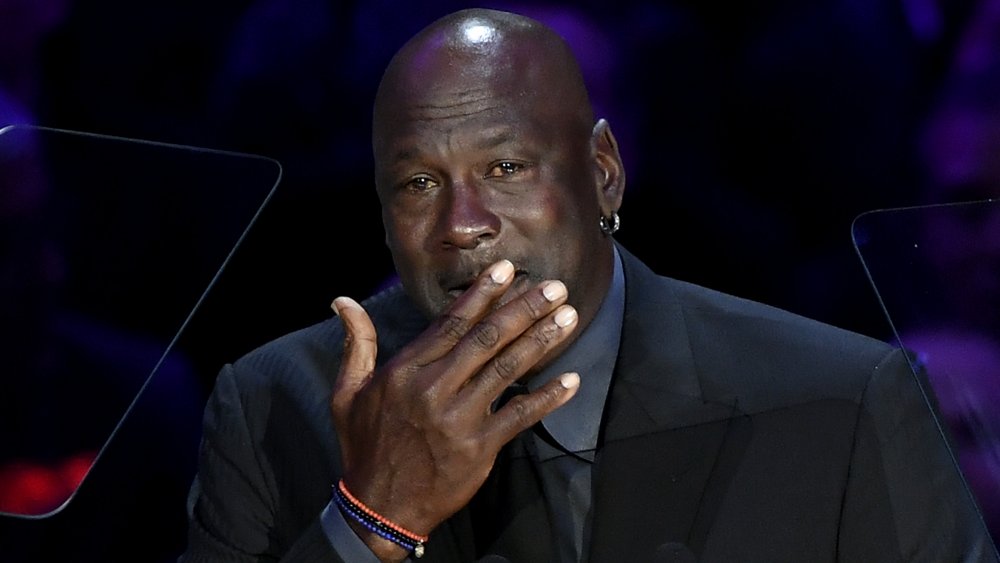 Kevork Djansezian/Getty Images
Jordan dodged blame for his Republicans-and-shoes statement for years, finally taking responsibility in the 2020 Netflix docuseries The Last Dance. As ESPN's The Undefeated reported, Jordan called it an "off the cuff" joke to his teammates. "I don't think that statement needs to be corrected, because I said it in jest on a bus," he said, adding that he was an athlete, not a politician. "Was that selfish? Probably. But that was my energy."
By the time the Netflix documentary came out, that energy had changed. In 2016, Jordan finally broke his decades-long silence on political issues in a statement published in The Undefeated. "I have been deeply troubled by the deaths of African-Americans at the hands of law enforcement and angered by the cowardly and hateful targeting and killing of police officers," Jordan said. He mentioned his own father, who was murdered "in a senseless act of violence," and said that he "grieve[d] with the families who have lost loved ones," since he knew their pain "all too well."
Maybe it was Kareem's censure of Jordan that finally brought the statement out of him. Or maybe it was the police killings of Trayvon Martin, Tanisha Anderson, Michael Brown, Tamir Rice, Gabriella Nevarez, Eric Garner, and all the others on Al Jazeera's interactive list (and so many others who aren't) that finally did it. Either way, it now means something different when we say "I wanna be like Mike."