Why Joe Perry And Steven Tyler Can't Stand Each Other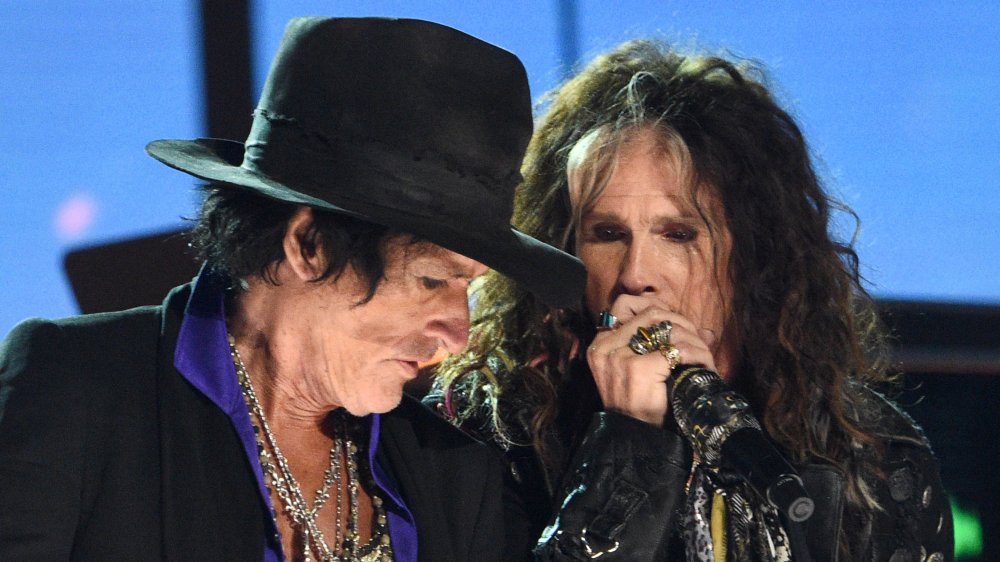 Kevin Mazur/Getty Images
We may receive a commission on purchases made from links.
On stage, Steven Tyler and Joe Perry — frontmen of the legendary classic rock band Aerosmith – worked so well over the years that the band produced dozens of chart-topping singles like "Dream On," "Sweet Emotion," "Walk This Way," "Love In An Elevator," "Janie's Got a Gun," and more. As Ultimate Classic Rock reports, as hard as they tried, the band wouldn't score a number one single until 1998 with the decidedly un-rock and roll "Don't Wanna Miss A Thing" (which was actually written by songwriter Diane Warren, the pro hitmaker behind hits by Celine Dion, Mariah Carey, LeAnn Rimes, and other pop stars). According to Perry, that song began to open a rift in the previously solid professional relationship between the band members. "I don't mind using outside songwriters," he said, "but I'd still like to see an Aerosmith where the core of the music comes from the guys in the band." Still, they were able to work well enough together that they were awarded an ASCAP Founders Award in 2103, according to The Hollywood Reporter.
Despite their seemingly seamless chemistry when rocking out, however, apparently Tyler and Perry can't stand each other off-stage. And the difficulties in their relationship actually date back decades. The two were so notoriously unable to get along that they earned themselves the nickname the "Toxic Twins," according to New Music Express.
How Steven Tyler and Joe Perry became the Toxic Twins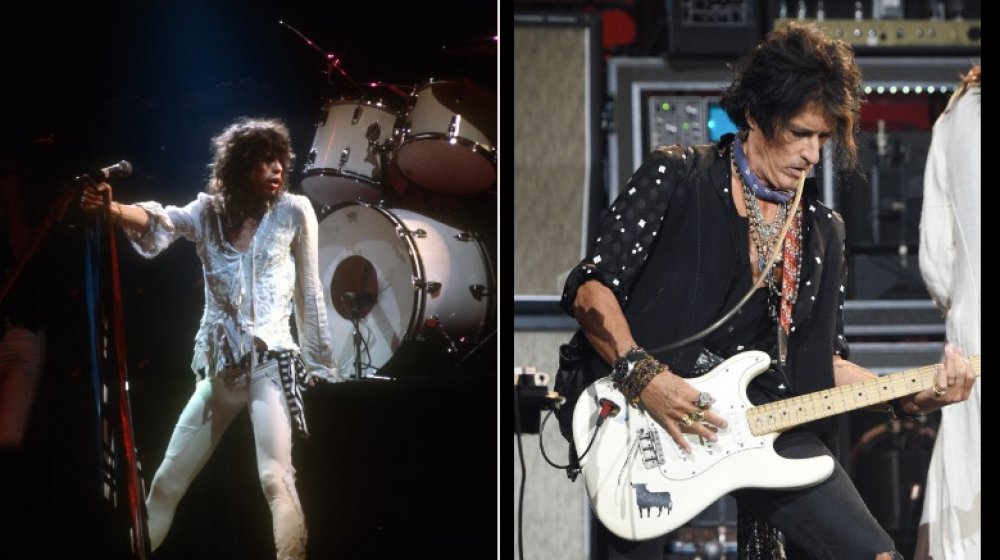 Larry Hulst, Kevin Mazur/Getty Images
The frenzied history of how the Aerosmith frontmen became known as the Toxic Twins is well-covered in the 1997 book Walk This Way: The Autobiography of Aerosmith, co-written by the rockers themselves and music journalist Stephen Davis. The book has an entire chapter dedicated to the legendary nickname, which, as you might guess, stems from the pair's excessive drug use during the band's heyday. "The press started referring to Joe and Steven as the Toxic Twins," said Aerosmith Bassist Tom Hamilton. "We'd gotten to a very dangerous point where we could afford all the vices we wanted. We had our mansions, our Ferraris, the bottomless stashes [of drugs]. Where do you go from there?"
Legendary roadie Henry Smith — who also worked with such rock royalty as Led Zeppelin and The Yardbirds – said that Perry and Tyler earned the nickname "because they'd take whatever drugs you put in front of them," adding that "people were always putting drugs in front of them." Smith recounted his frustration with keeping Tyler awake long enough to get through a show. He'd find the singer passed out in the dressing room less than half an hour before a concert for 30,000 eager fans. "I'd hold up two fingers. He'd insist there were four," said Smith. Then he'd have to deal with a barely conscious Tyler complaining about technical issues, before going on. "You wanted to kill him."
Perry and Tyler still can't stand each other, and both published books to prove it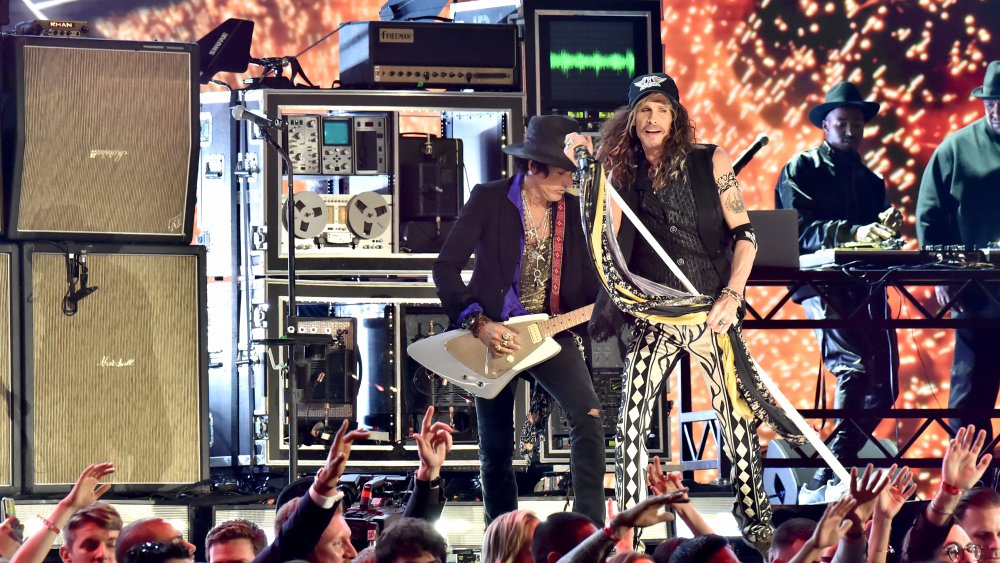 Jeff Kravitz/Getty Images
Although the whole band took part in Davis's book, Steven published his own a decade later: 2011's Does the Noise in my Head Bother You? As noted in a New York Times review of the book, Tyler complained of suffering from what he called L.S.D., but it's not what you think. (Well, it is, but still.) He oh-so-cleverly wrote that L.S.D. stood for "Lead Singer Disease" — basically, being the object of unbridled jealousy from everyone around him because he's so great. Poor little rock star who got everything he ever wanted.
When Perry published his own version in 2014, he told Rolling Stone that Tyler's book was "definitely Steven's truth. No doubt about it. He's allowed to perceive things how he perceives them." Perry disagreed with much of what was in Tyler's, but didn't want his own version of events to cause any more bad blood between them. "I just hope Steven accepts the things I say about how I felt and how I saw things happen. I don't put words in other people's mouths or talk about conversations I wasn't there for."
Despite these differences, they continued to get along well enough to tour, but recent rumors suggest that the Aerosmith feud has turned to another member of the band. Express reported in September that they may have fired Joey Kramer, their original drummer who has been with them since the '70s.