Lindsey Buckingham And Stevie Nicks' Feud Explained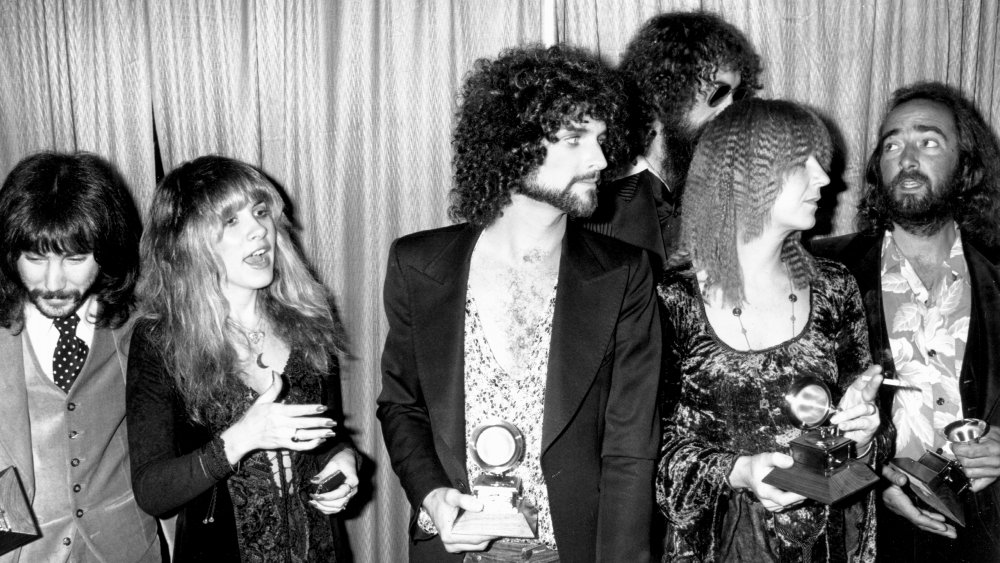 Michael Ochs Archives/Getty Images
After five decades, the music of the legendary band Fleetwood Mac continues to endure in popularity. The band's 2018 reunion tour saw a total of 88 performances over four legs around the world, while even in the fall of 2020 the use of their song "Dreams" on a viral TikTok video caused streams of the song to triple, bringing the music of "Rumours" to a new audience. Still, long-time member Christine McVie told Rolling Stone in June of 2022 just a few months before her death that she wasn't sure if the band was still intact. 
To many of those hearing their music for the first time — or even for those of us who've had their music either on record or in playlists for years — the inner workings of the band may not be that familiar. And it must be said, the inside story of Fleetwood Mac is notoriously turbulent. In the band's heyday, the feuding, love triangles (or perhaps, a love square), and public sniping in the music press between the band's members threatened to tear the band apart. And from time to time, that is exactly what the band's inner turmoil often did.
Even the glorious 2018 tour began with one prominent band member, Lindsey Buckingham — who originally joined the group back in 1975 — apparently being frozen out of the touring roster by songwriter and vocalist Stevie Nicks. Longtime fans and admirers of the group were hardly surprised. The feuding between the former couple is legendary. But why exactly can't Lindsey Buckingham and Stevie Nicks stand each other?
Nicks and Buckingham's early troubles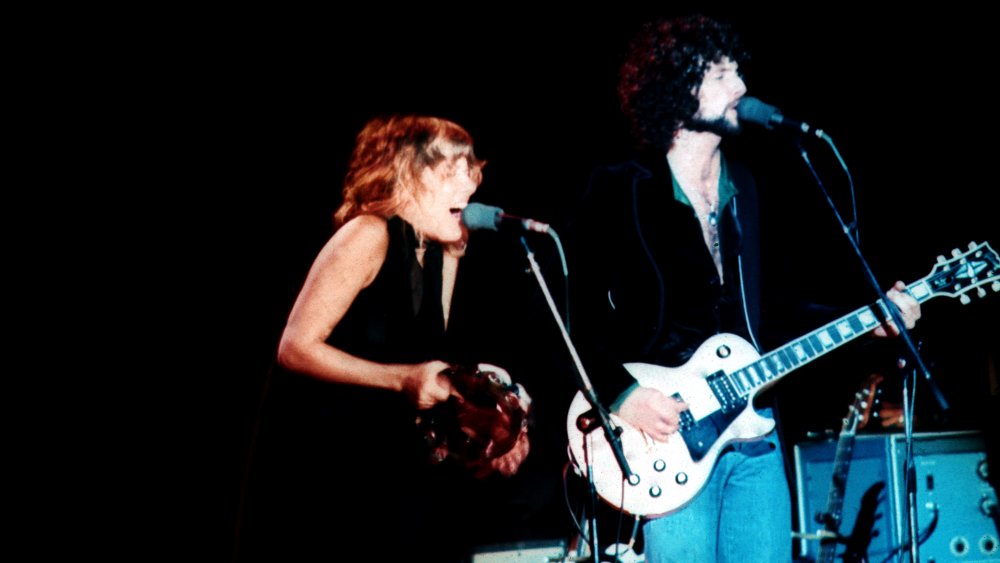 Michael Ochs Archives/Getty Images
The pair began dating and working together as teenagers and were still in a relationship when they joined Fleetwood Mac in 1975. The band exploded shortly after, with the hit album "Rumours" laying bare some of the couple's troubles. It is now common knowledge that the pressures of megastardom were a central reason for their breakup. Rock Music Revival quotes Nicks: "Lindsey always blamed Fleetwood Mac for the loss of me. Had we not joined, we would have continued on with our music but we probably would have gotten married and we probably would have had a child, and it would have been a different life."
The couple's trouble began long before they made it big, according to a 2017 book, "Gold Dust Woman," an unofficial biography of Nicks written by Stephen Davis. The New York Post reports how one of the book's anonymous sources tells the story of the fraught photoshoot for the couple's early collaborative album "Buckingham Nicks," which came in out in 1973. Nicks was still a shy 25-year-old and was unhappy removing her clothes for what their record label wanted to be a "sexy" shoot. Buckingham reacted badly, bullying Nicks and telling her that the shoot was in the interest of "art" and that she was being immature. According to the book "Fleetwood Mac on Fleetwood Mac: Interviews and Encounters," Buckingham's behavior at the time prompted Nicks to think, "Who are you? Don't you know me?"(via Showbiz Cheatsheet). Still, the album cover would feature an image of Nicks topless. 
The Nicks-Buckingham feud is still going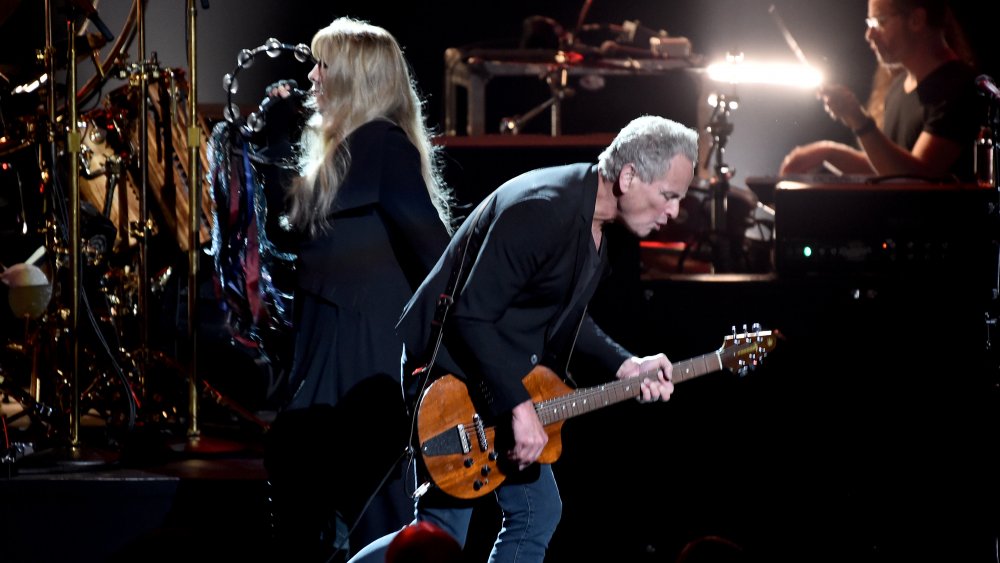 Steven Ferdman/Getty Images
Nearly five decades after they joined the group, the bitterness between Stevie Nicks and Lindsey Buckingham still has an impact on Fleetwood Mac's tours, and dominates the headlines surrounding the group. Factors include claims of abuse on Buckingham's part, emerging alongside reports of Nicks's long-running troubles with addiction. Still, In the end, so far at least, it appears that Nicks has had the last laugh.
As mentioned, the band's huge 2018 tour went ahead without Buckingham, reportedly thanks to an ultimatum delivered by Nicks to her current bandmates, in which she offered the following options: either Buckingham was excluded from the tour, or she walked. The band chose Nicks, but, according to Newsweek, had to reach a financial settlement with Buckingham for breach of oral contract, among other complaints.
According to Rolling Stone, part of the reason for Nicks's flare-up in hostilities is down to something very minor: a smirk that she perceived on Buckingham's face as she was delivering a thank-you speech on behalf of the group at a New York benefit earlier that year. Buckingham claimed: "The irony is that we have this standing joke that Stevie, when she talks, goes on a long time."
But Page 6 reported that the reason for kicking Buckingham off the tour was that he wanted the group to wait until he was done promoting his solo work to tour, and Nicks was unwilling to do that, hence the ultimatum. For Fleetwood Mac's fans, the feud itself is also something of a standing joke. Some things never change.