What You Didn't Know About Eddie Van Halen's 'Frankenstein' Guitar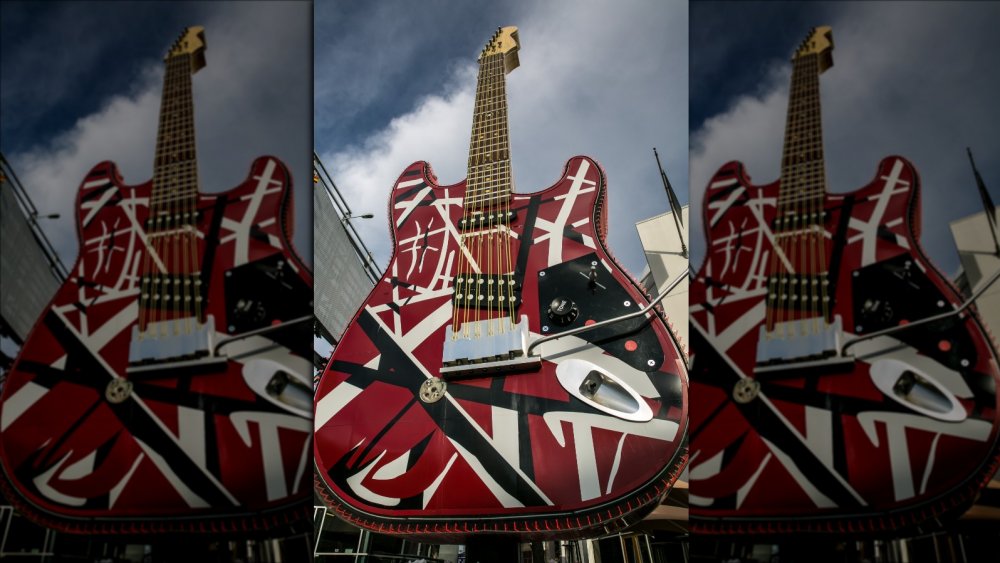 Joey Foley/Getty Images
The world is mourning after the loss of one of the greatest shredders to ever pick up a guitar. TMZ reported that Eddie Van Halen — the man behind the iconic riffs in songs like "Jump," "Hot For Teacher," "Runnin' With the Devil," and, of course, "Eruption" — died on October 6 after battling throat cancer for over a decade. Eddie also crossed over into pop music stardom when he featured on Michael Jackson's 1983 hit song "Beat It."
And he did it all with the trusty ax that he named "Frankenstein" — it was pieced together from other guitars, none of which could do the job alone. His obituary in the L.A. Times said the freak instrument — composed of "a $50 body, a $75 neck, a single Humbucker pickup and crucial tremolo bar" — was "one of the most recognizable guitars in rock 'n' roll" due to the black and white stripes crisscrossing over the red body as frantically as his seemingly superhuman fingers over the frets.
Eddie Van Halen's 'Frankenstein' guitar was as unique as the man who played it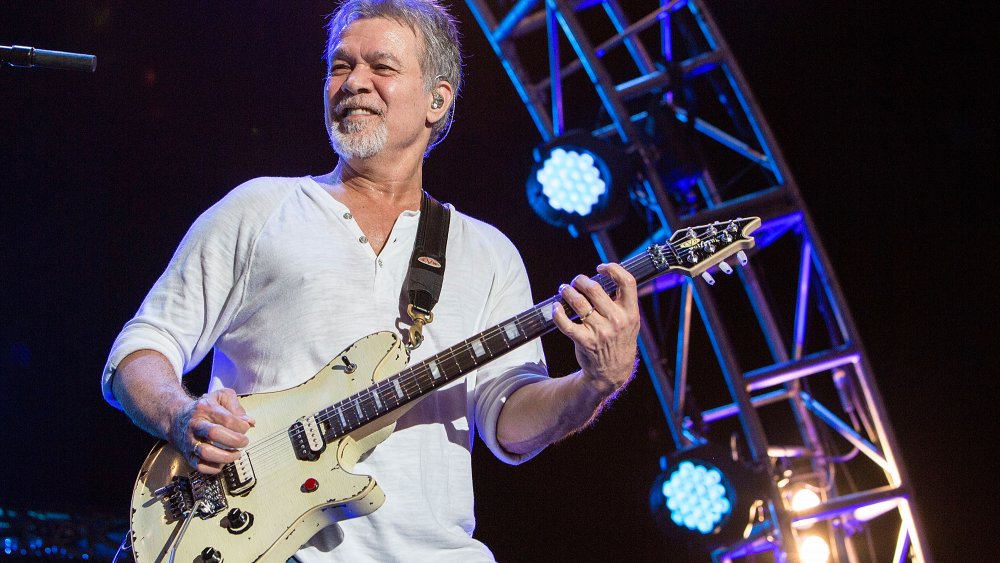 Daniel Knighton/Getty Images
Eddie Van Halen donated a replica of his monster six-string to the Smithsonian in 2015, and the original went on display at the Metropolitan Museum of Art in New York City, along with his quintessential 1978 guitar/amp rig that looks like something out of a mad scientist's lab. According to Van Halen News, the legendary guitarist "was continually striving to achieve the ultimate guitar for tone, playability, dependability, and functionality." To do this, he combined what he liked best about Fender and Gibson guitars, and the result embodied "not only his groundbreaking and unorthodox playing style but also his ingenuity in design and engineering."
"Ninety percent of the things that I do on guitar, if I had taken lessons and learned to play by the book, I would not play at all the way I do," he said in a video featured in the Met exhibit. "Crossing a Gibson with a Fender was out of necessity, because there was no guitar on the market that did what I wanted." And there probably won't be for quite some time. Riff on in peace, you rock and roll legend.