The Truth About Eddie Van Halen's Beat It Guitar Solo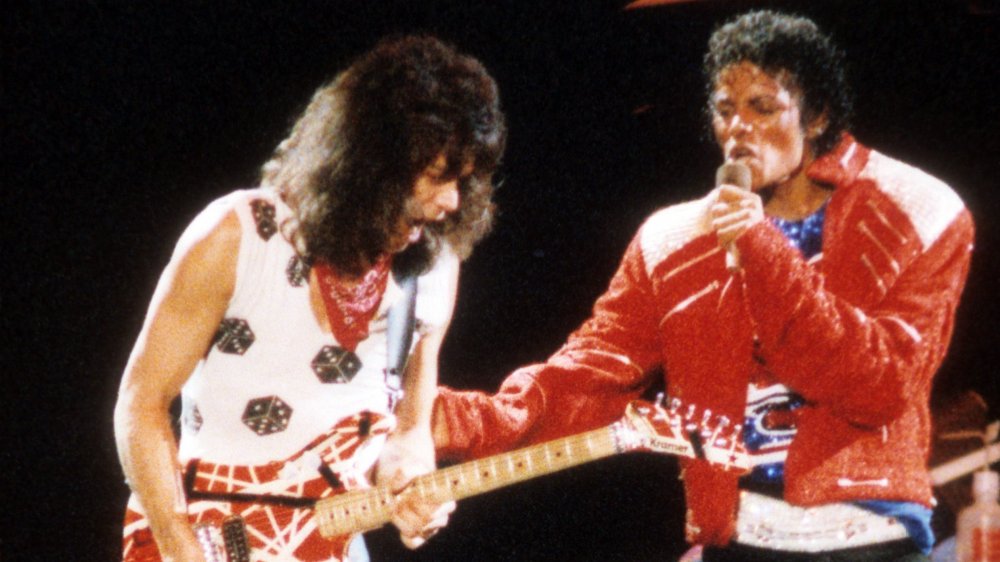 Michael Ochs Archives/Getty Images
You probably can't tell, but Michael Jackson's infectious "Beat It" was his first-ever attempt at a rock song. But, the King of Pop's ode to street life might have never charted at #1 on the Billboard Hot 100 if it wasn't for the memorable work of metal guitarist Eddie Van Halen.
In 1982, the anti-disco movement was strong, so Jackson and his producer Quincy Jones were looking for something that would give him a harder edge and set his next record apart. Jones tasked him with penning a rock song in the mold of The Knack's mega-hit "My Sharona" for his upcoming album Thriller. Who might you enlist if you're a legendary pop superstar dipping your toe in the rock genre? For Michael Jackson, it was none other than legendary guitarist Eddie Van Halen.
Eddie Van Halen's iconic guitar riff is now known as the centerpiece of "Beat It," but when Quincy Jones approached Van Halen to record on the track, he thought it was a joke. According to Stereogum, Eddie Van Halen reportedly hung up on and cursed at Quincy Jones four times before realizing it wasn't a prank call. While Eddie Van Halen usually avoided taking any side gigs while working with his band Van Halen, he agreed to the collaboration, but he had two rules: Van Halen wouldn't be credited, and Jackson wouldn't tell the rest of his bandmates. 
Eddie Van Halen wasn't paid to play on "Beat It"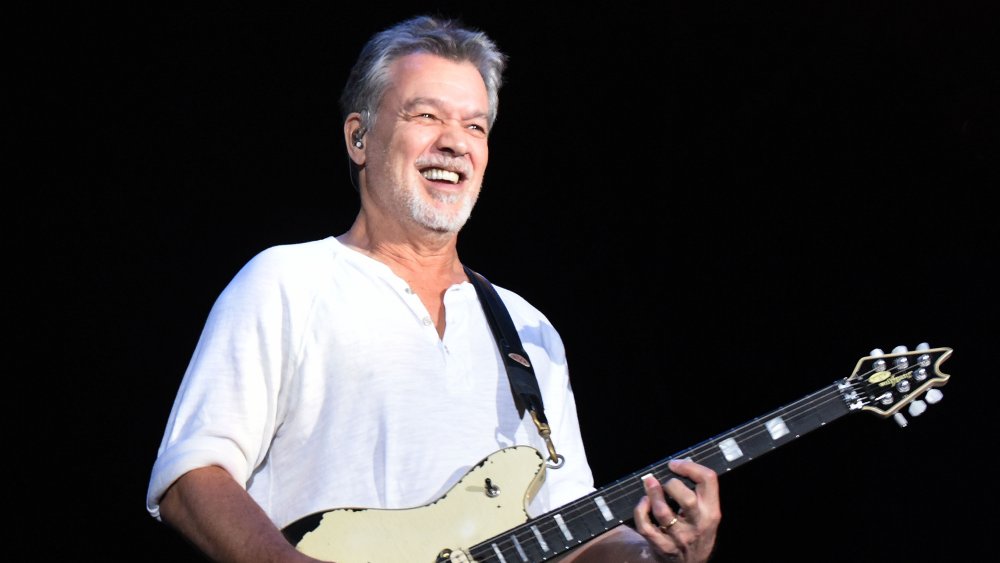 Chris Mckay/Getty Images
As Thriller and its hit "Beat It" climbed the charts, Eddie Van Halen was shocked to see it outpace his band's own album, 1984. Van Halen later told CNN in 2012, "I said to myself, 'Who is going to know that I played on this kid's record, right? Nobody's going to find out.' Wrong! Big-time wrong. It ended up being Record of the Year."
Then, Eddie Van Halen found himself perusing a Tower Records in Sherman Oaks, Los Angeles when "Beat It" came on over the stereo. Some nearby customers mused that the song's guitar solo sounded almost exactly like the playing of Van Halen himself. He tapped the record store kids on the shoulder and fessed up that it was him. 
Naturally, his bandmates caught wind of his contribution — even if Eddie Van Halen went uncredited on the album. He offered his Van Halen bandmates a few excuses for his pop interlude: "I just said, 'You know. (Shrugs) Busted!' 'Dave, you were out of the country!' 'Al, you weren't around!' I couldn't call anyone and ask for permission." 
Van Halen's street cred was safe. His bandmates let it pass, but not without first razzing him about one huge mistake: Eddie Van Halen never asked to be paid for what was now the number one song in the United States. He had agreed to play on the track for only two six-packs of beer. 
"I was a complete fool, according to the rest of the band, our manager and everyone else," Eddie Van Halen later mused, per Feel Guide. The truth is, Eddie Van Halen didn't just supply a free guitar riff for "Beat It," but he actually rearranged the song.
Eddie Van Halen had to rearrange "Beat It"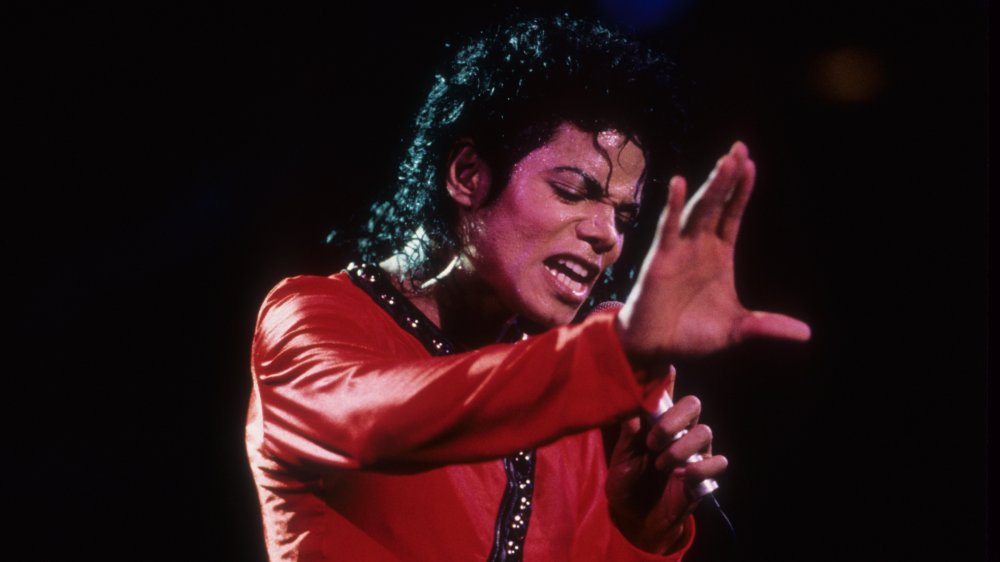 Michael Ochs Archives/Getty Images
While Eddie Van Halen's 20-second guitar solo on "Beat It" seems to transcend all space and time, in fact, it only took the legend half an hour to record. Of course, not without rearranging the entire song first. Reportedly, Quincy Jones had told Van Halen to do, "Whatever you want to do," per CNN. Eddie Van Halen had the boldness to actually take him up on it. 
After a first listen to the rough track, Van Halen chopped different sections of the chorus and reworked the middle of the song, and then promptly recorded two masterful, blazing guitar solos on top. Instead of thinking Eddie Van Halen had butchered his new track, Michael Jackson was grateful. Van Halen recalled to CNN that Jackson told him he made the song that much better. "Thank you so much for having the passion to not just come in and blaze a solo, but to actually care about the song," Jackson allegedly said.
Eddie Van Halen's hand in the crossover hit soon took on a mythic quality. In the final cut of the track, you can hear a knocking sound right before Van Halen's guitar solo shreds through. As Stereogum points out, many fans attributed the knock to Eddie Van Halen, possibly drunk and impatient to be let into the recording studio. Of course, it was just Michael Jackson playing on a drum case.