What The Final 12 Months Of Eddie Van Halen's Life Were Like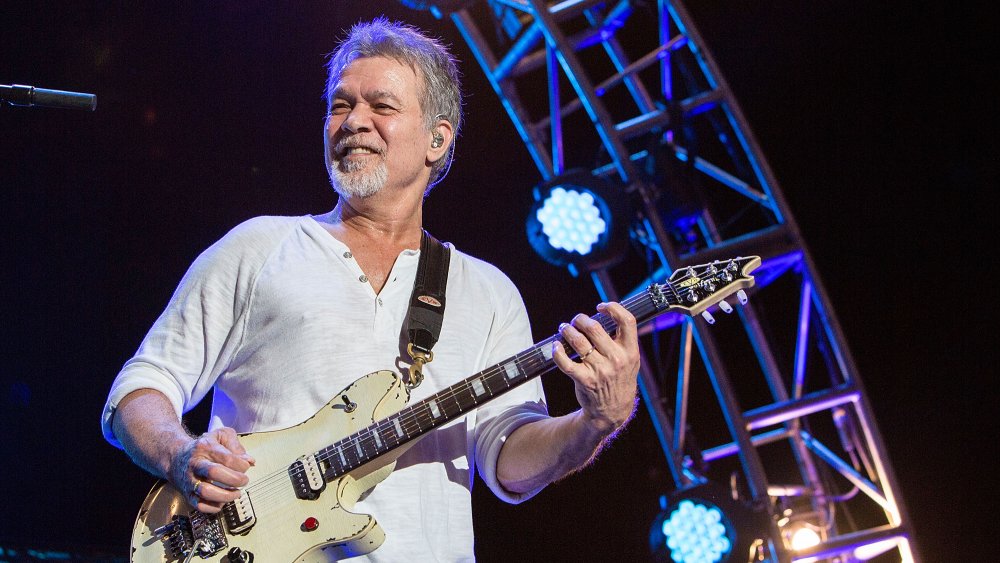 Daniel Knighton/Getty Images
It's been a heavy year, for many reasons, but the death of music legend Eddie Van Halen, announced on October 6, 2020, is yet another sad marker of time's passage. 
Van Halen was, of course, a man who needed no introduction. As the primary songwriter and namesake of the rock band Van Halen — alongside his brother, drummer Alex Van Halen — he was often regarded as one of the greatest guitarists in history, largely due to his pioneering of the "tapping" technique that he would make famous. Throughout the decades, though the band itself saw many roster changes, the Van Halen brothers remained a constant presence, influencing countless young musicians across the world. In recent years, unfortunately, Van Halen's life was marked largely by both personal crises and health tragedies: In 2000, according to NME, he came down with tongue cancer, a tragic occurrence which he believed was caused by the copper and brass guitar picks that he often left in his mouth, on the precise location where the cancer formed. Though he was declared cancer-free two years later, the ensuing decade proved to be a roller coaster nonetheless, as reported by the Chicago Tribune, since he had to overcome his drug and alcohol addictions, finally reaching sobriety in 2008. 
However, in 2019, via Consequence of Sound, it was revealed to the public that Van Halen had been struggling against throat cancer for the past half-decade ... and sadly, it seems that this battle probably consumed much of his final year. 
Eddie Van Halen's last year was a battle against cancer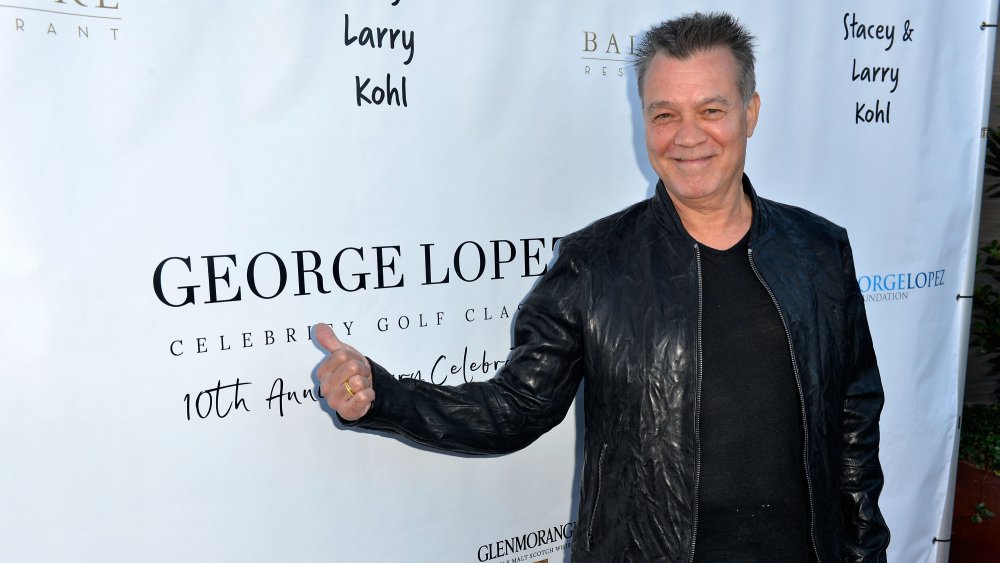 Jerod Harris/Getty Images
Public awareness regarding Eddie Van Halen's cancer diagnosis arrived in the fall of 2019, when the musician spent multiple days at a hospital due to abdominal concerns, presumed to be a side effect of the cancer treatments he was undergoing. He had, reportedly, been diagnosed with cancer five years before that point, but — much like actor Chadwick Boseman, who also died of cancer in 2020 — kept his health struggles largely private.    
Already in his 60s, Van Halen faced an uphill battle during his last 12 months, as he continued his radiation treatment. In January 2020, his band mate David Lee Roth cast doubt on the idea of a Van Halen reunion to the Las Vegas Review Journal, stating that "Ed (Van Halen)'s not doing well, and singing and dancing is a perishable skill." It's worth noting that, via Rolling Stone, the band hadn't played a show since 2015.
The struggles that Van Halen and his family endured in the musician's final year were, most likely, familiar to anyone who has ever had a loved one with cancer. In the end, when his son Wolfgang broke the news, he wrote: "I can't believe I'm having to write this, but my father, Edward Lodewijk Van Halen, lost his long and arduous battle with cancer this morning. He was the best father I could ever ask for. Every moment I've shared with him on and off stage was a gift." 
Eddie's became reclusive as he battled health problems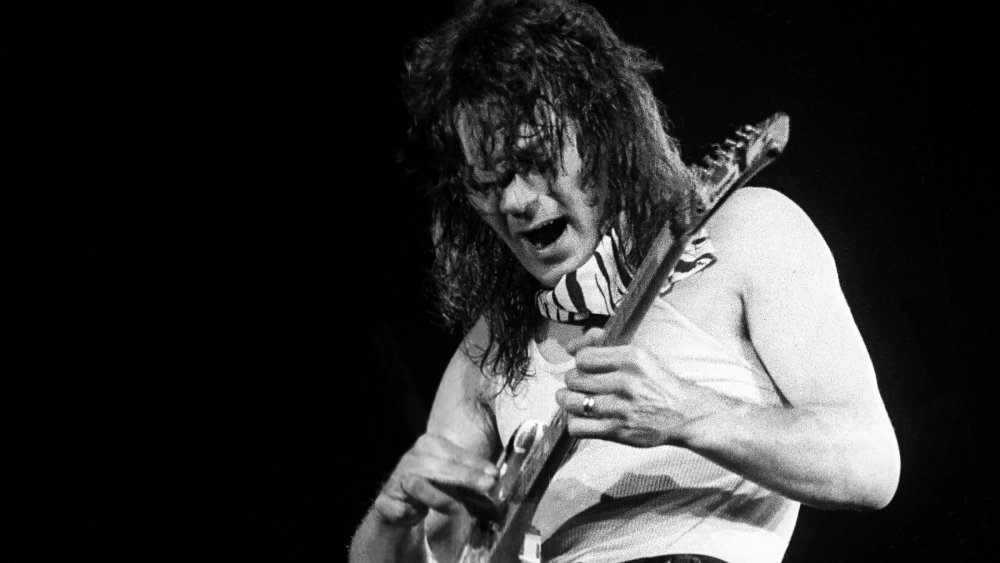 Larry Hulst/Getty Images
With a recurrence of cancer, Eddie Van Halen became something of a recluse. He was no longer touring, no longer recording. From time to time, he'd show up in public, sometimes quite unexpectedly. In 2019, Rolling Stone reported a charming story of a fan at a Tool concert who wanted a selfie with the stage in the background. Common enough. And who wouldn't? Apparently the fan was selfie-stick impaired, because he asked another concert goer to take the shot for him. And that nice fellow fan cheerfully obliged.
The guy drafted to be the photographer of the moment was, yes, Eddie Van Halen. And the subject of the photo probably wishes he'd had the camera turned around for another selfie with a genuine guitar legend. Eddie's son (and Van Halen bassist) Wolfgang made the report: "A guy asked my dad if he could take a picture of him with the stage behind him, having no idea who he just asked, and that was my favorite moment from the Tool show last night."
Eddie also was spotted last year at a Beverly Hills car dealership and agreed to a picture with the receptionist, Sue Dion, reported Rolling Stone.
Eddie Van Halen married Janie Liszewski in 2009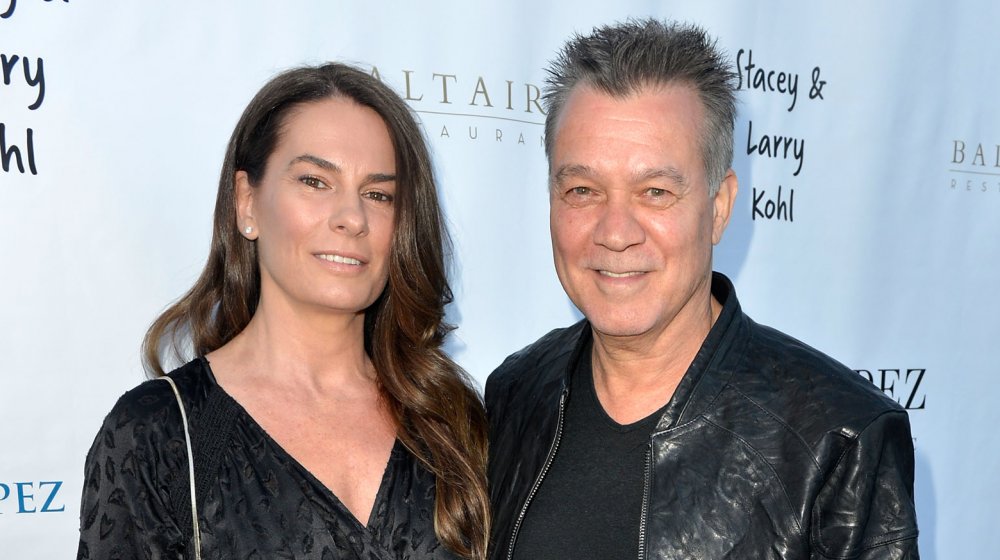 Jerod Harris/Getty Images
People Magazine reports that part of Eddie's isolation was made possible by his family, who gathered around him and protected him not only from the coronavirus, but also protecting his privacy during his final health battles. By the end, the cancer that claimed his life had spread to all of his organs. The last three days were a particularly steep decline, said People.
Still, the guitar legend reached out via social media, maintaining contacts, expressing love for family and friends. He reached out to brother Alex for a birthday wish on via Instagram, with a photo of the siblings and the words, "Happy Birthday Al!! Love ya!!" In another message on Instagram, he marked his son, Wolfgang's, birthday with a shot of the newborn. "Best day of my life!" wrote Eddie. "Happy Birthday Wolf! I love you so much!!" He signed the message, "Your Pop."