What Really Caused Sammy Hagar And Eddie Van Halen's Feud In The 90s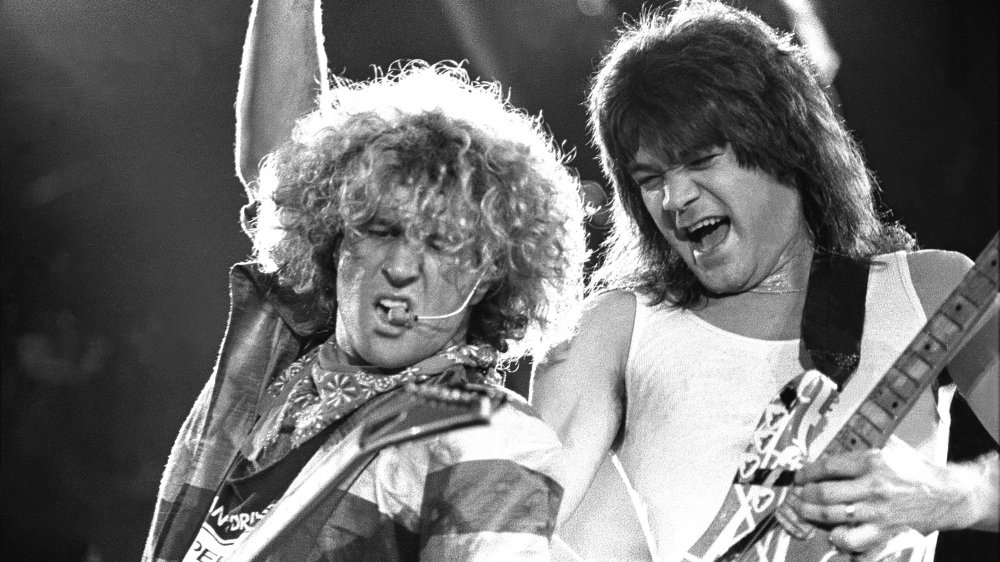 John Atashian/Getty Images
Upon hearing the news of the tragic death of Eddie Van Halen, his former band mate Sammy Hagar tweeted that he was "heartbroken and speechless" and sent his love to the grieving family. Although the two rock legends smile brightly in the accompanying photo, they weren't always so buddy-buddy. Hagar took over for the high-kicking, buttless-chaps-rocking David Lee Roth when he famously left the band at the height of their fame in the mid-1980s.
Eddie and Sammy seemed to get along for a while, but as with the band's first singer, things eventually began to go south with the new guy. In hindsight, it appeared as though Eddie could only ever get along with people with whom he shared a last name. His brother Alex has consistently played drums throughout the band's history, and his son Wolfgang took over on bass in 2006. According to Ultimate Classic Rock, and Eddie (but not necessarily Sammy), Hagar's tenure with Van Halen ended with a final phone call in June 1996.
Eddie Van Halen said he quit, Sammy Hagar said he was fired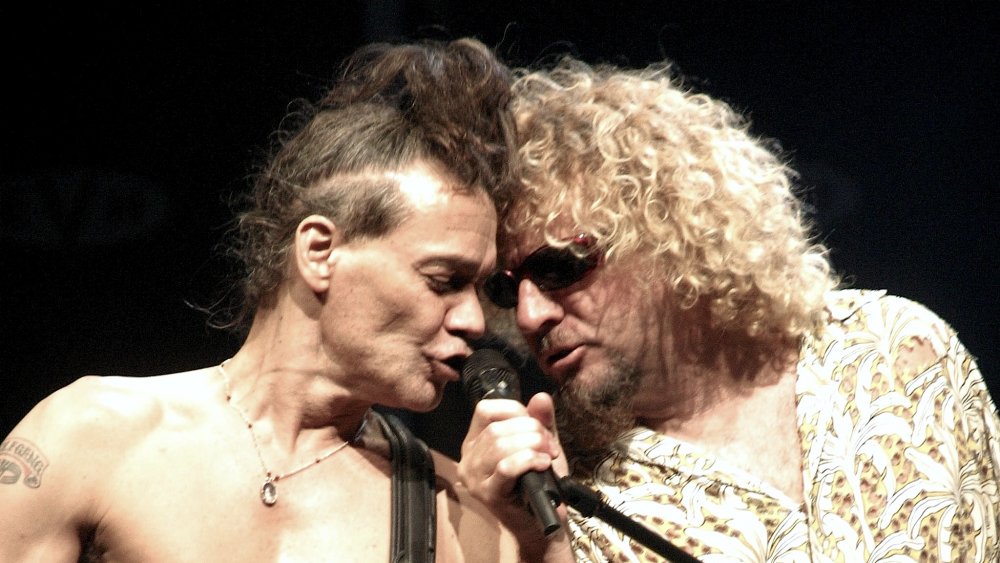 John Atashian/Getty Images
Hagar told Rolling Stone in 2015 that the troubles really began during the recording sessions for Van Halen's 1995 album Balance. "That was the record where if I said black, Eddie said white, and I'd say, 'Okay, white,' he'd say, 'No, I want black,'" he said. "He just wanted the opposite of what I wanted." That tension characterized the tour that followed the album's release, and after the final date was in the books, Sammy thought he'd be able to have a couple months to spend time with his new baby. But Eddie and Alex wanted to get right back to work on another album. They said they wanted more money, to which Sammy replied, "Whoa, are you crazy? We're not hurting for money."
Hagar's intention to do a solo album was apparently the last straw. That fateful phone call came, ironically, on Father's Day, 1996, and the two didn't speak until well into the new millennium. But in 2016, Sammy decided that they both weren't getting any younger, so he decided to send his old band mate a tweet to wish him happy birthday. Ultimate Classic Rock reported afterwards that Sammy said he didn't "want to be buried with any regrets or bad vibes like that," and after he heard the news about Eddie's passing, he's probably real glad they let bygones be bygones and ended things on friendly terms.