The Truth About Brian May's Red Special Guitar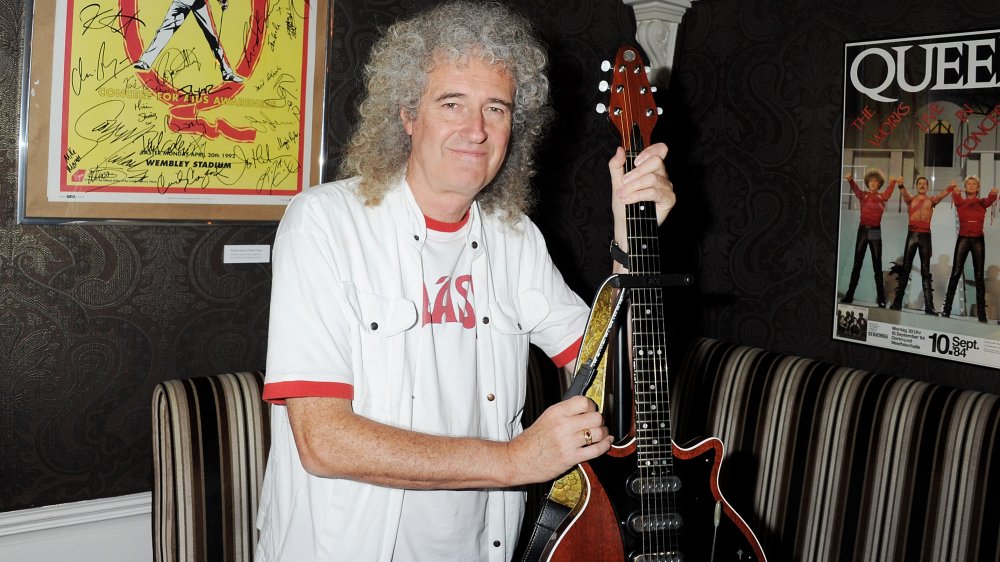 Dave M. Benett/Getty Images
Brian May of Queen is a man of many talents. Not only is he a brilliant lyricist and an imaginative guitar player, he's also an astrophysicist. He's also managed to build a guitar all from scratch, thanks to random stuff around the house, his dad, and ingenuity. It's the Red Special, and it's the guitar that May has played on every single Queen song and for most concerts. It's the guitar he used when he stood on the roof of Buckingham Palace and strummed out "God Save the Queen" in 2002 for Queen Elizabeth II's Golden Jubilee (posted on YouTube). This guitar is so unique that it has its own bodyguard when May goes on tour.
According to The Guardian, in his youth, May couldn't afford a proper electric guitar. So, when he was 16, his father decided to help him build one. His parents, he said, had been supportive of him developing an interest in music. They bought him an acoustic guitar at seven, which he promptly electrified and plugged into an amp. But an electric guitar was another story.
May's father was an electrical engineer who worked for Concorde to develop landing systems. Since May wanted an electric guitar that sounded the way he wanted it to, they took on the challenge of building it themselves. Did they know anything about guitar making? No. But May told The Guardian his father could figure out the mechanics of most anything.
He and his dad bonded over the guitar making process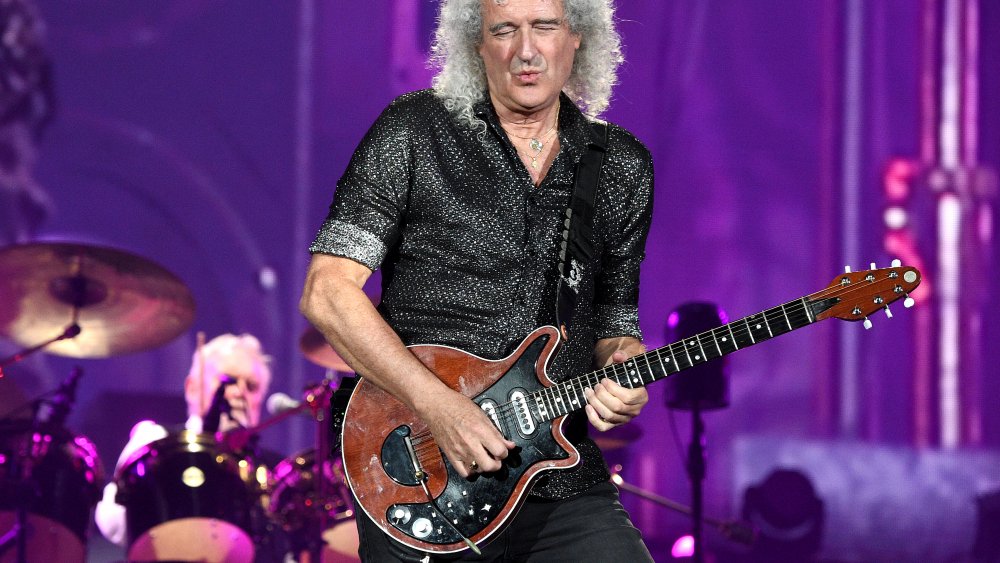 Kevin Mazur/Getty Images
By building his own guitar, May could customize the look, sound, and mechanics. First, he wanted to make sure the guitar would "talk" to him. He'd been obsessed with Jimi Hendrix and hoped his guitar would create feedback the way Hendrix is able to do with his. May told Guitar Magazine most guitars at the time had too many flaws. He said tremolo arms, or whammy arms — the kind used to make a guitar warble — were very popular, but strained the instrument's neck too much. To counteract this, he wanted a guitar with a rod that would make the arm go back to its original position.
It took about two years for May and his dad to finish, according to The Guardian. He said they used mainly hand tools to craft this first guitar, utilizing materials from around the house. The neck was the fireplace mantle, which is why May sometimes refers to the guitar as The Fireplace. They hand-carved the fretboard with some mother-of-pearl inlays made from buttons. The unique tremolo arm was parts of a bicycle topped off with one of his mom's knitting needles. May said his father took such care while helping him build the guitar that when he accidentally gouged the wood, he never really forgave himself.
You'll hear the Red Special in every Queen song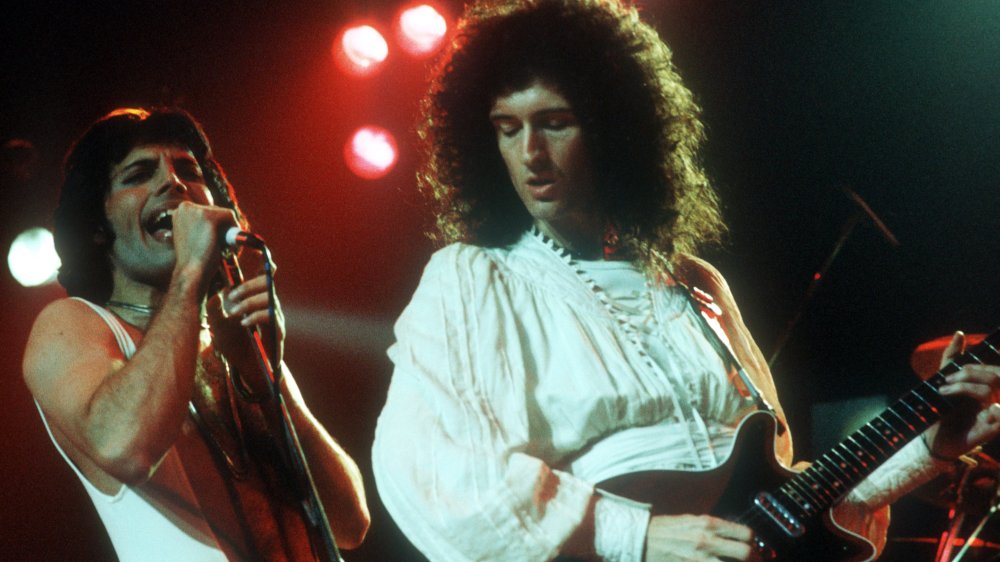 Michael Ochs Archives/Getty Images
May said it was a special time bonding with his father, something that hurt they stopped speaking for almost two years when May left his post-graduate program in astrophysics to focus on playing in Queen. May and his parents eventually reconciled, particularly when he flew them to New York to watch one of Queen's concerts. Using the Red Special, named for the red color of the wood, as he did for all of Queen's songs, he was able to show his parents why it was worth dropping out of school. (And yes, he eventually got his doctorate.)
The Red Special, or the Old Lady, has been May's reliable guitar for over 50 years now. Other guitarists covet May's customizations. According to Premier Guitar, It had different pickups, individual on/off switches for the pickups, and yields a "fat" sound. Several replicas of the Red Special have been made, both officially and unofficially. May now runs a company, Brian May Guitars, that produces replicas and custom guitars for other musicians. Sometimes, May does use a back-up model of the Red Special, but he mainly plays the one he and his father built. Since it is over 50 years old, it has undergone a couple of restorations over the years.
May's father died in 1991 from cancer, but got to see his son achieve great heights, armed with the two-year project they built together. No wonder May still uses the Red Special.