Greg Pence's Net Worth: How Much The VP's Brother Is Actually Worth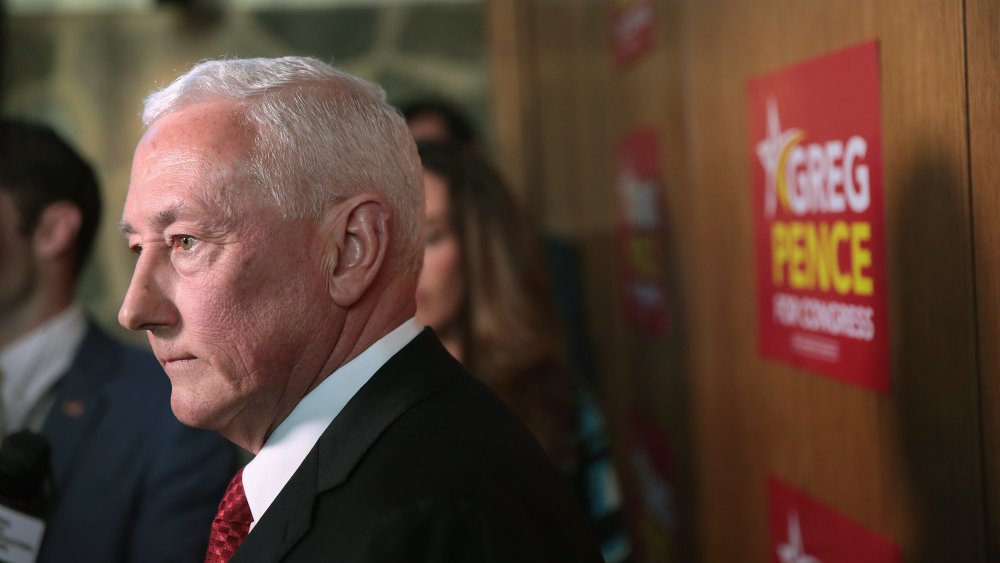 Scott Olson/Getty Images
Ten years after the landmark 2010 Supreme Court decision known as Citizens United — which, according to the Brennan Center for Justice, "further tilted political influence toward wealthy donors and corporations" — more and more attention is now paid to how much politicians are worth and how much they earn while in office. As the country geared up for the vice presidential debate between Vice President Mike Pence and challenger Kamala Harris, many were wondering how much the candidates, as well as those close to them, are really worth.
Forbes reported in July that Mike Pence is worth around $1.2 million, a paltry estate when compared to the fortunes of others in the Trump administration, such as Betsy DeVos, Steven Mnuchin, and Wilbur Ross. Unlike those quite wealthy public servants, whose net worths stack up past the hundreds of millions and into the billions, Mike Pence has not devoted much of his time to acquiring private sector earnings. He apparently doesn't even own a house and has six-figure student loan debt.
Mike's older brother, Greg Pence, on the other hand, isn't relying on taxpayer-funded pensions for his retirement. Greg is a congressman serving the same Indiana district his little brother represented before moving on to the governorship and then his current position as VP. So exactly what is Greg Pence's net worth?
Greg Pence is worth quite a bit more than his little brother
Scott Olson/Getty Images
According the Center for Representative Politics, Greg Pence's net worth is valued at just over $12 million. As you might imagine, he's been working a bit harder in the private sector than his brother Mike in order to amass those millions. Roll Call reported in 2018 that the majority of his wealth comes from a pair of antique malls in his home state of Indiana. The larger mall, a sprawling 72,000-square-foot complex in Edinburgh, Indiana, is his biggest asset. Here, fans of old dusty things can find "everything from a $10 U.S. Capitol porcelain plate to an $800 barbecue bull that lets smoke out of its nose, with plenty of Elvis figurines, costume jewelry, knives and grandfather clocks stuffed in between." He owns another antique mall in the nearby town of Bloomington. But, how does a guy get rich from selling antiques?
Rent at one of the 600 booths at the Edinburgh mall starts at $189 per month, and he takes a commission from each sale made. It may not seem too lucrative, but these rents and cuts of vendor sales apparently add up. For example, a local brewery ended up paying $9,000 for a table made out of repurposed wood from an old barn. (Beer people. Yeesh.) But profits aren't the only thing the antiques have brought Greg Pence. Some items ended up bringing him some unwanted controversy.
Some of Greg Pence's fortune was made from selling outdated racial stereotypes
"Vendors can't sell underwear," wrote Simone Pathé, of the aforementioned 2018 Roll Call article. "And the general lack of campaign memorabilia was surprising. But there's little the mall won't carry." And she wasn't kidding. Pence came under attack in July 2020 when ABC News reported that he was allowing the sale of "objects with racist depictions of African Americans" at his antique malls. The report found dozens of items bearing "Jim Crow-era caricatures and stereotypes" for sale, like "a coin bank featuring an exaggerated, straw-hatted Black figure biting down on a watermelon or 'Mammy' biscuit jars depicting smiling Black enslaved women." Pence and the vendors who rent his spaces seemed to see no problems with the products. The report found that the items have remained on sale for years, despite customer complaints to the mall's management dating as far back as 2008.
Greg Pence's Democratic challenger in the upcoming elections, Jeannine Lee Lake, is one of three Black candidates on the ballot in Indiana this November. She said that "[i]t made [her] want to cry" when one of her prospective constituents brought the matter to her attention, adding that holding Pence accountable for the racist items for sale on his property is "a necessary action for an African American woman running for Congress." She and her supporters will know if the general public feels the same way in just a matter of weeks.