What Janet Jackson's Short Marriage To James DeBarge Was Like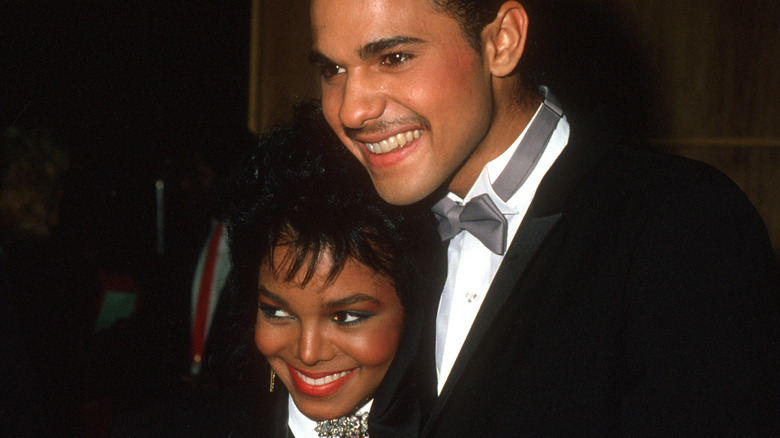 Michael Ochs Archives/Getty Images
These lyrics kick-off Janet Jackson's 1986 album "Control": "When I was 17 / I did what people told me / Did what my father said / I let my mother mold me" (via AllMusic). For Ms. Jackson — if you're nasty — it seems, 18 was the age to rebel against her, well, famously controlling parents. It was at that age, in fact, that Jackson embarked upon her short-lived marriage to singer James DeBarge, of the family group DeBarge, behind '80s R & B pop hits like "Rhythm of the Night" and "All This Love."
In a 1985 interview with the Los Angeles Times, James' brother El shared that his family, the DeBarges and the Jacksons, another famous music family from the era, had known each other for quite some time and that James and Janet had dated for two years before they eloped. When asked about the rumors that the newlyweds were battling, El replied, "All I've seen is that it's all peaches 'n' cream. But who knows what goes on behind closed doors? I hope it's peaches 'n' cream behind closed doors too."
The marriage was far from peaches 'n' cream, according to Jackson's label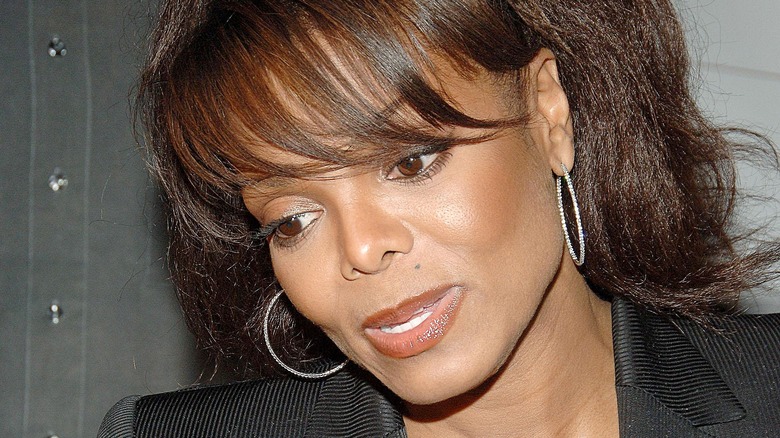 Everett Collection/Shutterstock
According to John McClain, a record executive at Janet's label A & M, the marriage between Jackson and DeBarge could torpedo Jackson's fledgling music career. At that point, "Control" was a chart-topping hit, making Jackson a superstar. McClain pressured Jackson to annul the union only eight months after the wedding, based on 1986 reporting from People. Jackson followed through on McClain's request in 1985 (via Insider). On that note, when asked if there was a chance for the couple to reconcile, Jackson replied, "I don't know, I really don't know. He calls every once in a while and says 'Hi,' but I really don't know." 
Also responding to People's questioning, DeBarge dramatically said that Jackson was more than just his wife — she was his sister, his mother, his everything. "I don't know what's going to happen. I'm very confused about the whole situation," DeBarge said. A 2018 Daily Beast article noted that James had experienced addiction and depression at the time of his marriage to Jackson and that her family had vehemently opposed the union. DeBarge reportedly left Jackson alone in a hotel for three hours shortly after their wedding, based on Insider reporting. Clearly, there were more problems in Jackson and DeBarge's marriage than just record label concern over marketability.
If you or anyone you know needs help with addiction issues, help is available. Visit the Substance Abuse and Mental Health Services Administration website or contact SAMHSA's National Helpline at 1-800-662-HELP (4357).
Inside the rumors that Janet and James had a secret baby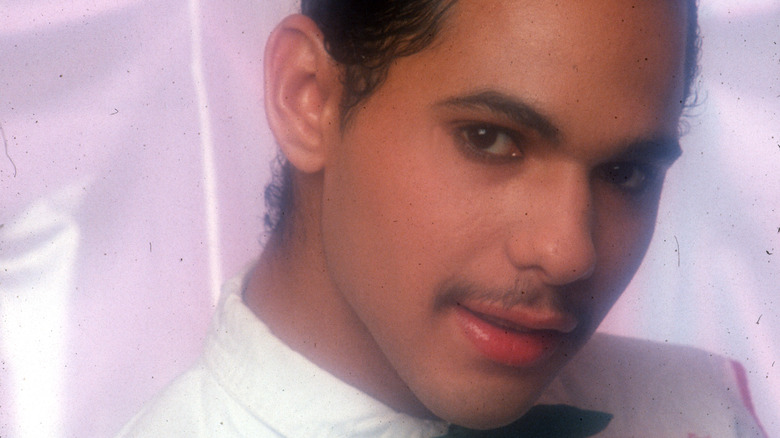 Michael Ochs Archives/Getty Images
As Insider goes on to report, in the 2022 Lifetime documentary "Janet Jackson," the star explained that while the young couple was married, she found herself searching the street for her husband at night, and sometimes until early the next morning. "I don't know, maybe it's this person in me that wants to help people ... Subconsciously, when it comes to relationships, somehow I'm attracted to people that use drugs," Jackson added. In 2016, according to Entertainment Tonight, DeBarge, who ran into legal trouble for his drug use in 2011 and 2014, appeared on the show "Growing Up Hip-Hop "and claimed that he and Jackson had a secret daughter together. 
When asked about the rumor by his daughter Kristinia, DeBarge replied that he was tired of the secrecy, adding, "I was under the impression that there was no baby, and I wanted to believe it's not true. But it is." His sister Bunny DeBarge later told Inside Edition that a woman claiming to be DeBarge and Jackson's daughter had come forward, but that she believed the woman was just seeking fame. Jackson herself addressed the rumors in Vibe in 2001, posted on R & Being, stating "They say the kid's in Europe or that one of my brothers or sisters is raising it. But no, I've never had a child."