The Tragic Real-Life Story Of La Toya Jackson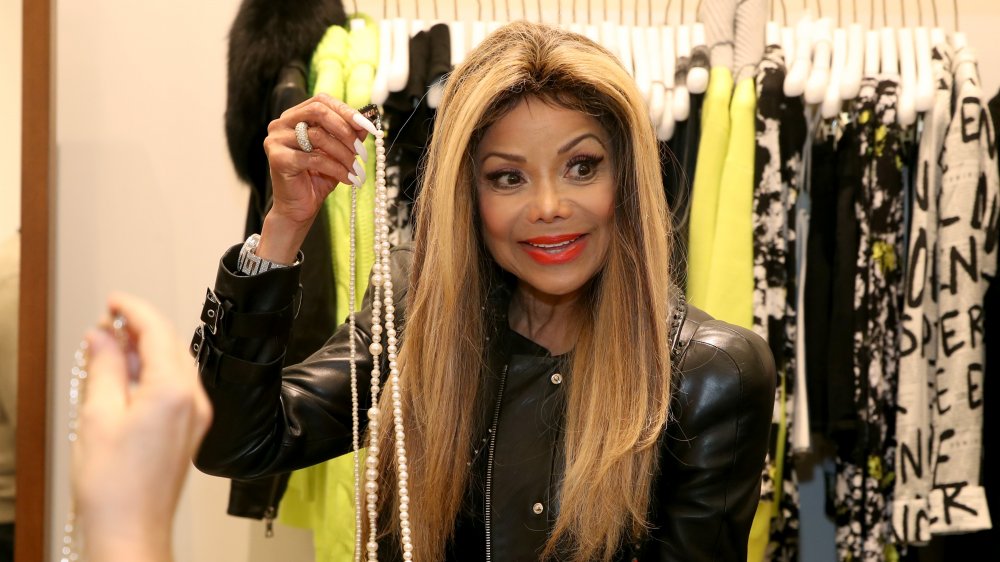 Randy Shropshire/Getty Images
Sometimes, it really sucks being part of a talented family. Even worse when you're the middle child. That was exactly how LaToya Jackson felt growing up. Unfortunately maligned throughout her career, Jackson's life has been dotted with pain and strife.
Jackson was born the fifth of the 10 Jackson children. Born on her sister Rebbie's sixth birthday, she was the third daughter born to Joseph and Katherine Jackson. According to her autobiography, described by some as a "tell-all," she first began performing at 16 as part of her brothers' performances as the Jackson 5, where she did a tap-dancing routine.
Although she initially wanted to become a lawyer, her father told her to join the family business — namely, entertainment. AllMusic wrote Jackson sang background vocals for her brothers and even appeared in several episodes of the Jackson 5 variety show. Her father also put her, Rebbie, and their youngest sister, Janet, in an all-girl singing group, hoping to replicate her brothers' success. 
But by 1979, she wanted to go solo, especially since she and her sisters couldn't agree on their group's artistic direction. Jackson released her first solo album in 1980. At first, she wanted to title the album LaToya, just her first name, so that she could distinguish herself from her famous siblings. But her father, who acted as her manager, refused and told her Jackson is her last name, and she should use it. So, the album became LaToya Jackson.
Her husband brainwashed her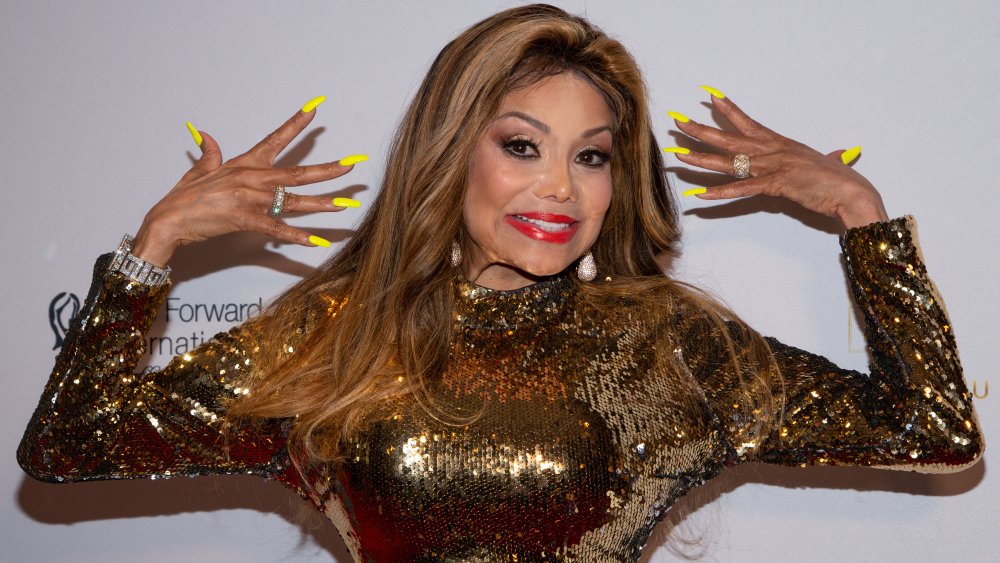 Gabriel Olsen/Getty Images
Her first solo album yielded modest hits, said AllMusic. Jackson, who was always close to her insanely famous brother Michael, even got him to provide background vocals to her songs. She released several songs and albums, but LaToya just could not find the same success as her siblings. AllMusic even called her the least talented Jackson — unfair, because she did see some popularity outside of the United States. She even was part of the historic "We Are the World" recording, along with dozens of other popular and accomplished artists.
In 1987, she met Jack Gordon, who was 18 years her senior. Her father had brought in Gordon to co-manage her career, but slowly the family felt that he was pulling her away from them. It was Gordon who convinced Jackson to pose topless for Playboy. Smooth Radio explained Jackson's mother, Katherine, felt Gordon sought to control Jackson and be the dominating force in her life.
Jackson and Gordon married in 1989. During this time, Jackson again posed for Playboy. Gordon increasingly separated Jackson from her family — they believed he was brainwashing her. It turned out that Gordon had been abusing and beating Jackson. People reported Gordon hit Jackson repeatedly with a brass dining room chair, bruising her face and arms. Jackson told the press that she didn't want to marry Gordon but viewed him as an escape from her father, who she claimed in her autobiography had abused her since she was six.
Reality star success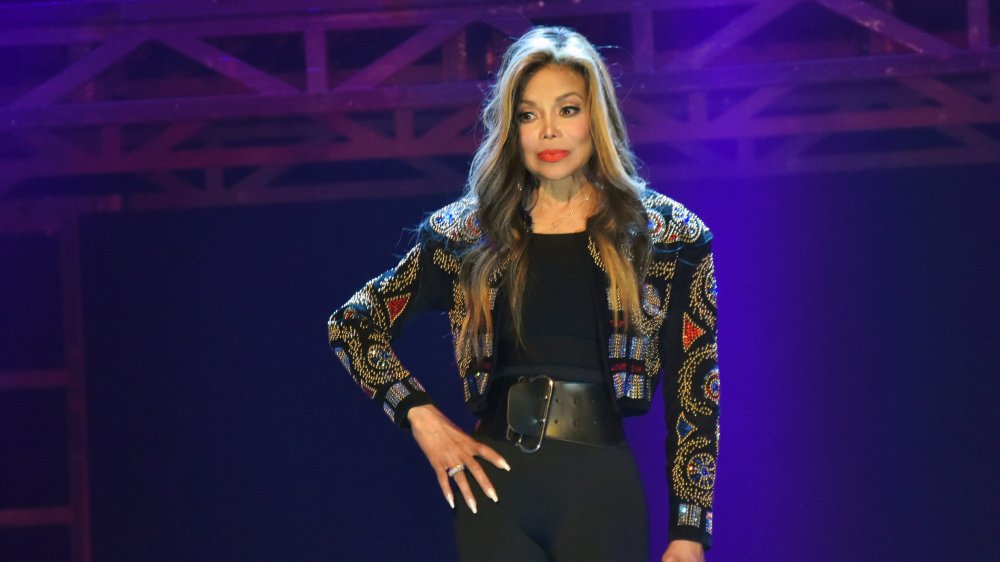 Carlos Tischler/Getty Images
In 1993, Jackson wanted out, and reached out to her brother Randy to help her escape. Jackson and Gordon divorced, and she finally returned to her family. When she was still with Gordon, Jackson found her career stalled, and she became a figure of public ridicule. Gordon created several publicity stunts and even said she would star in a pornographic film. Finally free of Gordon's damaging influence, she returned to making music, releasing several songs from 2003. Jackson, though, found more renewed fame in reality television. She competed in Celebrity Apprentice, served as a guest judge on Ru Paul's Drag Race, and was the fourth housemate voted off Celebrity Big Brother (in which her brother Jermaine had also participated). According to Variety, Jackson starred in her own reality show, Life with LaToya, that aired on the OWN Network in 2013. It was during the filming of the show that Jackson's business partner Jeffre Phillips proposed to her. The two did not end up getting married, but do remain business partners.
Jackson continues to show up in reality shows. She was in Food Network's Worst Cooks in America and, in 2019, was unmasked as the person behind the Alien in The Masked Singer.
After years when all she knew was pain, Jackson seems to be in a much better place. And she's the Jackson creating the least scandal these days.