The Time It Snowed In The Sahara Desert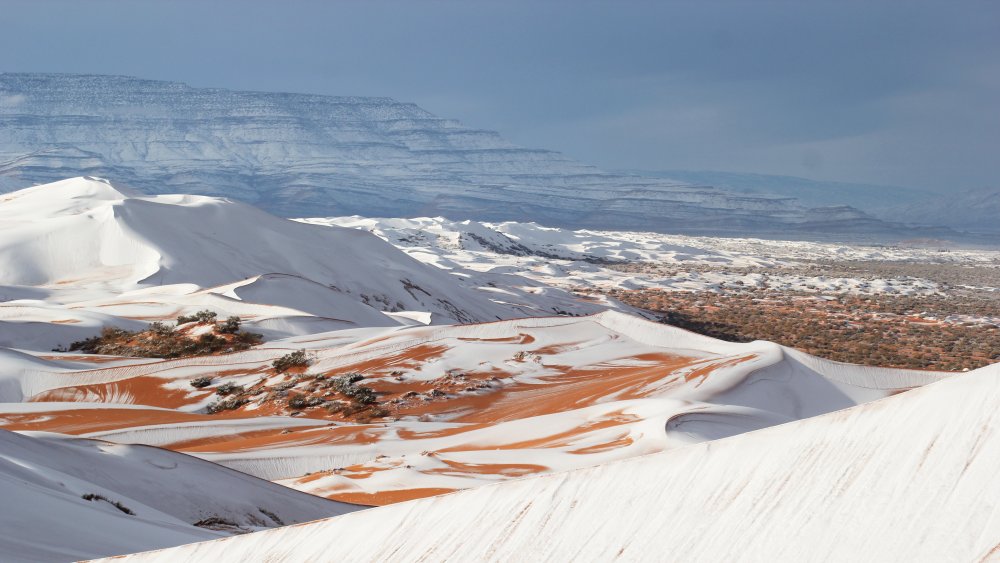 Shutterstock
Snow is just about the last thing you expect to see in the Sahara Desert. Monthly temperatures in the region's cold season average about 55 degrees Fahrenheit, or 13 degrees Celsius, according to Britannica, and precipitation measures an average of just three inches — 76 millimetres — per year. In 2016, however, there was indeed snow reported for the first time in 37 years. Per CNN, on December 19 the town of Ain Sefra in Algeria saw snow for the first time since February of 1979. The Independent spoke with photographer Karim Bouchetata, who captured images of snow on the orange dunes and the whirling patterns formed where the peaks were too steep to allow settling, who noted, "Everyone was stunned to see snow falling in the desert, it is such a rare occurrence." 
The snow reportedly lasted for just one day before melting. According to the Washington Post, the snow resulted from the passing of a strong area of low pressure at high altitudes, which "forced the air to rapidly rise and cool, enabling the exceptionally rare snowfall." The average lows in this region of the Sahara are in the upper 30s Fahrenheit, but they were "roughly 10 to 15 degrees colder than normal when the snow occurred." Just one month later, the snow was back; on January 20 a full meter — about three feet — landed. The Telegraph reported "chaos," with icy roads and stranded buses. Children, however, were busy building snowmen and sliding down dunes.
The children enjoyed the phenomenon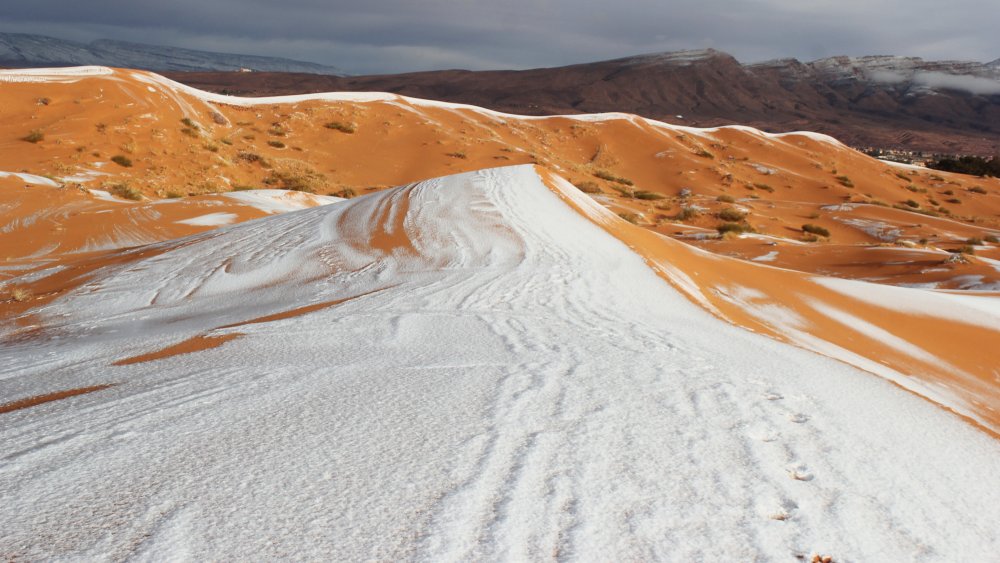 Shutterstock
At one point, it seemed as if snow in the Sahara would become a regular occurrence. A year later, in 2018, a freak storm dropped a mind-blowing 16 inches in some areas, starting the morning of January 7. Once again, it stayed around for just one day. Karim Bouchetata commented again, this time for the Daily Mail: "It stayed all day on Sunday and began melting at around 5 p.m."
A high pressure system was also responsible for this storm. The Daily Mail interviewed a spokesperson from the Met Center, who explained how cold air had been pulled down over North Africa as the result of a high pressure system over Europe: "The high pressure meant the cold weather extended further south than normal." According to Forbes, other places in the world also experienced extreme weather that Sunday, with "brutally cold winter storm Grayson" pounding the East Coast of the United States, and Sydney, Australia saw their "highest temperatures in nearly 80 years" at 116.6 degrees Fahrenheit.
There's been no new Saharan snowfall for the last two winters. Will a new weather pattern emerge? Time will tell.