The World Record Kat Von D Once Held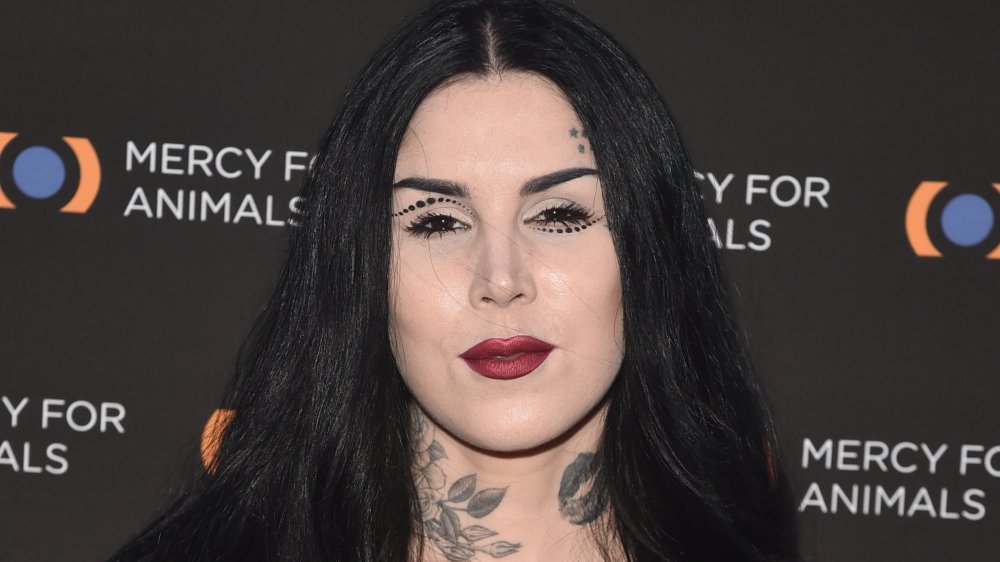 Alberto E. Rodriguez/Getty Images
Tattoo artist and entrepreneur Kat Von D is known for many things – her years on reality shows such as Miami Ink and L.A. Ink, her make-up line and its extremely durable eyeliner (as Allure reported), her unfortunate association with anti-Semitism (reported by The Schmooze at Forward) — but did you know that she once held a world record? Per World Record Academy, at one point Von D held the world record for most tattoos done within a 24-hour period — a whopping 400.
As reported by LAist, at noon on December 14, 2007, Von D started tattooing those lined up outside her tattoo studio, High Voltage, with an "LA" logo at $20 a pop. Guinness Board rules specified that "the size of the tattoo will not be less than 2.25 x 2 inches. It will also consist of two colors, black and red." The 24-hour marathon was filmed for the second season of LA Ink. Proceeds from the event went to Vitamin Angels, a nonprofit that according to their website "helps at-risk populations in need — specifically pregnant women, new mothers, and children under five — gain access to life-changing vitamins and minerals." Ironically, Von D has since been criticized by some for her beliefs concerning children's health. At one point she publicly announced that she refused to vaccinate her then-unborn son, although she has since changed her views (she said she was "completely uninformed") and declared, "I'm not an anti-vaxxer at all," according to Insider.
How many tattoos in how many hours?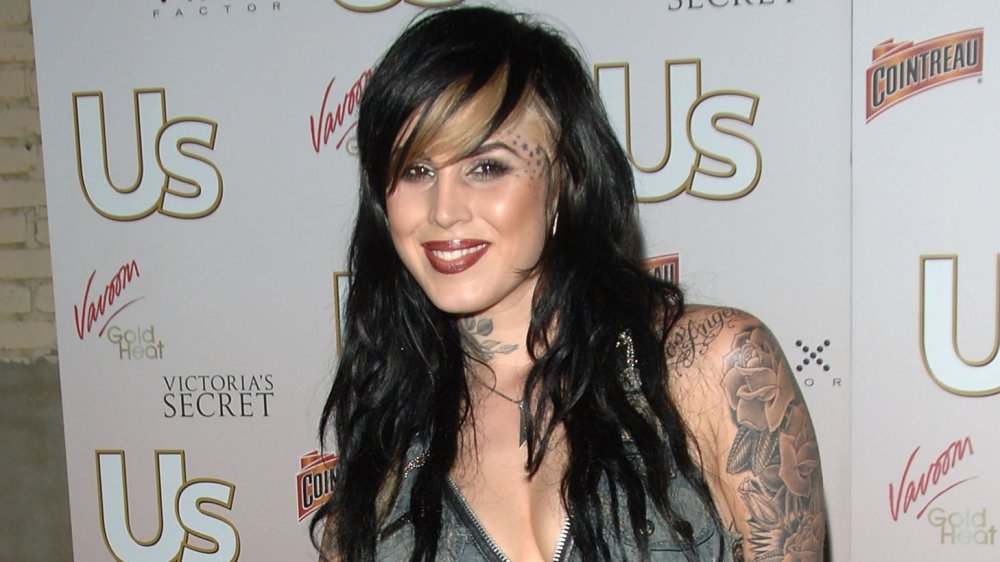 Stephen Shugerman/Getty Images
World Record Academy reported that people came from as far as Ohio to participate in Von D's quest for a world record, with lines forming 48 hours in advance. At one point, the line was 1,000 people long, and local police and fire marshals had to ask people to leave. Kat stayed focused for the entire 24 hours, keeping liquid consumption to a minimum, using nicotine patches instead of stopping to smoke, and taking merely three three-minute breaks. Von D later took to MySpace (it was 2007, after all) to apologize to disappointed fans: "I felt like it would be so cool to have people come down that I've either already met at one point or another, as well as some that I've never met. BUT, I definitely did not plan on having as many people show up." 
Von D held the record for most tattoos done within 24 hours for over six years until March 2014, as World Record Academy additionally reported. That's when Robbie "The Coon" Koch of Coon Tattoos in West Point, Mississippi succeeded in breaking the record by inking 577 tattoos within 24 hours. Like Von D, Koch used the opportunity to raise funds for a nonprofit and ended up sending $15,602 to the Make-A-Wish Foundation, which grants the wishes of children diagnosed with a critical illness. Von D, apparently not particularly possessive of her record, sent Koch an encouraging email, wishing him good luck.