How Steve Irwin Met And Married His Wife, Terri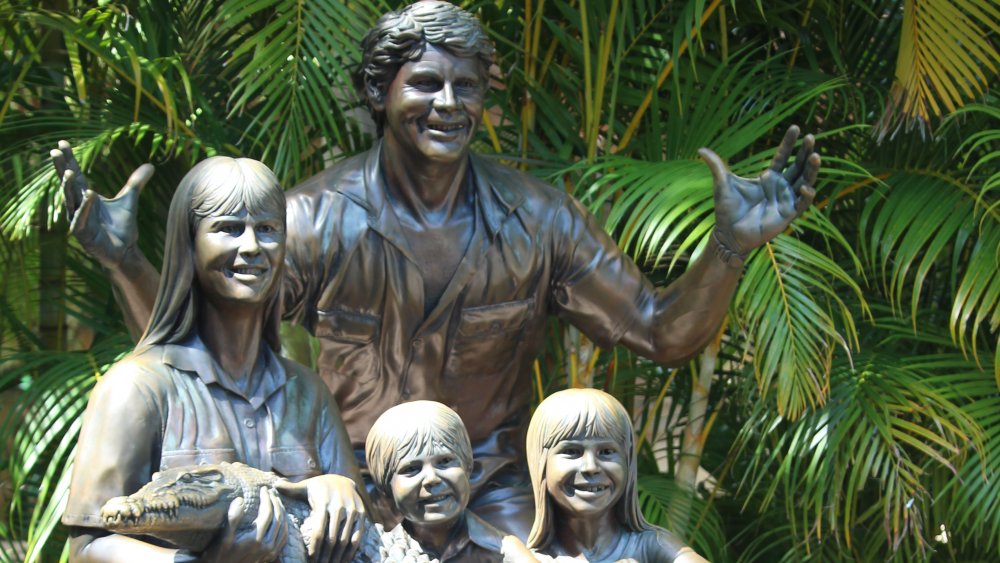 Shutterstock
Naturalist Steve Irwin spent his entire life caring for, studying, and teaching others about wild animals. Born in Victoria, Australia in 1962, per Biography, Irwin spent his childhood on his parents' wildlife park, now known as Australia Zoo (and home to the statue of the Irwin family pictured above). He became "The Crocodile Hunter" with the help of his American-born wife Terri Raines; the couple met in 1991 when Terri was on vacation at Australia's Great Barrier Reef.
A  2018 article in Now To Love described their first meeting. Terri and her friends drove past a small park and considered going in. At first, she hesitated, predicting, "There'll probably be just a couple of snakes in jars and I'll be depressed." They decided to risk it and were pleasantly surprised by a clean park filled with free-ranging animals. Terri reminisced about the park's crocodile show and the man who "was talking about them in ways that I never really thought of crocodiles ... The fact that he was so humble and loving towards these animals was so attractive to me and he looked like a rock in those shorts, too ... so I may have noticed that." 
She herself was already an animal lover and advocate, having started rescuing injured animals as a child, working as a veterinary technician, and founding an organization called Cougar Country, in which she worked with predatory mammals. Steve and Terri chatted after the show and immediately hit it off, and married eight months later.
'It just felt like we'd always been together'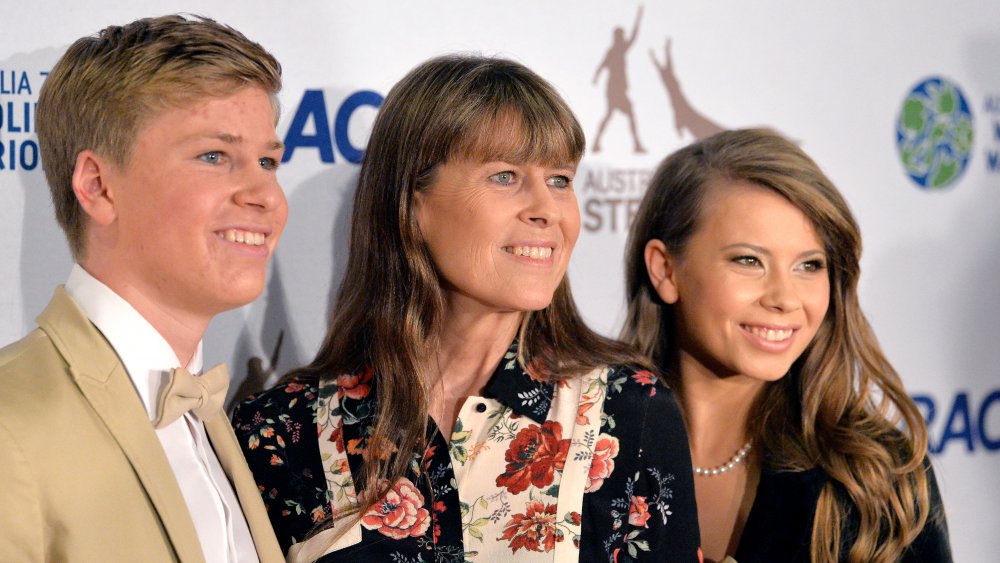 Bradley Kanaris/Getty Images
Appropriately, Steve proposed to Terri after a day of work at the zoo. "I was sweaty and dirty and covered with leaves and bark ... I was sitting there having a cool drink and Steve turned to me and said, 'What do you reckon? Do you want to get married?"" She accepted, remembering, "It was just absolutely and utterly comfortable. It just felt like we'd always been together." According to Biography, the Irwins spent some of their honeymoon filming crocodiles. Eventually their show The Crocodile Hunter was picked up by Animal Planet. At one point it aired in over 200 countries. 
Now To Love quoted Terri's belief that fame never changed Steve: "He was never pretentious, never big-noted himself and we did put everything we made for wildlife back into conservation, and still do." The Irwins had two children, Bindi and Robert, and raised them to be nature lovers in a manner similar to Steve's childhood in the animal park.
According to Terri, "[Steve] had this sense that his life would be cut short. I remember him saying to me 'I'm not going to film any more, I'm just going to spend time with my kids.'" Steve died in 2006 at the age of 44, stabbed fatally by a stingray while diving off the coast of Port Douglas, Australia. Today, Terri, Bindi, and Robert own the Australia Zoo and run the conservation organization Wildlife Warriors.