Why Joan Jett Was Never The Same After Covering I Love Rock 'N Roll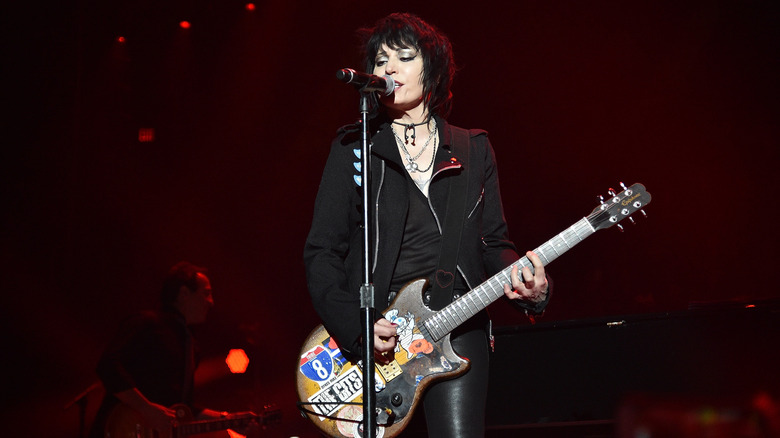 Kevin Mazur/Getty Images
Joan Jett was relaxing in her hotel room during a grueling tour of England with the groundbreaking all-female rock 'n' roll band the Runaways in 1976 when she flipped on the TV. A music show hosted by a band she'd heard of, the Arrows, was on, according to "Bad Reputation: The Unauthorized Biography of Joan Jett." The Arrows included an American and two Englishmen and they ended the episode with one of their B-sides that Jett hadn't heard before. According to the book, she was "squealing with excitement" when they played "I Love Rock 'n Roll." She had to cover this song.
Getting the song recorded would turn out to be a hassle that took several years to come to fruition. The rest of the band didn't have the same reaction as Jett and nixed the song, per SongFacts. Jett instead recorded the tune with two members of the notorious punk band the Sex Pistols before re-recording it with her band the Blackhearts, per "Listen to Classic Rock! Exploring a Musical Genre." The version that appeared on her 1981 album, "I Love Rock 'n Roll," her second album but the first with her band the Blackhearts, raced up the charts — as did the album — and changed her life forever.
Recording with the Sex Pistols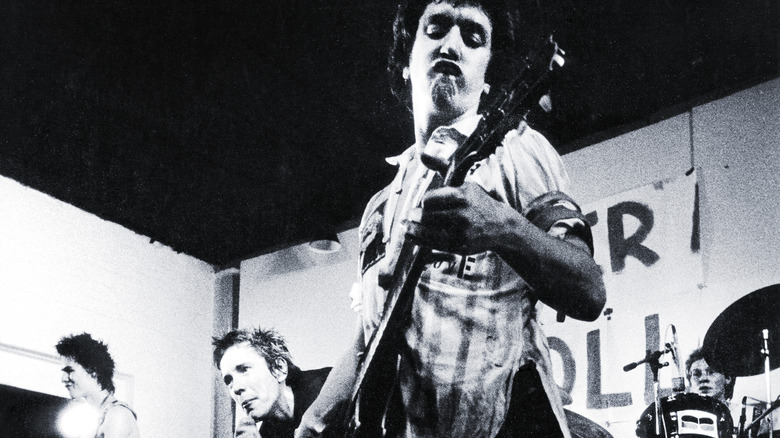 Gie Knaeps/Getty Images
In 1979, three years after first hearing the Arrows' version of "I Love Rock 'n Roll," Joan Jett got together with two members of the Sex Pistols, drummer Paul Cook and Steve Jones, the guitarist, and released it as the B-side of her single "You Don't Own Me," according to "Listen to Classic Rock!" "I did a very early version with them, it was great working with them, and no, there was no sense of trepidation on my part, despite the fact that everyone was telling me they were the most notorious band on the planet," Jett recalled in a 2010 interview with Uncut (via SongFacts).
The record belonged to Polygram, the Runaways' label before the band broke up that year, but the company's executives weren't interested in Joan Jett or her version of "I Love Rock 'n Roll," per SongFacts. Jett and her producer, Kenny Laguna, continued to believe the song would be a hit so Laguna bought the song's rights from the record company for cheap, per SongFacts. The Who bankrolled studio time and transportation for Jett to record her first solo album, "Joan Jett," which would later be repackaged as "Bad Reputation." But she held off re-recording "I Love Rock 'n Roll" until she could get a major label deal, which came in 1981.
Joan Jett's version flipped the script
Bill Tompkins/Getty Images
Alan Merrill and guitarist Jake Hooker of the Arrows wrote "I Love Rock 'n Roll" in response to the Rolling Stones' "It's Only Rock 'n Roll (But I Like It)," per SongFacts. In the original song, the lyrics are about a guy picking up a young girl and taking her back to his place: typical rock 'n' roll lyrical fodder in the 1970s.
In Jett's tweaked version, the tune becomes about a girl who notices a guy next to a jukebox and brings him home. As SongFacts points out, other hit songs of the era (such as "Physical" by Olivia Newton-John and "Hit Me With Your Best Shot" by Pat Benatar) also had sexual overtones, but Jett sang about men in such an unapologetic and aggressive way, which easily turned the tune into a generational female-empowerment anthem. The song also helped shape Jett's image as a tough, badass rock star and led her to become an inspiration to many female solo artists.
The single changed jett's career forever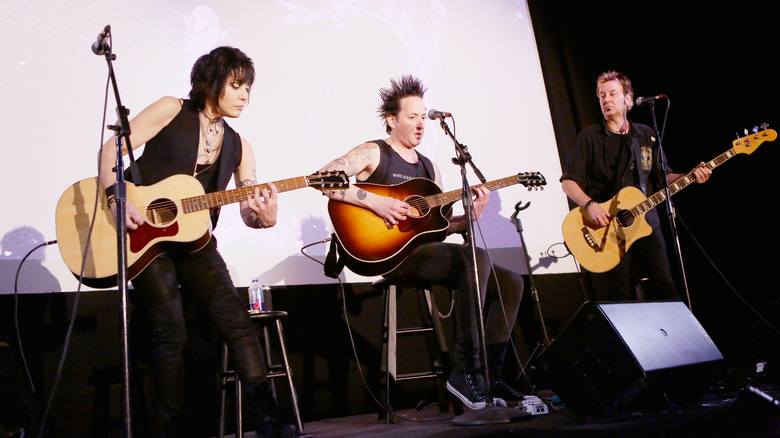 Tiffany Rose/Getty Images
Joan Jett and the Blackhearts recorded the album "I Love Rock 'n Roll" In the summer and early fall of 1981, per "Listen to Classic Rock!" And although there was initial pushback from radio stations who felt the song was "too hard-hitting for rock radio," the tune could not be suppressed, according to "Bad Reputation." It shot up the charts, quickly achieving the top spot in the Billboard Hot 100, per The Guardian. It held steady there for seven weeks. The album reached number two on the album charts.  
"I think most people who love some kind of rock 'n' roll can relate to it," Jett told Mojo Magazine in 2008 (via Society of Rock). "Everyone knows a song that just makes them feel amazing and want to jump up and down. I quickly realized this song is gonna follow you, so you're either gonna let it bother you, or you gotta make peace with it, and feel blessed that you were involved with something that touched so many people."