Here's Why Dollywood Has A Connection To Eagles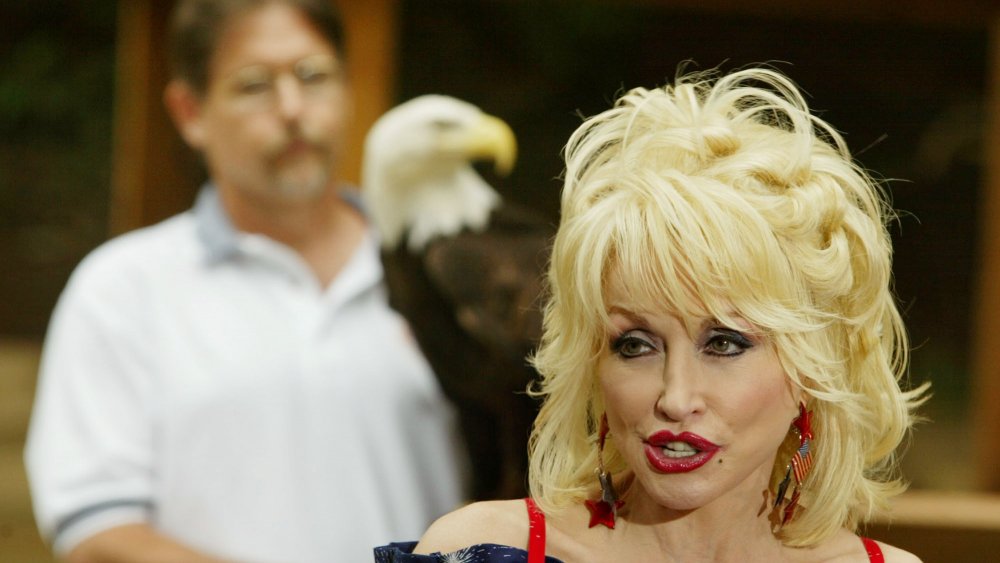 Mark Wilson/Getty Images
Dolly Parton's theme park Dollywood is located near her birthplace in the Great Smoky Mountains of Pigeon Forge, Tennessee. Its many attractions include fairway rides, a reproduction of the two-room cabin in which Dolly grew up, an entire water park, and the Eagle Mountain Sanctuary, an enormous aviary measuring 30,000 square feet which, according to the Dollywood website, "houses the country's largest presentation of non-releasable bald eagles." The sanctuary, which exists as a partnership between the American Eagle Foundation (AEF) and Dollywood, is adjacent to the theme park.
According to its website, "at Dollywood, guests can stroll along the edge of Eagle Mountain Sanctuary" and watch the resident eagles, all of whom are permanently disabled and unable to live in the wild. It includes a "Pick A Mate" section, in which eagles may mix and mingle and possibly meet the partner of their dreams with whom they might nest, reproduce, and raise eaglets to be released into the wild. There are also three large enclosures devoted to nesting pairs, and one enclosure for eagles who have no flying ability. One pair, the patriotically named Independence and Franklin, has been together for 20 years and have produced 30 of the 135 eaglets that have been released into the wilds of the Great Smoky Mountains since 1992. According to the AEF, Dolly Parton herself participated in the release of an eaglet for the first time in 2008, appropriately naming the eagle Liberty just before freeing it from its cage. 
When the eagles came to Dollywood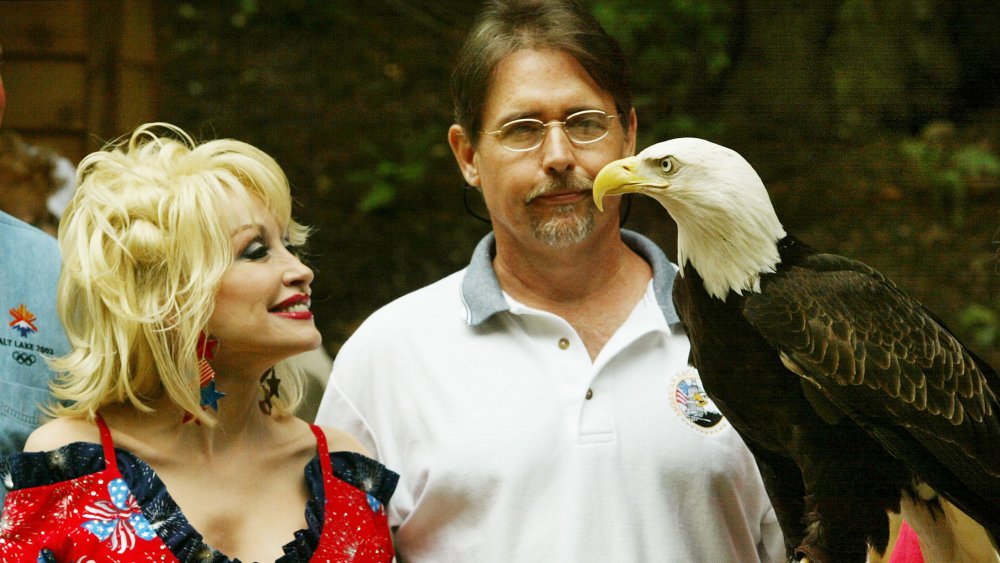 Mark Wilson/Getty Images
The connection between the American Eagle Foundation and the Tennessee country music community started in 1983 when, per the AEF website, production assistant Al Cecere contacted Bob Hatcher at the Tennessee Wildlife Resource Agency and asked if he could volunteer to help restore Tennessee eagles. (Because what's more American than country music and eagles?) Hatcher hoped Cecere's entertainment contacts would be tools he could use to support eagle rehabilitation, and he was right. Cecere did some fundraising among his numerous country music contacts, including Dolly Parton. 
Eventually, singer/songwriter James Rogers, board member of what was then the National Foundation to Protect America's Eagles (NFPAE), contacted the president and head of attractions at the still-under-construction Dollywood. The NFPAE met with Dollywood and "shared their vision for an eagle feature at the park." Construction on the Eagle Mountain Sanctuary and the Wings of America Theater, which hosts bird shows and often features birds from the sanctuary, began in addition to the rest of the park's construction. Both opened in March of 1991.
Coincidentally (or perhaps not), Parton released her 31st album in April of 1991; per All Music, it was her first million-selling album that wasn't a greatest hits compilation. The title? Eagle When She Flies.