The Awful Thing The Hilton Sisters' Mother Did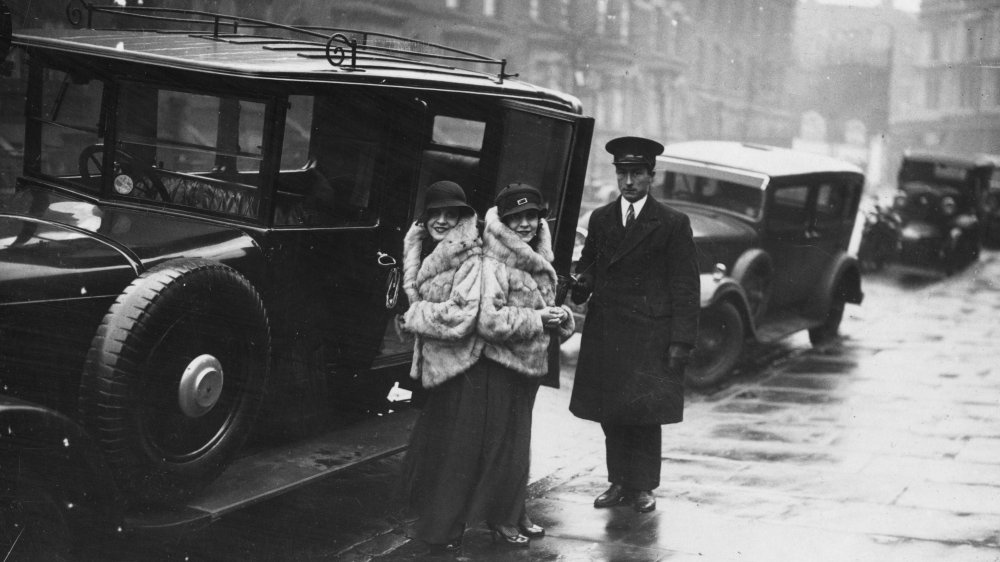 A. Hudson/Getty Images
Conjoined twins Daisy and Violet Hilton were born in Brighton, England in 1908. Per the 2014 book Freak Show: Presenting Human Oddities For Amusement and Profit, their mother was an unmarried barmaid named Kate Skinner; their father was unknown. Skinner soon handed over the twins to Mary Hilton, the woman who owned the pub where Skinner worked and had assisted at their birth. Hilton gave Skinner money in exchange for the twins; while it's unclear whether Hilton considered the transaction a sale or an adoption, she saw the girls as an opportunity to make money. According to HuffPost, the sisters were pygopagus twins — fused together at the pelvis. Their doctor predicted they wouldn't live out the month; Hilton placed them on display in the back room of her pub and charged patrons a fee to see them. 
Hilton forced Violet and Daisy to call her "Auntie" and to refer to "the many men in Auntie's life" as "sir." By the time they were 3 years old, she had started the twins on a world tour. After lukewarm receptions in Germany and Australia, the family landed in San Francisco in 1915. When the twins were denied entry into the country and deemed "medically unfit," publicity-savvy Mary started a media frenzy that persisted until the sisters were allowed entry. When Mary Hilton died, her biological daughter Edith and Edith's partner, balloon salesman Myer Myers, became Daisy and Violet's guardians. They were even more controlling and exploitative than Mary Hilton.
From vaudeville to the grocery store
The Myerses slept in the same room as the sisters, forced them to practice playing musical instruments for hours on end, and never allowed them to see the terms of their contracts. HuffPost notes that the sisters "viewed themselves as others did — as cattle ... not as victims, but as property." Myers threatened them with institutionalization if they rebelled. 
The conjoined twins went on to have extremely successful vaudeville careers, often earning $5,000 a week — none of which went to them. Eventually, they met magician Harry Houdini, who begged them to learn about their public personas and see how much money others were making off their work. They got a lawyer, were emancipated from the Myerses in 1931, and awarded $100,000. Free at last, the Hiltons cut loose — dating, partying, and starring in two movies, including the cult classic Freaks. They took part in a publicity stunt wedding, gave birth, and placed the baby for adoption. With no one advising them on how to handle their newfound personal and financial freedom, the twins were soon broke.
After landing a gig promoting Twin Pack Potato Chips at a grocery store in Charlotte, North Carolina, they asked the store owner to take them in and noted he could just pay one person. They performed in the grocery's back room and "enjoyed the ... solace of life out of the spotlight" until dying of the flu in 1960 at the ages of 60.