The Details Behind Al Capone's Surprising Soft Side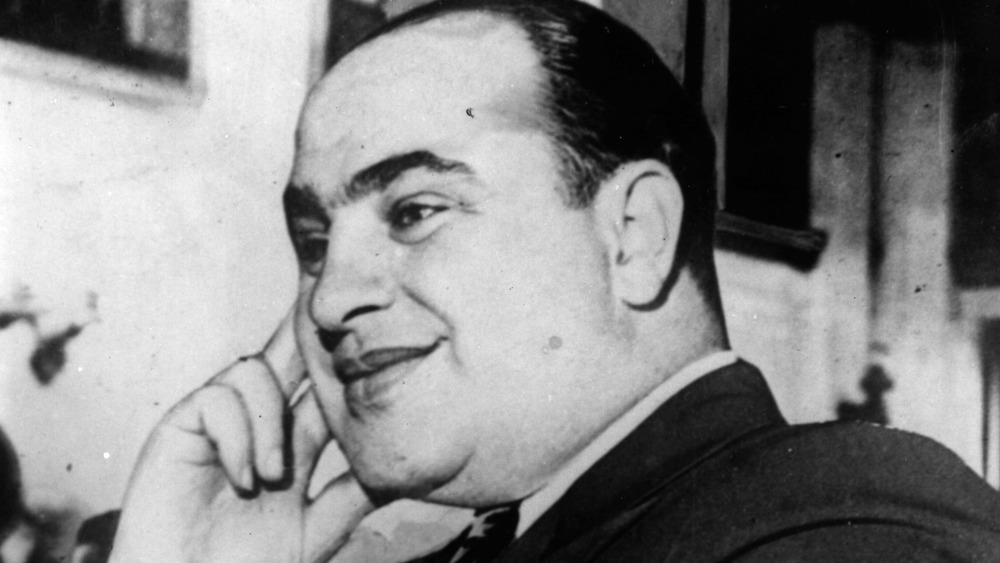 Keystone/Getty Images
We may receive a commission on purchases made from links.
Al Capone was the ultimate gangster. Alphonse Gabriel Capone (1899-1947) entered the crime world as a teen in New York, mentored by mobster Johnny Torrio. He moved to the underbelly of Illinois to help him run the Chicago Outfit, a notorious gang that ruled the south side. When Torrio retired in 1925, 26-year-old Capone became the kingpin. Bootlegging, prostitution, racketeering, murder, gambling ... Capone, aka "Scarface," did it all during the Prohibition era, making a $100 million fortune along the way, according to Biography. 
Despite his reputation as a tough guy, Capone had a kinder side, especially when it came to family. His son, Albert "Sonny" Capone, was prone to ear infections as a child, and his father provided only the best care for him. For the book Capone: His Life, Legacy, and Legend, author Deirdre Bair interviewed hundreds of people, including Capone's descendants, to show the complex persona behind the ruthless killer and lawbreaker. "This is also the story of a loving son, husband, and father who described himself as a businessman whose job was to serve the people what they wanted," she wrote. 
Besides offering one doctor $100,000 to care for his son's condition (according to the US Inflation Calculator, over $1.5 million in today's money), he wrote the boy sweet letters from prison. Eventually, the law caught up to Capone ... not for one of his terrible acts as head of a crime syndicate, but for tax evasion, and he ended up in Alcatraz.
A family man at Alcatraz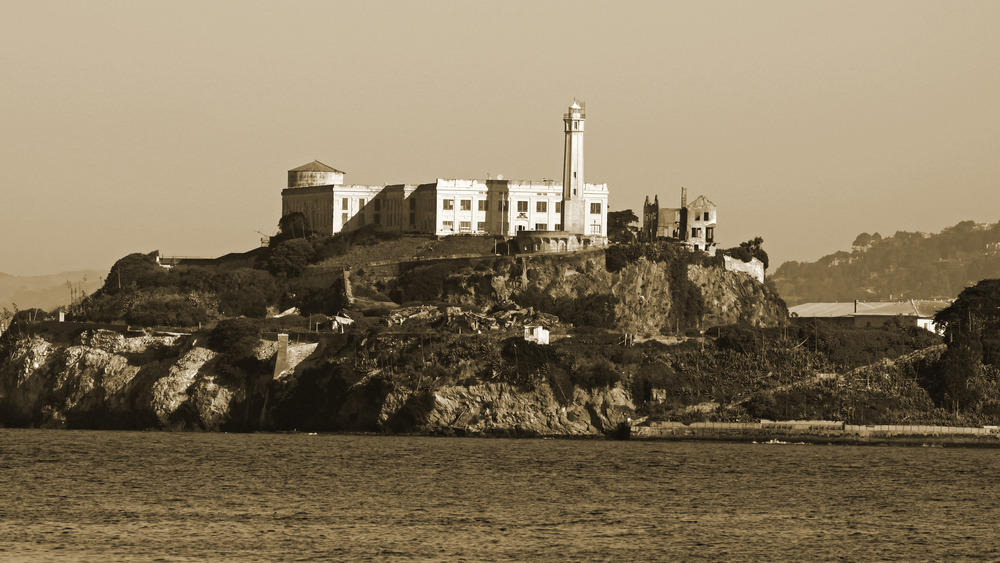 Shutterstock
One three-page missive to his son netted $62,500 in an auction in Massachusetts, according to the Christian Science Monitor. It was signed, "Love & Kisses, Your Dear Dad Alphonse Capone #85," his prison moniker. The Alcatraz Prison inmate also told his boy to "keep up the way you are doing, and don't let nothing get you down. When you get the blues, Sonny, put on one of the records with songs I wrote you about to Ma."
Who knew Chicago's Public Enemy No. 1 was a music aficionado? Not only did he like listening, but Capone played tenor banjo, tenor guitar, and mandola — a sort of large mandolin — in Alcatraz. His band, The Rock Islanders, had a "rotating group of musicians who played as a privilege," according to Smithsonian Magazine. Capone told his son in a letter that he knew more than 500 songs and that he even wrote a love song, titled "Madonna Mia," allegedly in honor of his wife, Mae. Just imagine the notorious gangster crooning lyrics like, "Madonna Mia, with your true love to guide me, let whatever be-tide me, I will never go wrong." Kind of makes you see him as both a lover and a fighter, right?
Capone also gave back to the community. Bair writes in her book that he created soup kitchen for the poor during the Great Depression with the capacity to feed 2,000-3,000 daily, and that Capone often gave money to widows and orphans. 
A mobster's entertainment legacy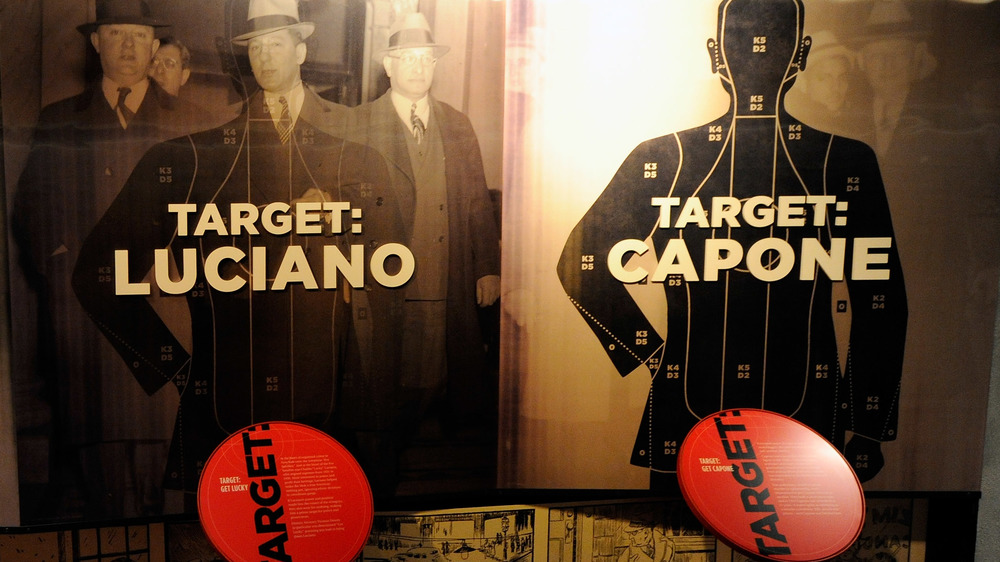 Ethan Miller/Getty Images
No question but that Capone could hold a grudge. Just ask those murdered in the St. Valentine's Day Massacre, where his gang took out seven members of George "Bugs" Moran's Irish mob on February 14, 1929, effectively ending that gang's rule in Chicago. Nevertheless, he sometimes let things go. For instance, he hired Frank Galluccio, the man who slashed Capone's face, giving him his well-known scars (and the nickname he hated). Galluccio served as Capone's bodyguard for a whopping $100 a week. Of course, there was something in it for Capone, who initially wanted revenge, according to the Daily News. At the time, Capone was not yet as powerful as he would become. Other thugs told him to leave Galluccio alone, and so he did. Instead, he got an ally.
Capone's imprisonment ended in November 1939, just in time for him to see treatment for syphilis in a Baltimore Hospital, according to History.com  After that, he retired to his mansion in Palm Island, Florida, until he suffered a stroke and died on Jan. 25, 1947. His infamy still inspires books, movies  and even tourism.