How Two Of Queen's Most Iconic Songs Were Inspired By The Same Thing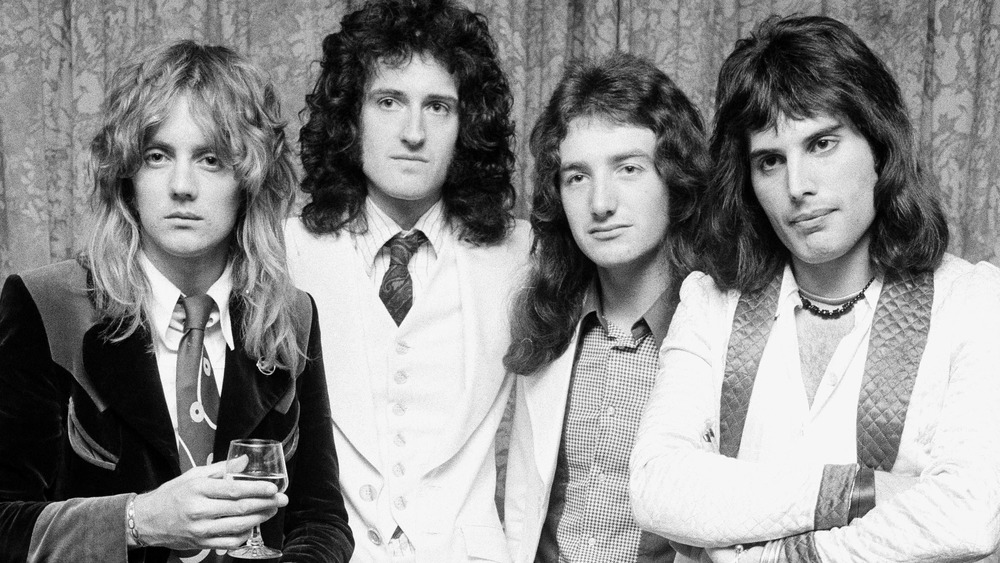 Michael Putland/Getty Images
Rock band Queen was well-known for their bombastic, operatic performances that often caused audiences to react with loud, uninhibited enthusiasm. The band was inspired by their fans' passionate receptions to write two of their most well-known and well-loved songs. The songs so perfectly capture the excitement and joy of being in an audience that they've gone on to become "jock jams," popular favorites played by DJs at sporting events to encourage crowd participation.
Per Rolling Stone, Queen was moved to write the stomp- and clap-heavy "We Will Rock You" after an especially "warm and rowdy reception" from the audience during a concert at Stafford, England's Bingley Hall on May 29, 1977. Rolling Stone quoted a 2002 interview from Guitar World in which guitarist Brian May explained, "'We Will Rock You' was a response to a particular phase in Queen's career, when the audience was becoming a bigger part of the show than we were." After playing shows during which the band often had to stop and let the audience sing, May and singer Freddie Mercury decided to write a song that specifically relied on audience participation. May's contribution was "We Will Rock You," while Mercury wrote its companion song, "We Are The Champions."
A participation song for the fans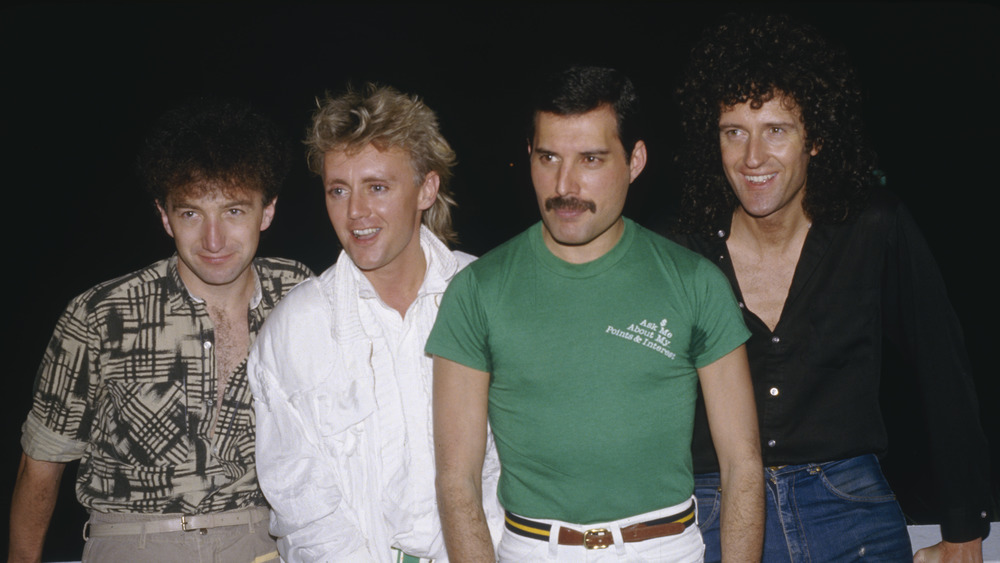 Dave Hogan/Getty Images
The status of "We Are The Champions" as a "jock jam" was absolutely by design, according to Mercury. Rolling Stone quoted an interview with Circus in which Mercury shared that he'd been thinking about English football when he wrote the song, wanting to create a "participation song" that fans would embrace, but of course he "had given it more theatrical subtlety than a normal football chant." The rest of the band was at first not convinced by the song's alleged subtlety; Brian May admitted that their initial reaction was that the song was "something very big headed" and maybe too arrogant even for a band known for their out-sized, grand performances. But Mercury was convinced that people would respond positively to his vision, giving fans a powerful, optimistic sing-a-long experience. 
Mercury was right. Billboard noted that Queen had already carved out an unusual niche for themselves with the success of "Bohemian Rhapsody," but "the one-two punch of 'Rock You' and 'Champions' has proven to be just as large a part of Queen's enduring legacy." The songs are still used to close out every Queen show, giving audiences one last opportunity to stomp, clap, and sing along.