The Urban Legend Surrounding Keith Richards And His Heroin Addiction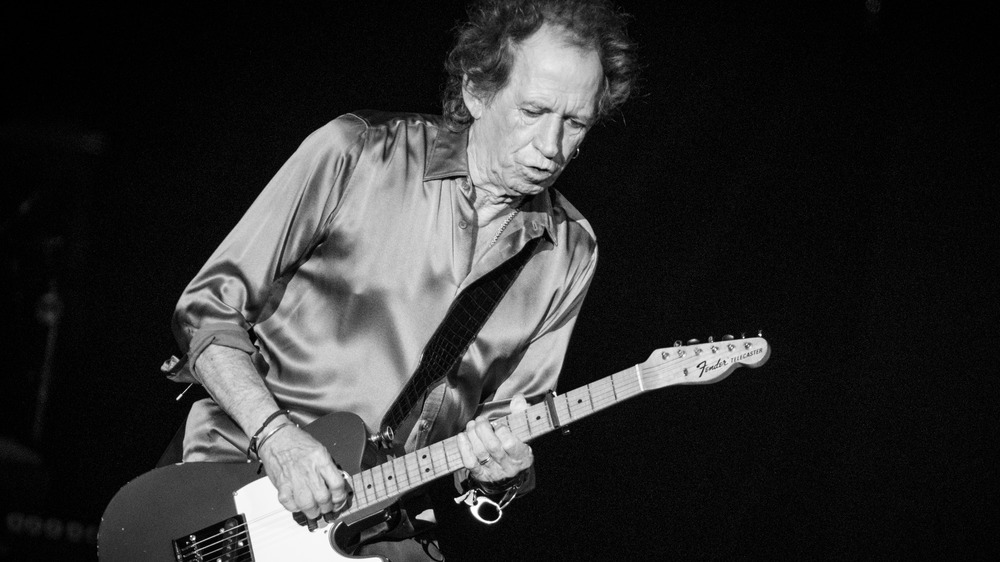 Rich Fury/Getty Images
Few musicians have attracted their own myths like Keith Richards. The Rolling Stones guitarist, who has played with the band for more than 50 years at this point, is perhaps the ultimate rock and roll figure. He's lived the life, made the music, talked the talk, and walked the walk. And outside of his celebrated "weaving" of guitar sounds with fellow Stones guitarists Brian Jones, Mick Taylor, and Ronnie Wood, there is one aspect of Richards's life which has attracted significant attention from the press and fans alike: his history of prodigious drug use, which has characterized how people perceive Richards for decades. That's thanks, in part, to the highly publicized drugs bust at his Redlands estate all the way back in 1967, from which Richards and Stones lead singer Mick Jagger narrowly avoided lengthy jail sentences.
This brush with the law didn't reportedly do much to curtail Richards's drug use, as he was arrested again on drug charges a total of four more times before the end of the 1970s, according to Keith Richards: The Biography. The Redlands drugs bust has been described as the moment that the Rolling Stones lost their innocence — "that was when the fun stopped," Richards has said — and it is true that things took a dark turn in the years that followed as Richards found himself battling an addiction to heroin and generating an eyebrow-raising urban myth in the process.
The Keith Richards blood change story
The story goes that in 1973, the Rolling Stones were due to embark upon a grueling world tour. Richards was in the throes of a destructive heroin addiction. The guitarist was well aware that his drug problem would mean he was unlikely to cope with the packed touring schedule, and he decided to look for a way to end his habit.
Snopes reports that Richards had tried to kick heroin many times previously, with the use of alternative medicines and periods of attempting to go cold turkey, but nothing was working. Before long, Richards would find himself giving in to his itch for another fix.
Legend has it that Richards got word from the Marshall Chess, a record producer who had recently kicked heroin himself, of an unconventional treatment that would cure Richards of his addiction instantaneously: a total blood change, administered by a Florida doctor. The physician would meet Richards in a Swiss villa to perform the procedure before the start of the European leg of the Stones' tour. According to purveyors of the tale, Richards' "oil change" was so successful that he was able to complete the tour completely free of his previous chemical dependency.
The story has been treated as cold hard fact by some Stones biographers, and has even appeared in the memoirs of people who worked with the band in their heyday. As Snopes points out, however, the tale of the vampiric cure for addiction is almost certainly untrue.
Keith Richards and the art of self-mythology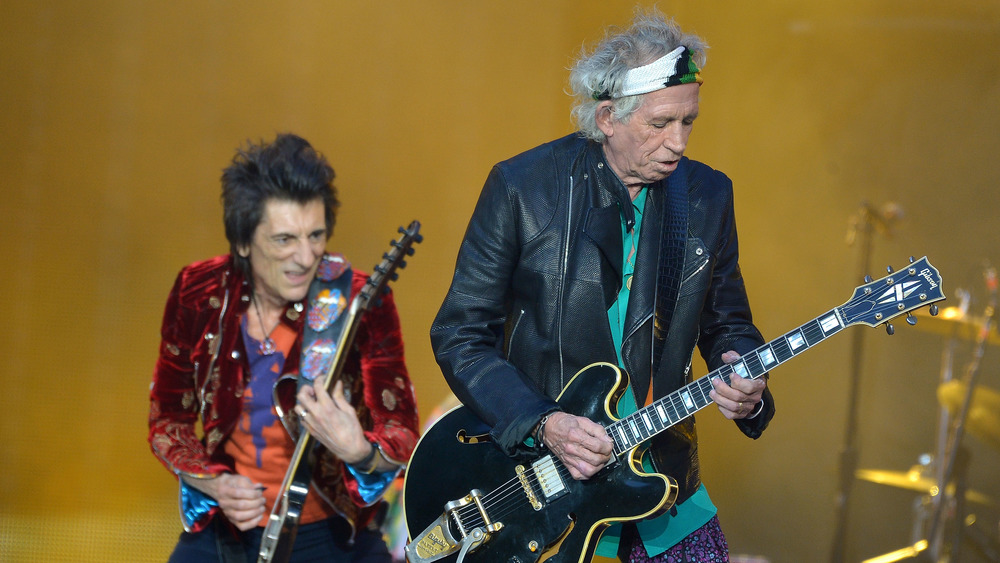 Jim Dyson/Getty Images
Richards has been open about his drug use and that many parts of his public image are fabricated, as well as the fact that he perpetuates certain myths for the sake of mystique. Regarding the Redlands drugs bust, for instance, Richards claimed that "the judge managed to turn me into some folk hero overnight. I've been playing up to it ever since," according to Rolling Stone.
The tale of his blood change may have come about by accident, however, following a throwaway comment by Richards himself. According to Snopes, the guitarist explained: "Someone asked me how I cleaned up, so I told them I went to Switzerland and had my blood completely changed. I was just fooling around. I opened my jacket and said, 'How do you like my blood change?' That's all it was, a joke. I was ... sick of answering that question. So I gave them a story."
Some stories just refuse to go away, even half a century on. But as the book Rock 'n' Roll Myths explains, when people like Richards achieve such stature, they cannot help but generate their own personal folklore. "Even the story of his falling off a low tree branch in Fiji and surviving brain surgery grew to mythic proportions," it says. "In spite of everything that's been thrown his way — including a good chunk of which he invited — he's rock's indefatigable, indestructible man, as steady and persistent as a 4/4 beat."