The Robert Rodriguez And John Malkovich Movie You Will Never See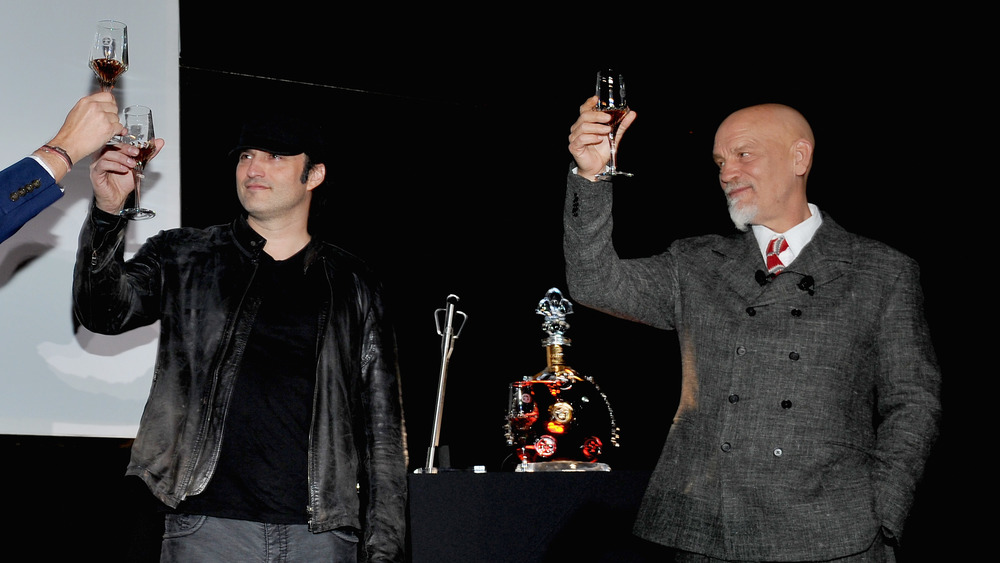 Donato Sardella/Getty Images
If you're a dedicated fan of any movie franchise, you know the pain of having to wait months or even years for the next installment to come out. But how about waiting a century? In 2015, Robert Rodriguez — director of Sin City, Spy Kids, and Alita: Battle Angel – created a short film that won't be released until November 18, 2115.
Per People Magazine, the film is appropriately titled 100 Years, with the tagline, "The Movie You Will Never See." While it was directed by Robert Rodriguez, 100 Years was written by acclaimed actor John Malkovich, who also serves as the star of the film. This unusual artistic venture was sponsored by Louis XIII Cognac (owned by the French brand Rémy Martin), which asked Rodriguez and Malkovich to create a film inspired by the 100 years it takes to properly age a bottle of Louis XIII.
According to Gizmodo, 100 Years will likely star John Malkovich as a male protagonist, Taiwanese actress Shuya Chang as a female protagonist, and Chilean actor Marko Zaror as the main antagonist. Beyond those factoids, almost everything else about 100 Years is a secret. Per Entertainment Weekly, 100 Years is currently locked in the Louis XIII cellars, not to be viewed by human eyes until its official release in 2115. Even so, Rodriguez and Malkovich have dropped some (very minor) hints about what the film could contain.
'100 Years,' the short film sponsored by Louis XIII Cognac, will be locked away until 2115
We do know that 100 Years is in some way an exploration of what the future could look like. Per Gizmodo, Malkovich did research into futurism before writing 100 Years, in an attempt to figure out what society may be like a century from now. In addition, Louis XIII Cognac released three teaser trailers for the film, each posted on YouTube and each presenting a different version of 2115.
The first teaser, "Future," shows Malkovich and Chang in a cyberpunk-esque version of the future, opening the Louis XIII safe in 2115. A second teaser, "Nature," shows the same scene, set in a world reclaimed by vines and shrubbery. The final teaser, "Retro," shows a more dystopian, Terminator-style future society. Might the plot of 100 Years follow one of these three themes? Probably not; per the description of each video, the teasers "have nothing to do with the movie itself."
Besides this film, per GQ, Louis XIII Cognac also commissioned Pharrell Williams to make a song that won't be released until 2117. As a way to draw attention to climate change, Pharrell's song is stored on a water-soluble clay disk that will likely be destroyed if sea levels continue to rise. As for 100 Years, the film remains hidden in Louis XIII's time-locked safe. Per Adweek, Malkovich, Rodriguez, and other special guests have been given silver-plated tickets so their descendants can attend 100 Years' official 2115 premiere.