Why Edge Ultimately Decided To Leave The Ring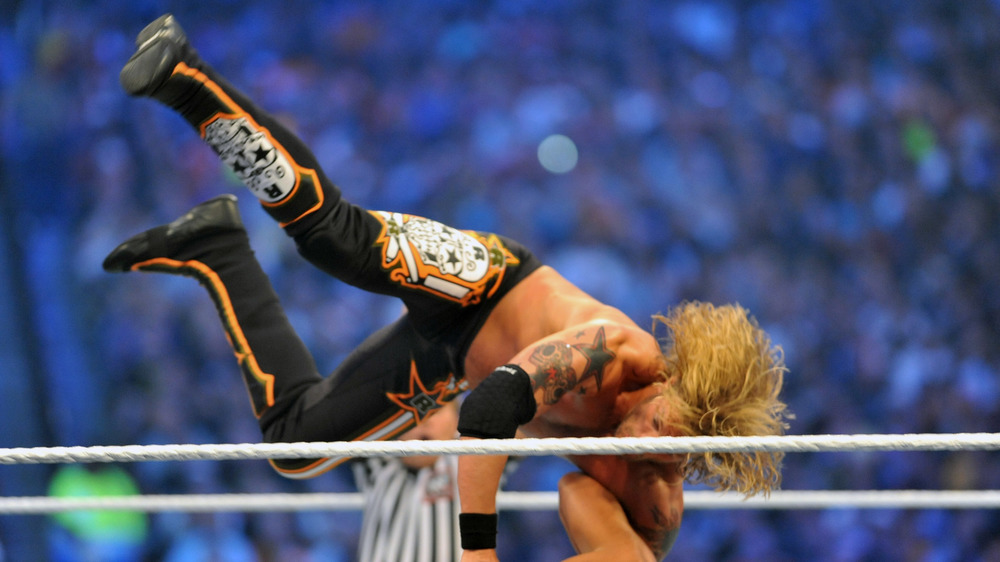 Moses Robinson/Getty Images
Edge took over the WWE with style, confidence, and flair, the way a rock star dominates the stage and sends his groupies swooning every time he winks their way. In fact, his official WWE bio states that he actually did have his own groupies, called Edgeheads, who obsessed over his every sultry move. During his career, he held every single WWE title a wrestler can win, earning himself nicknames like "The Rated-R Superstar" and "The Ultimate Opportunist." Along with his real-life best friend and angle (storyline) brother Christian, he would be one of the most successful tag team wrestlers in the promotion's history. Team E&C snagged seven championships as a duo and had what Bleacher Report described as "the greatest tag team feud of all time" with The Hardy Boyz. The rivalry led to several crowd-pleasing innovations, such as Ladder matches and Tables, Ladders, and Chairs (TLC) matches.
Even after he and Christian parted ways, the guy voted "Most Likely to Be a WWE Champion" in his high school yearbook went on to win another seven tag team titles with Superstars like Chris Benoit, Chris Jericho, Randy Orton, Rey Mysterio, and a hero of his childhood, Hollywood Hulk Hogan. But unbeknownst to Edge's legions of adoring fans, throughout much of his career he was suffering from several neck injuries that would cause the condition that ultimately led to his retirement from the ring. He was lucky that it didn't take him out for good.
Edge suffered from a serious spinal condition throughout much of his career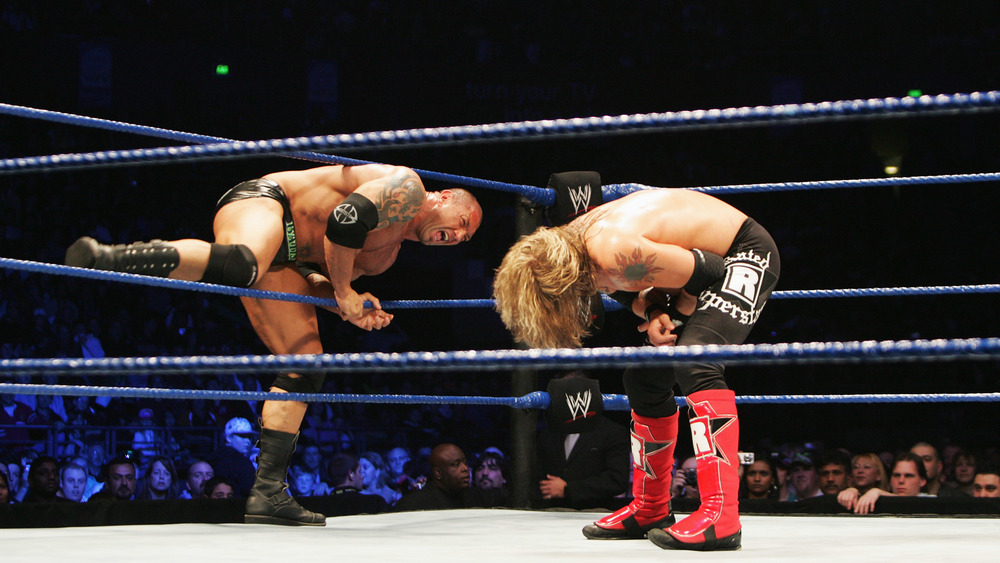 Gaye Gerard/Getty Images
In April 2015, Edge spoke with fellow wrestler/rock star Chris Jericho on his podcast about WrestleMania, injuries, and the recent sports mishap that took the life of Mexican wrestler Perro Aguayo Jr. The month before, Aguayo Jr. had died of a cervical spine injury and cardiac arrest after breaking his back in a match in Tijuana, Mexico. Edge told Jericho that the news hit him very close to home and that he considered himself extremely lucky. "I don't know how I dodged that bullet, because that easily should have been me," he said.
That's because, as noted by Wrestling Inc., Edge wrestled for several years with a serious spinal condition called spinal stenosis, caused by repeated neck and back injuries. "I probably had stenosis when Jeff [Hardy] landed on me through that ladder at WrestleMania 23 [in 2007]," said the wrestler, who retired in 2011. "I was already having more neck issues then. How did I breeze by that? There's no explanation, especially when I saw how little caused Perro to pass away."
Whether the pressure came from WWE management, or from a tacit understanding of how pro wrestling works, or the personal drive to simply not give up, Edge said he regularly fought with serious symptoms of the condition. Sometimes his arms would quit working for 20 seconds or so. But after an MRI showed him what he was doing to his body, he retired in 2011.
Edge pushes his luck by returning to the ring nine years later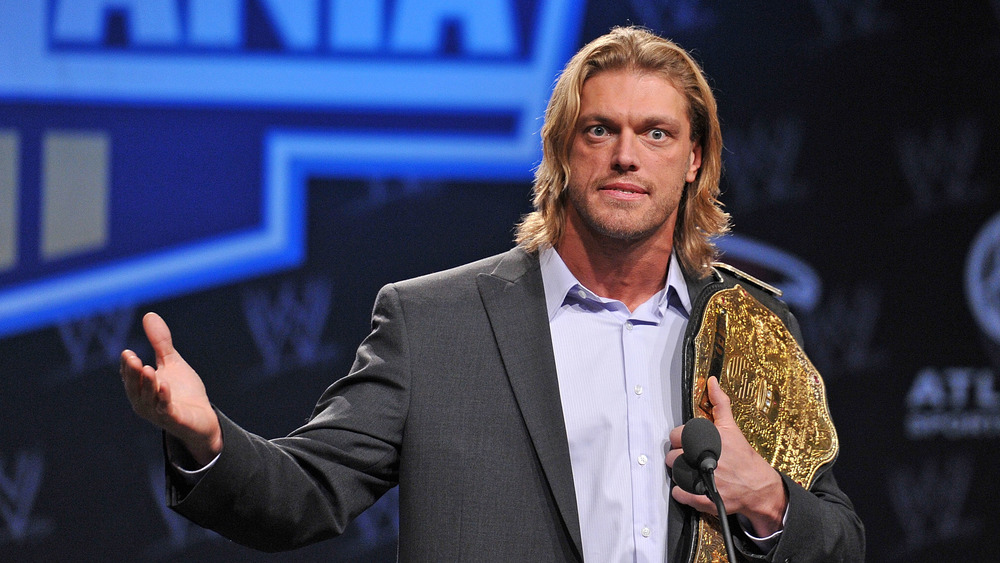 Mike Coppola/Getty Images
After retiring from the WWE, Edge, whose real name is Adam Copeland, pursued the acting career he began in 2000, when he appeared in the film Highlander: Endgame. According to his IMDB page, he landed recurring roles on the Syfy show Haven and the History Channel's Vikings, among other gigs.
Although he was inducted into the WWE Hall of Fame in 2012, apparently he missed the squared circle limelight. Despite what he'd told Jericho five years earlier, Edge made a shocking return to the ring during the Men's Royal Rumble Match in January 2020. The WWE reported that the 2010 Royal Rumble Champion took out three competitors before being eliminated himself. One of those three was former tag team partner Randy Orton, who was seemed less than happy about it. Orton went on to attack Edge and his wife Beth Phoenix in the ensuing weeks, and Edge challenged Orton to a Last Man Standing Match at WrestleMania 36 in March, where he exacted his revenge. ProWrestling.net reported that Edge triumphed over Orton in just over 36 minutes.
The two met again at Backlash in May, and this time it was Orton who came away victorious. It was later reported that Edge had suffered an injury during the match, but not to his back this time. Pro Wrestling Sheet reported that a torn triceps would keep Edge, and his back, out of the ring for up to eight months.