Inside Keanu Reeves' Attempt At A Music Career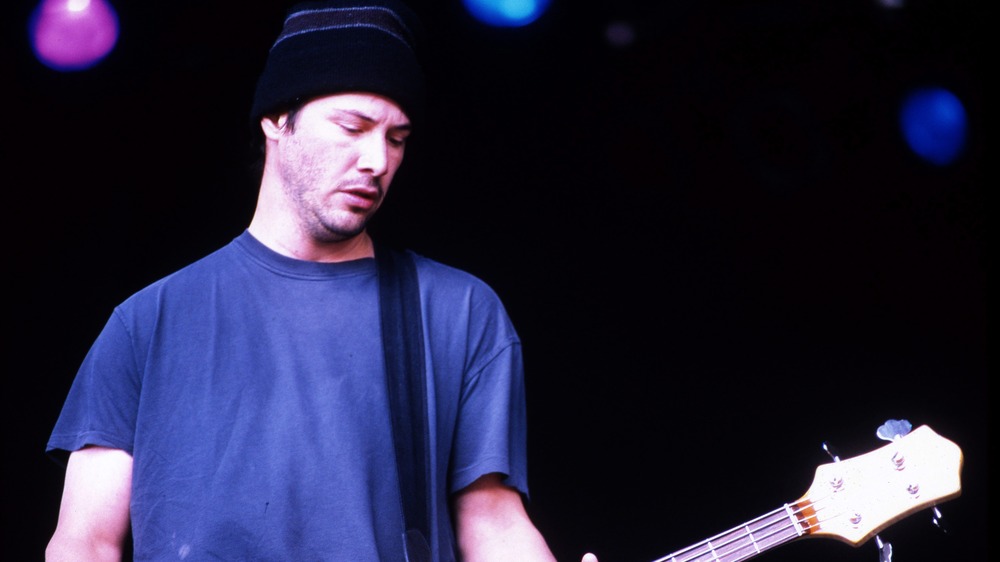 Martyn Goodacre/Getty Images
It seems to be a common situation within the world of A-list celebrities: lots of rock stars want to be movie stars, and lots of movie stars want to be rock stars. It turns out that even Keanu Reeves couldn't resist the urge to walk off the soundstage and onto the arena stage. An interview with GQ revealed that in the mid-'90s, "at the peak of his pre-Matrix fame," Reeves decided to start a band with a drummer he met at a grocery store. The band, Dogstar, put out two albums, an EP, and some singles, according to Discogs. GQ opined that Dogstar "weren't bad, just serviceable, in a KROQ commercial-alt kind of way" and noted that Reeves was "roasted as a dilettante."
Reeves told GQ he felt sorry for the rest of the band, whose musicianship was unfairly judged due to their proximity to a moonlighting Hollywood actor, but then went on to roast Dogstar as a whole, stating, "I guess it would have helped if our band was better." Reeves went on to reminisce about the time Dogstar played Milwaukee Metal Fest and performed a Grateful Dead cover for a furious audience that was there to see bands like Cannibal Corpse and Murphy's Law. Reeves laughingly remembered that the audience "were just like 'F*** you, you suck.' I had the biggest grin on my face, man."
Dogstar was 'an amazing experience'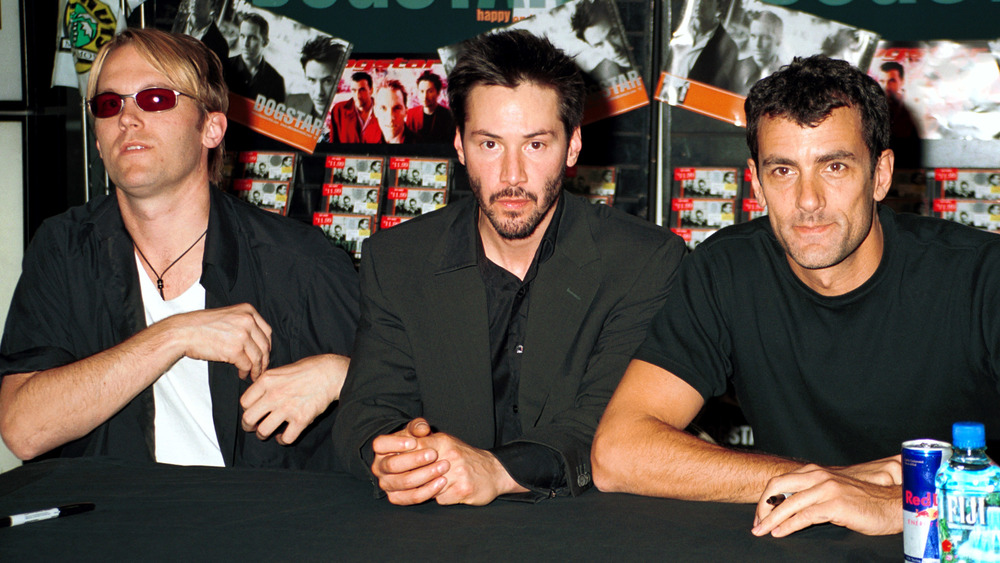 George De Sota/Getty Images
In 2015, Vice interviewed Rob Mailhouse, the drummer who had the fateful meeting with Reeves in the grocery store. Like Keanu, Rob admitted that Dogstar's sound was a little rough around the edges, explaining, "We were more interested in the emotion of it, rather than actually listening to what we were doing at that particular time." Their first gig was at a "dump-y, but very cool club" in Los Angeles, where a pre-fame Weezer opened for them. 
Sounds like a typical garage band's story, but most garage bands don't end up touring Australia and New Zealand with Bon Jovi. In another example of celebrities chasing stardom outside of their regular lanes, Jon Bon Jovi was  at that time trying to get into acting. When he saw Reeves trying to get into music, he "gave [Dogstar] a little shot." Dogstar went on to open for David Bowie and perform on The Tonight Show, which Mailhouse called "really spiritual and mystical."
Mailhouse called Dogstar an "amazing experience" and noted that even though they did get a lot of mileage out of their famous bass player, "We turned down a lot of stuff that was related to Keanu, and just tried to stick with it. That's probably why we're all still friends." As Reeves might say in his persona as wannabe rocker Ted "Theodore" Logan in Bill & Ted's Excellent Adventure: "Excellent!"