Why Guns N' Roses Was Never The Same After Sympathy For The Devil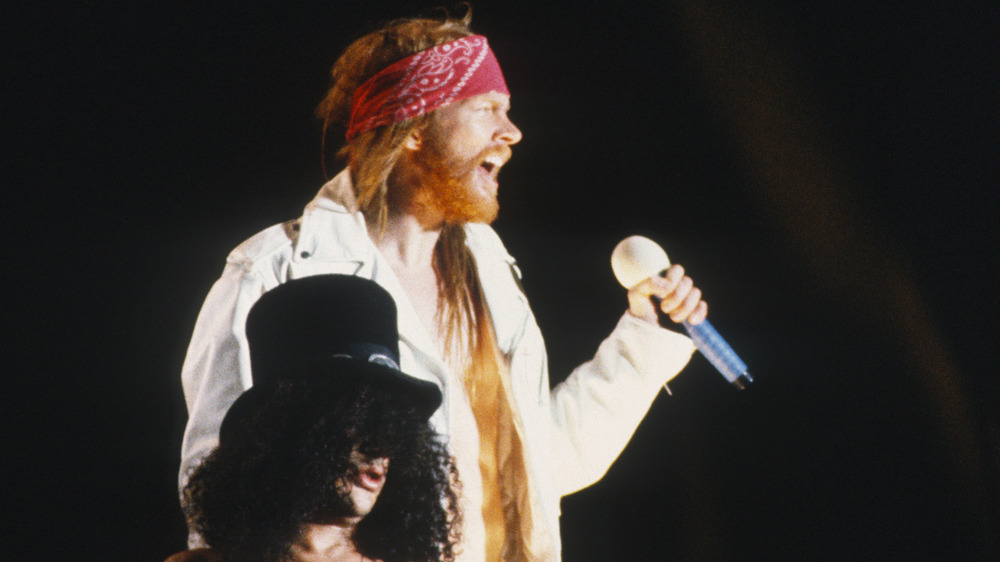 Gie Knaeps/Getty Images
Guns N' Roses never shied away from doing cover songs — they devoted their fifth studio album, The Spaghetti Incident?, to their own interpretations of their favorite punk and hard rock songs. It's perhaps then a little disappointing to learn that their final charting single of the 1990s, a cover of the Rolling Stones' "Sympathy For The Devil," was, according to guitarist Slash, "the sound of the band breaking up."
Apart from its inclusion playing over the closing credits of the 1994 film Interview With The Vampire, for which it was recorded, there has never much appreciation for the track. When Spin magazine ranked the band's recordings back in 2016, "Sympathy" came in dead last — 79th out of 79. To add insult to injury, the music was branded as "sluggish," leaving frontman Axl Rose to "fill up the extra space, his vocal a miserable dramatic interpretation." Spin wasn't the only one. Complex included the track on its list of The 50 Worst Cover Songs of All Time, noting that Rose's "forced 'oh yeah!'s and speech-to-screech moves can't seem anything but perfunctory."
Enthusiasm waned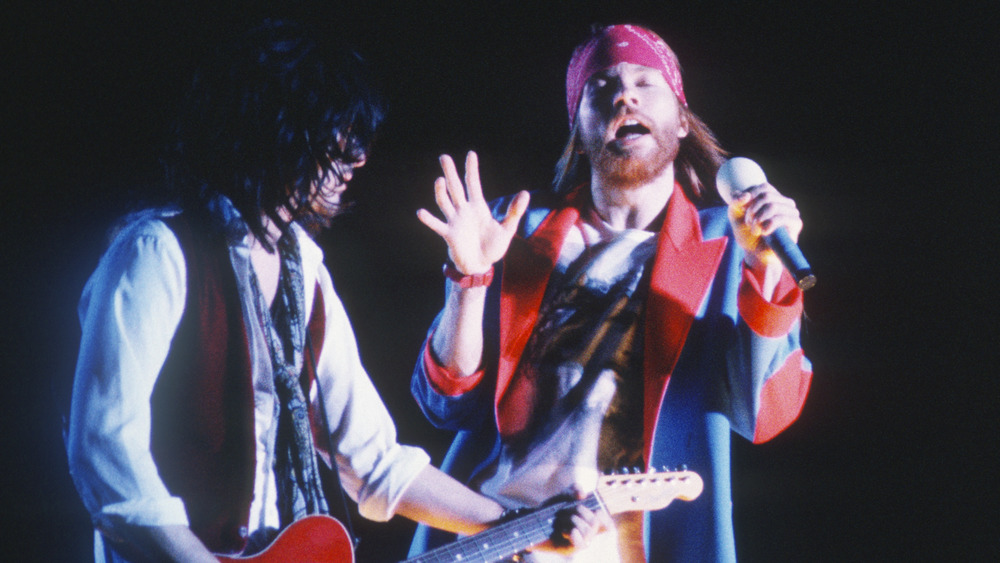 Gie Knaeps/Getty Images
Not only was the song a disappointment, but as Slash mentioned, it signaled the end of the golden age of Guns N' Roses. In an interview with Songfacts, rhythm guitarist Gilby Clarke noted that he hadn't been involved with the song, as it was recorded while he was touring in support of his solo album. Clarke called the snub the "last straw" for him, noting, "nobody had said anything to me and they recorded a song by one of my favorite bands."
Rose replaced Clarke with "childhood friend Paul Tobias," according to Far Out magazine, which reportedly made Slash unhappy. Furthermore, Slash was a fan of the 1976 novel Interview With The Vampire, written by Anne Rice, and was intrigued by the opportunity to record a song for the film adaptation. His enthusiasm waned after he caught a preview of the movie and, reports Far Out, "hated" it.
He also didn't appreciate Rose telling him to perform the song's guitar solo "more like Keith Richards." Slash remembered, "Keith's playing is so awesome on that song that I didn't want to even come near it, but I did. And doing so left me feeling even more p***** and put out than ever." Slash seemed to speak for a number of people when he finally proclaimed, "If there is one Guns track I'd like to never hear again, it's that one."