The Truth About Keanu Reeves' Motorcycle Accidents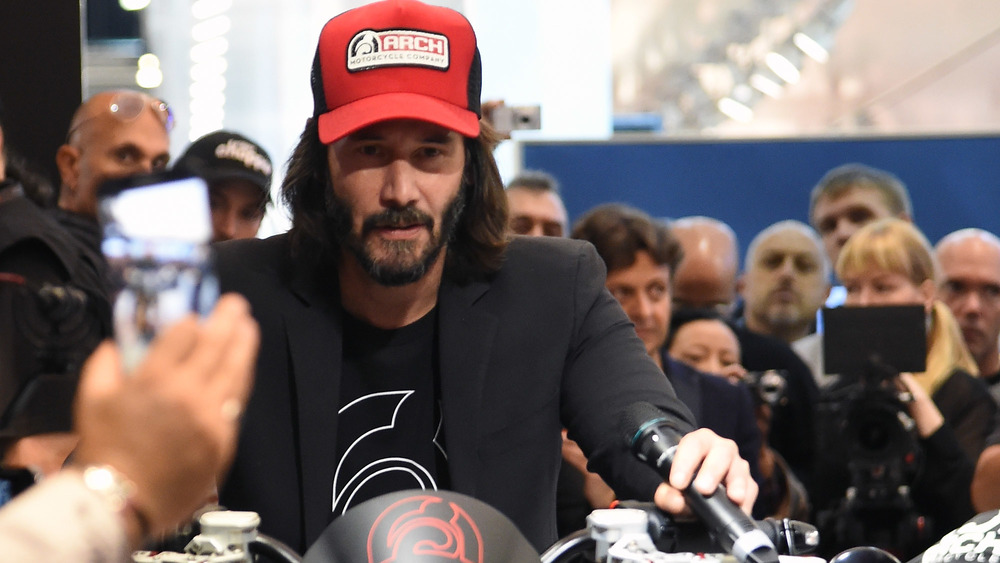 Pier Marco Tacca/Getty Images
For someone who rides a motorcycle every day, according to a 2017 interview with Esquire UK, Keanu Reeves has been in a lot of motorcycle accidents. Apparently it remains his "preferred mode of transportation" not only because of its ease in getting him to his many appointments, but also because he enjoys "the physical sensation of riding, the wind, the smell, the sights, the connection to the machine, the living-in-nature." Reeves went on to stress that a motorcycle ride "demands a kind of attention and presentness." Judging from the sheer number of times he's crashed his bike, he might need to pay a little more attention to his own advice.
In 1988, Reeves reportedly took a hairpin turn too fast and "lay on the pavement for half an hour thinking he was going to die." Thankfully, the fall wasn't fatal but it left him with a heavily scarred abdomen and without a spleen. While discussing the accident with Rolling Stone in 2000, he referred to that accident as a "demon ride," which he explained meant that he had been going too fast because things had been going badly, as opposed to going too fast because of "exhilaration." The lesson learned was that he shouldn't take "demon rides" if he didn't want to die, but he admitted he "had to get a couple more out of his system" and may well still have a demon ride or two left in his future. 
Keanu Reeves works to ride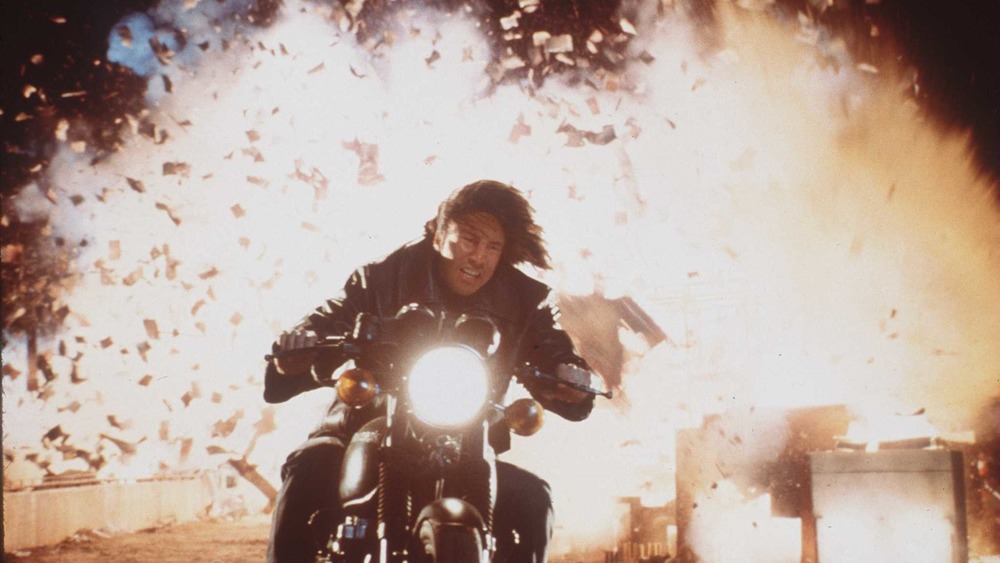 Getty Images/Getty Images
Reeves's other motorcycle-related injuries include several missing teeth and broken ribs, and a scar on his right leg resulting from an incident in 1996 that "took a car bumper off" and left Reeves with exposed bone and a broken ankle that required surgery to remove a bone fragment, as reported by Tulsa World. That accident was reportedly not his fault; he was swerving to avoid a vehicle pulling out from the curb, not taking any angst-ridden demon rides. 
He joked that at one point he was working just to pay his motorcycle insurance and even denied that his accidents were particularly painful, noting that accidents cause adrenaline to surge and block out pain, although he deigned to acknowledge to Esquire UK that the broken ribs were "pretty uncomfortable." 
Not satisfied with merely riding, Reeves co-owns the custom building Arch Motorcycle Company with designer Gard Hollinger, a partnership that came to be when Reeves asked Hollinger to customize one of his Harley-Davidson bikes. Per Bloomberg, the bikes are pretty pricey; the "superbike" based on the model Hollinger originally customized for Reeves will set you back a cool $78,000. Of course, customers are getting a bike that took three years to get from prototype to production, combines practicality with high-concept design, and, in Hollinger's words "has to make you giggle when you ride it."  
'Those bikes, those people, those pirates'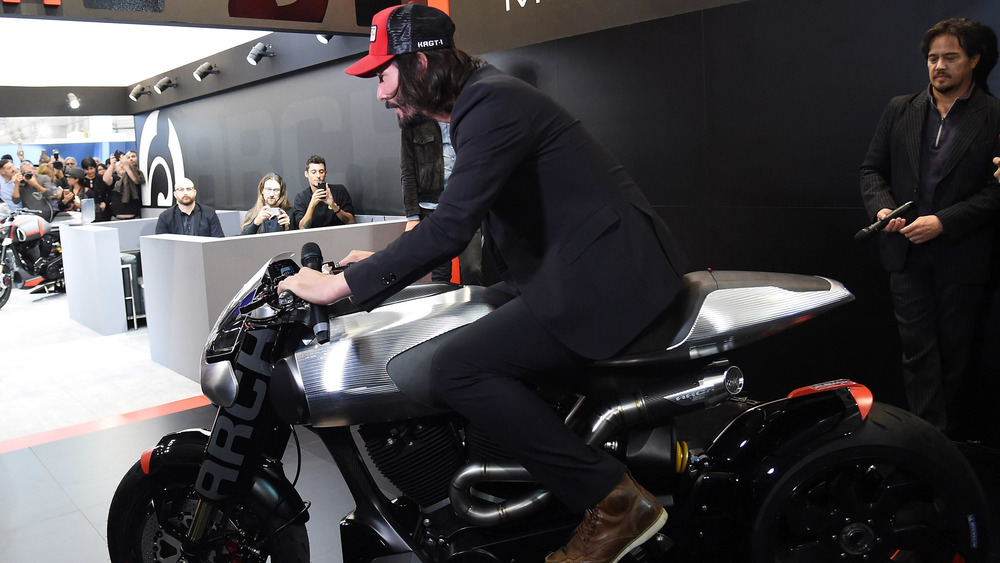 Pier Marco Tacca/Getty Images
In a 2019 video for GQ, posted on YouTube, Reeves described his relationship with motorcycles and showed off his impressive collection. He recalled how he had first become interested in motorcycles at the age of 10 upon seeing a motorcycle rally in Yorkville, Canada, near his home in Toronto, gushing that "those bikes, those people, those pirates" had caught his eye and fancy. He learned to ride as an adult, got his first motorcycle in 1986 or 1987, and went on to ride in several of his movies, including Chain Reaction, My Own Private Idaho, and John Wick 3. He houses the iconic custom green Ducati 996 from The Matrix Reloaded in the Arch garage, which actually belongs to the Wachowskis, who wrote and directed the Matrix series, and was driven by Carrie-Ann Moss in the movie, with Reeves riding on the back, a less typical role for him when it comes to bikes.
Reeves's love of motorcycles has extended into the gifts he bestows on his coworkers. Per Esquire UK, he bought Harley-Davidson motorcycles for every member of a stunt team from The Matrix, "just as a thank you to those guys" for working on a big fight scene that took 17 days to film, for which they "trained every day for seven hours for three weeks going through all the motions." Let's hope those guys all heeded Reeve's advice to keep "a kind of attention and presentness" while riding.