The Sport John Candy Tried To Play Professionally
The late, great, hilarious John Candy is well known for his many iconic comedic roles. He was a cast member of the Canadian sketch comedy show SCTV, where he picked up two Emmy awards for writing, and moved on to several movie roles in such films as Uncle Buck; Planes, Trains, and Automobiles (above, right); and Spaceballs, usually playing a goofy, slightly bumbling character with a heart of gold.
Candy seemed to be a natural-born comedian, but he didn't start out wanting to be an actor. According to the 1996 biography Laughing On The Outside: The Life of John Candy, Candy was "self conscious and awkward" because of his size by the time he reached high school. He excelled on the football field, however, as his team's offensive tackle. While he was known as a "gentle giant" off the field, in his football pads and helmet he let a more aggressive personality come through and made a "formidable, intimidating figure" whose large size made it hard for opponents to even get past him. Per the Hollywood Reporter, Candy had dreams of being a professional football player, but according to Laughing On The Outside, after playing a championship season, a knee injury brought his offensive tackle days to an end. Nevertheless, this was far from the end of Candy's association with the game he loved. 
Candy and The Argonauts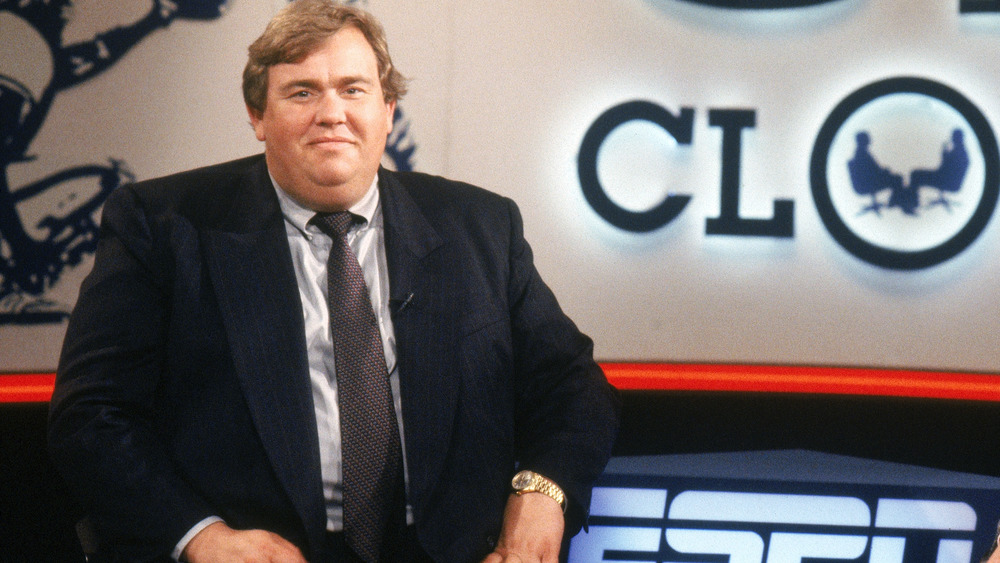 George Rose/Getty Images
In 1991, Candy joined forces with businessman Bruce McNall and hockey legend Wayne Gretzky to buy the Canadian Football League team the Toronto Argonauts. Candy and Gretzky each took a 10 percent stake in the team, as reported by CTV News. The Argonauts were Candy's lifelong favorite team; his children once noted that their father's passions were, in order, his family, the Argonauts, and his acting career. The Argonauts went on to outbid the entire NFL to sign top draft pick Raghib "The Rocket" Ismail, which got people excited about Canadian football. Candy then became a tireless promoter for his beloved team, flying to every Canadian Football League city to rally fans, often starting his day at 4:30 a.m. in order to go on radio stations' morning shows to promote ticket sales, and organizing game day "rousing rock 'n' roll shows studded with Candy's famous friends." 
With Candy's involvement, the Argonauts won every single home game of their 1991 season, and once-empty stadium seats filled up with fans. One former player, Michael "Pinball" Clemons, remembered Candy standing on the sidelines with the team in frigidly cold weather at the Grey Cup championship game: "He's not in the press box ... he's down on the field with his guys and now all of a sudden, I'm not as cold."
Unfortunately, the team went on to face many setbacks and was sold in 1994. John Candy died shortly thereafter from a heart attack, 43 years old.