The Tragic True Story Of Dennis The Menace
Dennis the Menace has been terrorizing his neighborhood for decades. The character's creator, Hank Ketcham, wanted to make his readers feel better about their kids' behavior. His own child, the titular Dennis, was apparently a very rowdy boy. But as much as the cartoon Dennis endured and flourished, including a series of popular movies and TV shows, the real Dennis didn't have as much luck.
Ketcham got the idea in 1951 after his wife Alice told him that their son, Dennis, then four years old, had destroyed his room by throwing around fecal matter from his pants. Alice was so mad she called her son a menace, wrote Mental Floss. Ketcham found the thought of his son as being harmful good material, and within five months, the strip was being published by 16 newspapers. Like other popular comic strips at the time, Dennis the Menace would go on to be translated into several languages.
Ketcham's comic character really was a menace. In the early strips, Dennis would incite fights, tie swan heads together, and laugh at others' misfortunes. Ketcham toned down this trait in later comics, but the idea that Dennis was a bit of a brat stuck around.
In an interesting twist of fate, another Dennis the Menace comic strip came out around the same time as Ketcham's, said the BBC, featuring a child who was just a little older and less of a troublemaker. The British comic was later retitled Dennis the Menace and Gnasher to differentiate it.
A less than ideal childhood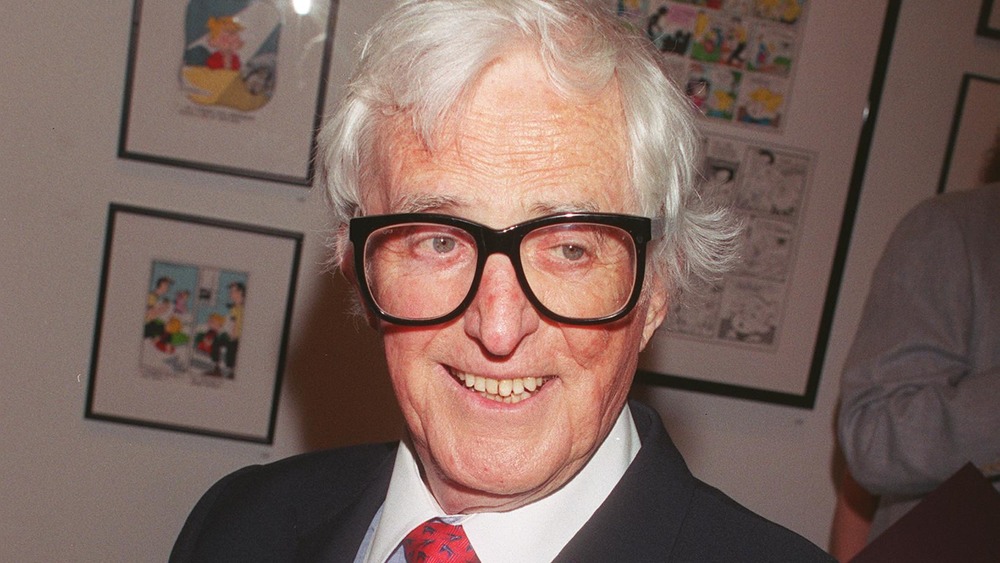 Denny Keeler/Getty Images
Despite the growing fame and success, Hank Ketcham and Dennis weren't exactly joyous. Ketcham's wife, Alice, died in 1959 when Dennis was 12 years old, reported The New York Times. Ketcham moved Dennis and his second wife to Geneva, Switzerland. Dennis had difficulty adjusting to his Swiss school, so Ketcham decided to send his son back to the United States to go to boarding school in Connecticut. Ketcham himself stayed in Geneva for 20 more years before moving to California in 1977. It wasn't the first boarding school Dennis attended. Before his mother died from an overdose, he was attending one in California.
According to People Magazine, Dennis felt lonely and wanted his father to spend more time with him than the fictional Dennis. Dennis (the son)  had a learning disability, but his father didn't quite understand it. When Alice died, Ketcham couldn't bring himself to tell his son until she was buried. Dennis claimed he would've dealt with her death better had he attended her funeral.
After Ketcham and his second wife divorced, Ketcham met the woman who would become his third wife. Dennis attended their wedding, but he wouldn't play a big role in their lives. Dennis told People that he never met his two half-siblings. Ketcham, on the other hand, only knew Dennis been living somewhere on the East Coast.
Fathers and sons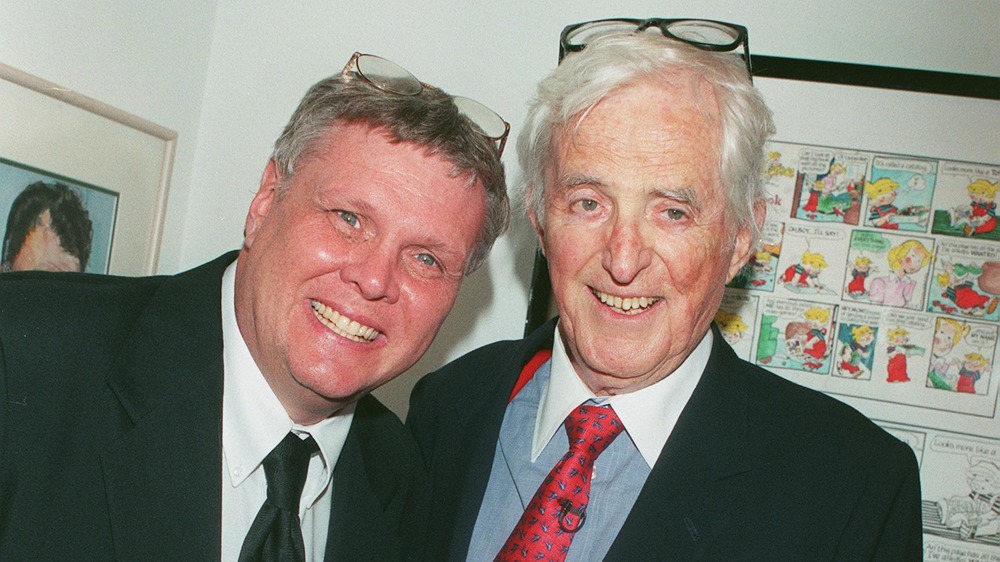 Denny Keeler/Getty Images
Instead, Dennis fought in Vietnam, joining the Marines. During his year-long tour, he said his only letters came from his grandmother and aunt; none from his father. (Hank disputed that.) Dennis was discharged in 1970 and spent three months being treated for post-traumatic stress disorder. He then drifted in and out of different jobs. His first marriage ended in a bitter divorce, culminating in him being barred from seeing his daughter. In 1991, he married his second wife, Janet, and lived in Ohio. He barely spoke to his father except when, according to Ketcham, he needed money.
Ketcham maintained he never used actual incidents from his family's life in his comic strips. For Dennis, it didn't matter. He never wanted to lend his name to his father's unruly, bratty character. He even said he wishes his father used something else as an inspiration for his work, other than his childhood. It didn't mean, however, that Dennis hated the character or his father. When Ketcham published his memoirs, he sent a copy to Dennis, inscribed "To the REAL Dennis with love. Dad." Dennis displayed the book in his house. Hank Ketcham died in 2001 at 81. He and Dennis had not been close at the time.
Dennis the Menace may have made a lot of people laugh with his antics. It may have helped parents cope with their misbehaving children. But, as is often the case with fictional versions of real children, the reality is never as happy.