The Real Reason The Winchester Mystery House Was Built
Winchester is a gun-manufacturing name built into the fabric of our shared American history and Wild West lore, much like Colt. Winchester rifles were the standard-issue rifles of the elite, frontier-prowling Texas Rangers, as the Texas Ranger Hall of Fame and Museum shows. Legendary trick shot artist Annie Oakley, who said, "I would like to see every woman know how to handle firearms as naturally as they handle babies," used a very specific '73 Winchester given to her by another famed hunter and performer, Buffalo Bill, who himself wielded a Winchester. A quick scroll through The Winchester Arms Collectors Association website reveals a ton of Winchester models and makes, many of which hail from the late 1800s.
American's love affair with guns is unparalleled, as are all of its resultant, gun-related tragedies and deaths. As Popular Mechanics recounts, Winchesters were developed during the Civil War in response to the need for a more mechanically advanced weapon, and sold to both sides. They also wound up in the hands of various Native American tribes. The Winchester Repeating Arms Company refined the gun's design to such a great extent that it endured for decades as the standard-bearer of "repeating rifles."
Imagine, then, how the heiress to this legacy would feel. Come into a tremendous fortune under no action of her own, and bearing not only the weight of the Winchester name, but the knowledge of how many deaths her money came from. Such was the dilemma faced by Sarah Winchester.
Mad architect and heiress to a gun-built fortune
Born in 1839, Sarah Winchester married into the Winchester family through her husband Will in 1862. When Will's father Oliver passed away in 1880, and Will himself died in 1881, Sarah suddenly found herself inheriting the legacy (and fortune) of the "gun that won the West," as Biography says. After this, she set out to build a house in San Jose, California, that would become the now-infamous Winchester Mystery House. At its peak size in 1906 before the Great San Francisco Earthquake hit, the manor had grown from its mere eight original rooms to a staggering 200 rooms, 10,000 windows, 47 fireplaces, and 2,000 doors, as stated by the Smithsonian Magazine. Sarah would live there until her death in 1922.
But Sarah didn't really build this house for herself. nor did she build it for comfort. In fact, the house is more of a labyrinthine architectural puzzle and work of mad art than anything else: stairways that lead nowhere, walls behind doors, hidden rooms boxed within other rooms, trap doors, spy holes, all stacked and grafted atop each other like Legos. Never satisfied with the design, Sarah demolished, built, rebuilt, added to, and tinkered with the house relentlessly, "with shifts of 16 carpenters who were paid three times the going rate and worked 24 hours a day, every day" until her death.
A maze-like house to confound the dead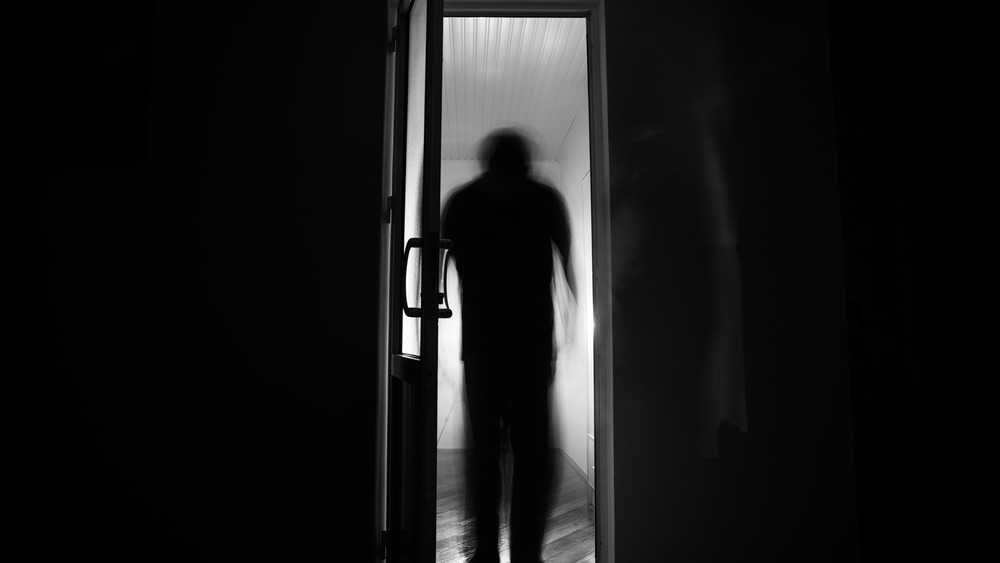 Shutterstock
Why did Sarah go through all this trouble, rather than simply sit on her fortune and live out her days? The short answer: to protect herself from the spirits of the dead who were killed using Winchester rifles.
Sarah, as it turns out, was something of a spiritualist, part and parcel of a cultural boom in the United States in the mid-1800s that, like the Winchester, developed during the Civil War. As the Journal for the Scientific Study of Religion points out, spiritualism was an alternative to traditional religions at a time that made little sense to people: family members on opposite sides of a war on American soil, their sons shattered by cannon fire and bullets. Spiritualism emphasized communication between the living and the dead, and focused on séances and intermediaries like mediums. Talking boards like Ouija boards were created around this time, to capitalize on the trend.
Sarah Winchester herself was an ardent spiritualist who "fell under the thrall" of a medium who told her that she would be haunted by the spirits of the dead who had been killed by her family's guns. That is, unless she evaded or confounded them. How would she do that? Never stop building the house. Never allow the spirits to find a way through its corridors to her. 
Now, the Winchester Mystery House is a tourist attraction, sitting along the edge of I-280, next to a mobile home.