The Bizarre Truth About Hooters' Airline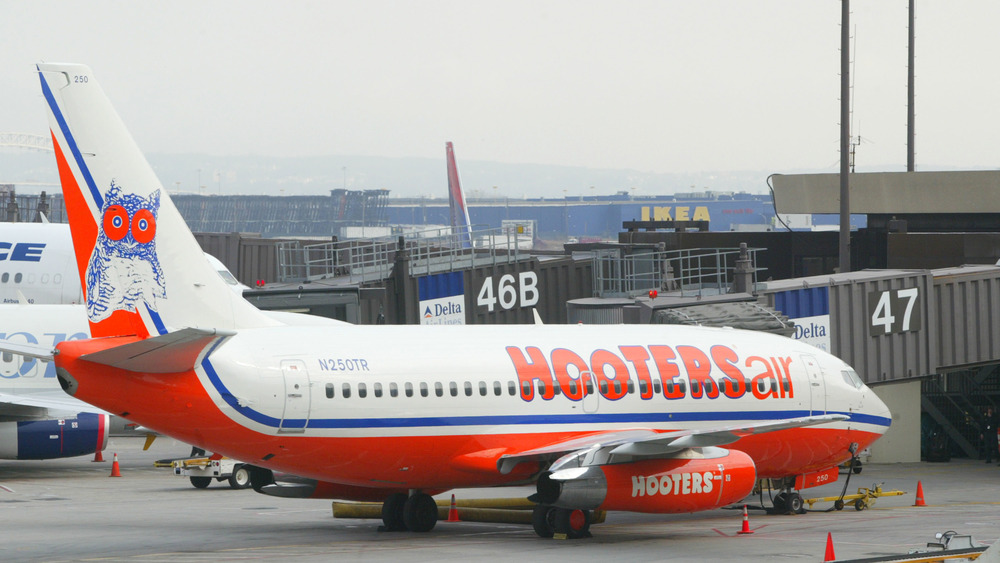 Matthew Peyton/Getty Images
It sounded so promising. In 2003, the restaurant chain/"breastaurant" Hooters, known for its mastery of the single entendre, its delicious chicken wings, and its servers' uniforms featuring tight tank tops and short orange shorts, started an airline, per Business Insider.
Hooters Air was based in Myrtle Beach, South Carolina and flew to 15 destinations around the United States, including Las Vegas, Denver, and Florida with a flat rate of $129 each way. The airline was the brainchild of Hooters' then-CEO, Bob Brooks. By 2003, Hooters had been operating as a successful restaurant chain since the 1980s and was "flush with cash." Looking to expand the brand, Brooks bought the North Carolina-based charter airline Pace Airlines and refurbished the fleet of planes with Hooters logos. 
A pilot who flew for the airline told Business Insider that at first, there was a lot of intrigue surrounding Hooters Air, "not because of what was happening on the inside, but more so what people perceived from the outside." Each flight featured two "Hooters girls" recruited from local restaurants, but contrary to popular belief, the Hooters servers didn't replace flight attendants, who must be certified by the Federal Aviation Administration. The Hooters servers would wear their uniforms, entertain passengers with trivia contests, and help flight attendants, who were themselves attired in traditional uniforms of navy dresses accessorized with orange scarves and a small embroidered owl logo.
Hooters Air was a bit of a bust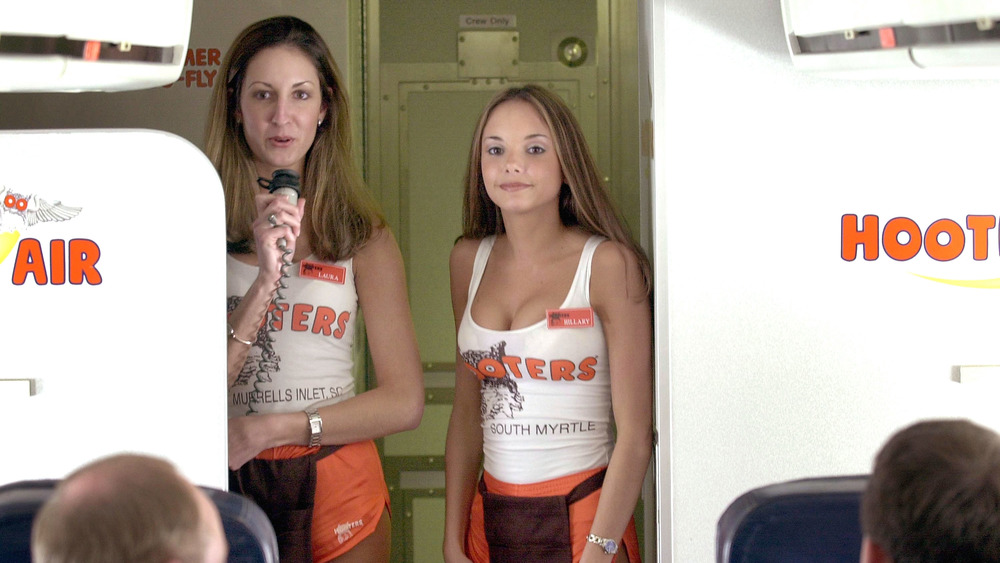 Erik S. Lesser/Getty Images
 The airline reportedly bolstered the economies of some of the smaller cities it served, such as Gary, Indiana. The manager of Gary/Chicago International Airport noted that the implementation of Hooters Air meant "more airline service, more airline activity, more economic development, and more jobs." The airline's home in Myrtle Beach, South Carolina also enjoyed an economic boost. At its high point, Hooters Air was "bringing between 3,000 and 5,000 a week into the Myrtle Beach area," per the CEO of the Myrtle Beach Chamber of Commerce. Unfortunately, the success was short-lived. Hooters Air shut down just three years later in 2006. 
Airline industry analyst Henry Harteveldt noted that in 2003, many travelers were still nervous about flying due to the terrorist attacks of September 11, 2001. Low-fare competition like that from Southwest Airlines expanded just as the prices of jet fuel trended upwards, making a discount airline a less profitable business than it might have been in the past. As The New York Times reported, Bob Brooks himself died just a few months after Hooters Air stopped flying. In 2011, Chanticleer Holdings LLC bought Hooters from the Brooks family for an undisclosed sum, per The Sun News.