The Hobby Former Pitcher Randy Johnson Is Passionately Involved In Now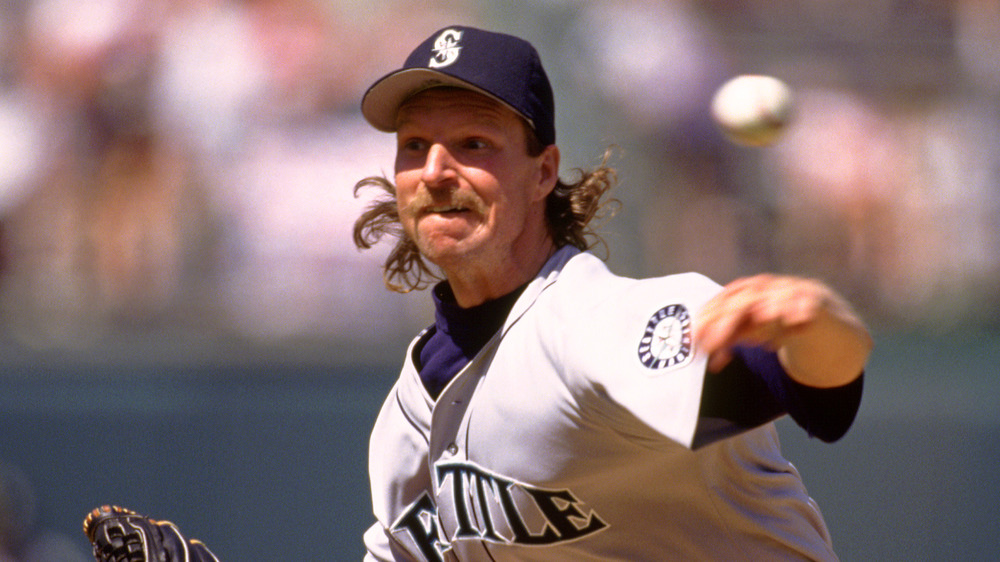 Ron Vesely/Getty Images
Hall of Fame pitcher Randy Johnson racked up several stellar accomplishments during his 22-season career. The 4,857 strikeouts he threw earned him five Cy Young awards. He threw a no-hitter in 1990 and a perfect game in 2004. Among his more than 300 wins was a World Series Championship in 2001, in which he was the co-MVP. According to ESPN, he and Nolan Ryan are the only two players in baseball history to have six 300-strikeout seasons. The prolific lefty had an impressive career to be sure, but according to Cut 4, the 10-time All Star gets more questions about the time he hit a bird with a fastball in a spring training game (via YouTube) than he does about any of that stuff.
Of course, you can't blame people for being awed by the incident. That bird had the whole sky to fly around in and it chose to play chicken (pun intended? — sure) with a pitch that was probably traveling at triple-digit speed. "The odds against such a thing happening must be astronomical," one researcher told Newsweek. (If you're worried about the bird's suffering, don't be. The chances are it died instantly and never knew what hit it.) The freak pitch that turned the bird into a cloud of floating feathers went on to not only define Johnson's professional career, but has also followed him into his post-baseball passion: photography.
Randy Johnson took up his passion for photography after retiring from baseball
According to Bleacher Report, Johnson turned that legacy into the logo for the photography company he founded after he retired from the game. Sports journalist Jeff Passan made the discovery in 2015, the day it was announced that Johnson was to be inducted into the Baseball Hall of Fame. "The best thing you'll see today," he tweeted. "The logo for Randy Johnson's photography company is of a dead bird." One Reddit user couldn't help but commenting on the thread announcing the logo on that platform: "Because he only takes those once in a lifetime shots."
But photography isn't just some hobby Johnson picked up on a whim after he quit pitching. According to WTOP News, he first became interested in photography while growing up in Livermore, California, where he would take photos at a local music festival called Day on the Green. He continued to shoot photos in college, working as a staff photographer for the Daily Trojan, the school paper at the University of Southern California, where he studied on a baseball scholarship. As his baseball career began to take off, however, he had to put the camera down for a while. "I don't really recall picking up a camera during that span too much," he said. "Baseball was on the front burner then." But the fire didn't fully go out under his passion, and he would soon pick it up again.
Live music events are still Randy Johnson's favorite thing to photograph
The gallery on Randy Johnson's website is full of stunning travel and wildlife shots that he has taken over the years, but his true passion still lies in capturing the fleeting magic of live music events. He has an entire page dedicated to the photos he took of Soundgarden while Chris Cornell was still alive. He has also photographed such legendary acts as Metallica, Rush, Lenny Kravitz, Billy Joel, Slash, Megadeath, Bruce Springsteen, Elton John, Motörhead, and more.
You might think that he'd also want to photograph the game he loves so much, but that part of his life is separate from his current passion. "Baseball is great, but I did that my whole life," he told WTOP. "I can't see myself sitting in a photo pit taking photos." He actually regrets not taking more photos while he played the game. "Looking back now, I'm disappointed I didn't do more baseball-wise," he said. "I played in over 50 ballparks. I think about the access of ballparks and events that happened, playoffs and All-Star Games."
But that's the past, and he now puts the same enthusiasm he had for the game into his photography. "I have as much of a passion for this as I did for baseball. It's great to be driven just as much. I know I won't get burnt out on photography."