The Surprising Number Of Presidents Mathew Brady Photographed
Today, nearly everyone has a smartphone with a camera. You've probably taken hundreds of photos in your lifetime, if not thousands. But, in the 19th century, photography was a difficult art that required patience and expertise. Few early photographers were as successful as Mathew Brady.
Born in 1822, Brady was involved with photography from the earliest days of the medium. Per History.com, Brady began his career in 1839. Just five years later, he had established a highly popular New York Studio and was widely known as "Brady of Broadway." Brady's fame as a skilled portrait-taker brought many notable Americans, like Edgar Allan Poe, into his studio.
Today, Brady is most famous for his work photographing the bloody aftermath of Civil War battles. Brady and his team pioneered the field of photojournalism, showing the American public for the first time just how brutal war can be. In addition, Brady is also well-known for his photographic portraits of American presidents.
Perhaps the most influential works in Brady's collection are his photographs of President Abraham Lincoln. Per the Smithsonian Magazine, the images of Abe Lincoln on the modern penny and five dollar bill are based on photographs taken by Brady. Lincoln himself was incredibly grateful; Brady's photographs of Lincoln in a suit made the candidate appear more sophisticated in the news, countering those who tried to label Lincoln as a bumpkin. "Brady and the Cooper Union speech made me President," Lincoln said.
Mathew Brady photographed (almost) every president between John Quincy Adams and William McKinley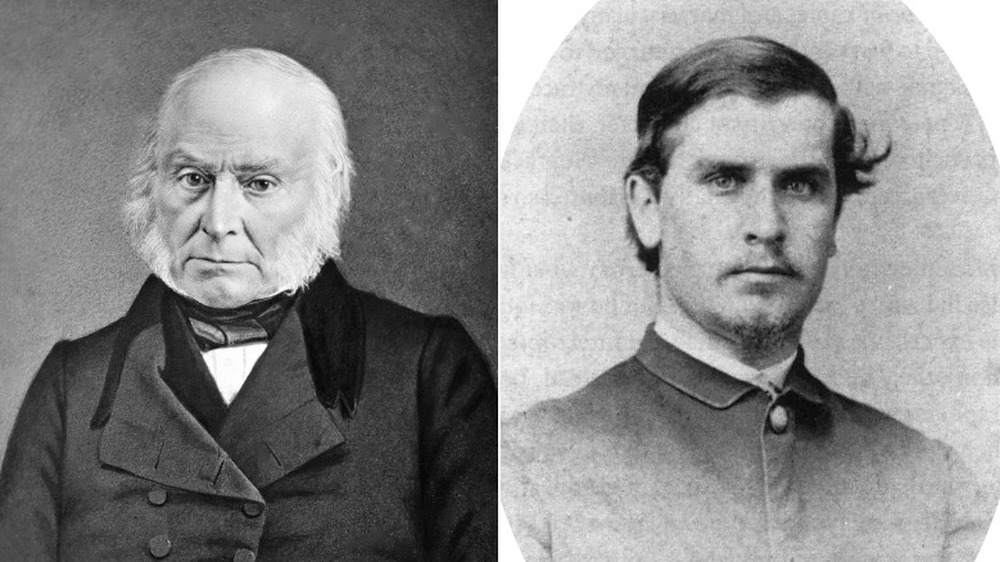 Wikimedia Commons
But Brady didn't just photograph Lincoln. According to MentalFloss, Mathew Brady photographed every president from John Quincy Adams to William McKinley, with one exception: the unfortunate William Henry Harrison, who died of pneumonia only one month into his 1841 presidency.
Setting aside Harrison, Brady was able to photograph every president who took office between 1825 and 1897 — 18 of them in all. Brady mostly photographed these men during their presidency, but some (like John Quincy Adams and Andrew Jackson) were photographed after they retired. Furthermore, in at least one instance, Brady photographed a president before they took office. In 1865, Brady took a picture of Major William McKinley at the close of the Civil War; McKinley wouldn't become president until 1897, the year after Brady died.
How did Mathew Brady become such a prolific presidential photographer? Per the Library of Congress, location was a huge factor. In 1858, Brady opened a National Photographic Art Gallery in Washington, D.C. Moving his studio to that city gave Brady close access to American politicians and foreign dignitaries. But to Brady, it wasn't all about business; it was also about duty. "From the first, I regarded myself as under obligation to my country to preserve the faces of its historic men and mothers," Brady said in 1861, per Politico.