The Surprising Amount Of Maintenance Needed For Canadian Mountie Uniforms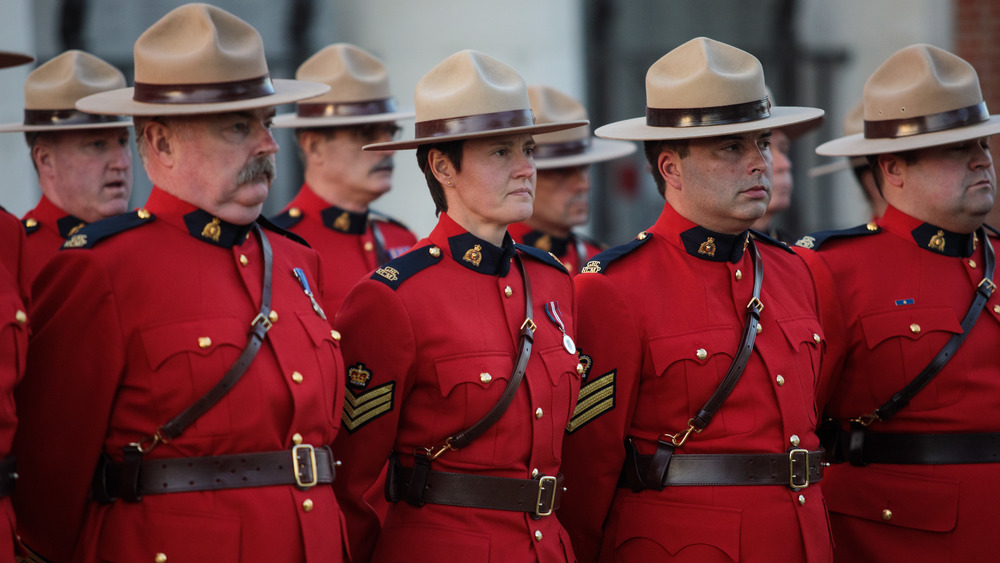 Jack Taylor/Getty Images
The Royal Canadian Mounted Police, or Mounties, have been serving as Canada's national police service for almost 150 years, per their official website. Over the years, Mounties have become iconic symbols of Canada, along with maple leaves, sweeping mountain landscapes, and First Nations totem poles. This can be attributed at least in part to their instantly recognizable dress uniforms, made up of distinctive red jackets, or tunics, known as the Red Serge, paired with matching breeches, and accessorized with snappy brown leather Sam Browne belts, Stetson hats, and high leather Stracona boots, as described by Insider.
Trainees are fitted for their Red Serge halfway through their 26 week training period, and a group of 20 tailors performs all of the necessary alterations to make sure each of the 1,000 annual graduates has a perfectly fitted tunic, a process that can take up to two days. According to the Toronto Star, it costs about $3,500 to dress a Mountie, which works out to about $11.6 million a year. Of course, it sounds as if the money does provide a top notch set of work clothes; Corporal James Burnell notes, "I've looked at the U.S., Canada, Europe and Australia, and I think the RCMP outfit their people, in terms of quality, safety, comfort and warmth, at or near the top."
It takes a lot of boot polish to make a Mountie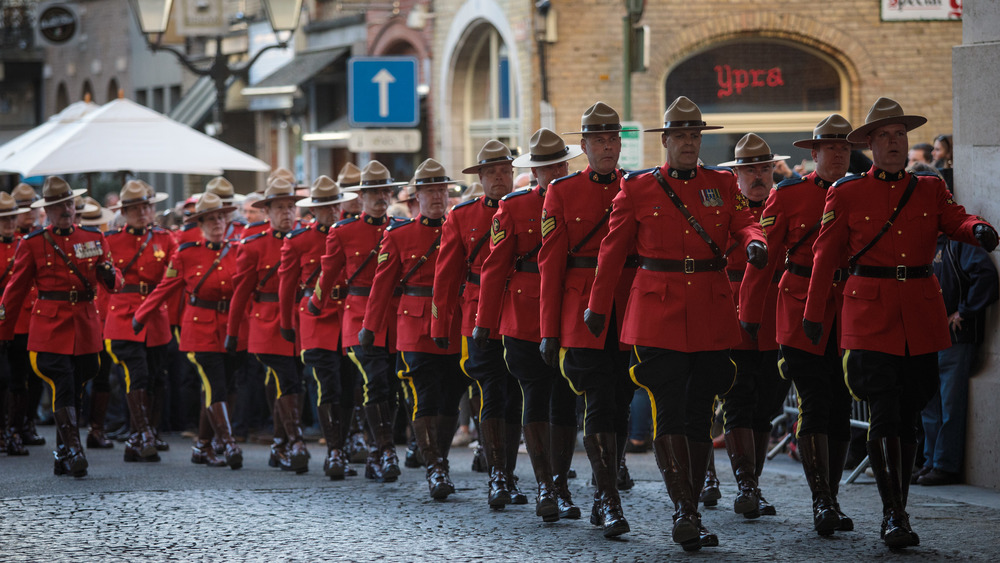 Jack Taylor/Getty Images
The Toronto Star further reports that the official list of RCMP clothing is an impressive 166 items long, with the basic clothing kit for each officer coming in at 121 items — "regular operational clothing and dress uniforms," said Sgt. Sylvie Tremblay. Mounties are expected to buy their own basics like shirts and gloves, and of course there's the sheer number of hours that must be devoted to shining those Stracona boots, which retail for $500.
The boots are handcrafted by the Alberta Boot Company and, like the Red Serge, custom fit to each cadet at the RCMP Academy, which boasts its own leather shop, per Insider. Once a trainee has their boots, they are expected to apply "20 to 40 different coats of polish on them so that they no longer look one-dimensional." According to Tourism Regina, boots must be shined for a minimum of 25 hours before they are deemed appropriate for public wear. Luckily, cadets are no longer expected to purchase the boot polish required to bring their boots to a three-dimensional sheen; an order from Queen Elizabeth II means the polish is now provided free of charge.