Why The Hardy Boys Books Are Frequently Banned
The Hardy Boys mysteries is a long series of children's books in which teen brothers/amateur sleuths Frank and Joe Hardy again and again find themselves embroiled in investigating crimes and solving mysteries that have left the apparently completely inept adults around them stumped. Per Scholastic, author Edward Stratemeyer conceptualized the series for his publishing company, the Stratemeyer Syndicate. Leslie MacFarlane wrote the first book, The Tower Treasure, under the pseudonym Franklin W. Dixon in 1927, and went on to write a total of 16 Hardy Boys titles. After MacFarlane, other ghostwriters took over, and by 1979 there were 58 Hardy Boys titles written by 17 different people under the Franklin W. Dixon name. The books have remained popular; as recently as 2001 they were consistently selling a million copies a year, per the New York Times. Perhaps as a result of their popularity, these seemingly benign, even wholesome components of American pop culture have drawn enough attention to be placed on banned book lists several times.
The first reason for the books' censoring has to do with the ongoing snobbishness and moral objections of many of the people responsible for educating and/or putting books into the hands of children. As reported by the University of Maryland's University Libraries, some public libraries refused to buy "series books" for their collections, as they were looked down upon and "suffered from their association with mass-produced inexpensive popular literature [for adults] such as dime novels, story papers, and pulp magazines."
Hardy Boys books: explosive?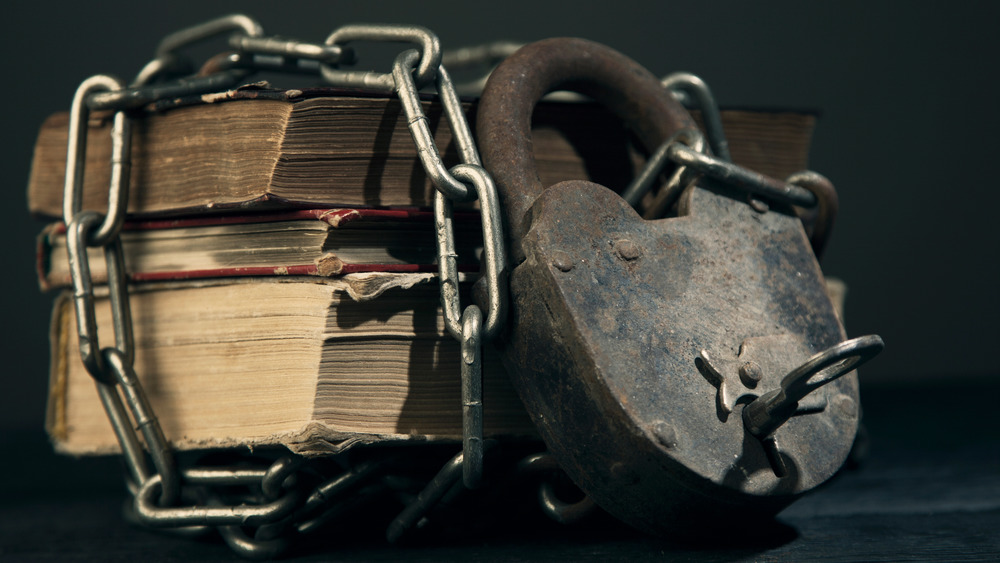 Shutterstock
Among the Hardy Boys series' detractors was the Chief Librarian for the Boy Scouts of America, Franklin K. Mathiews, who led a campaign against Stratemeyer's company and its publications. He penned a dramatic article for Outlook magazine in 1914 (quoted by the University of Maryland's University Libraries), in which he called the damage done to young minds by these books as "incalculable." Mathiews ranted: "I wish I could label each one of these books: 'Explosive! Guaranteed to Blow Your Boy's Brains Out.'" Of course, by the middle of the 20th century, children had access to television, and as interest in reading for pleasure and escapism dropped, libraries started carrying more series books.
Their less-than-literary status, however, was ultimately not the only problem people had with the Hardy Boys. As reported by Tablet magazine, the series, as well as its sister series, featuring Nancy Drew (and also produced and published by the Stratemeyer Syndicate), were "rife with casual racism and prejudice." According to author Melanie Rehak in her book Girl Sleuth: Nancy Drew and the Women Who Created Her, the rise of the civil rights movement saw letters to the publisher, complaining about the books' "prejudice," and expressing "real anger" with the books' content. One parent of a child assigned the Hardy Boys book The Hidden Harbor Mystery for a book report wrote, "it never occurred to me that you might still be ingraining the old race-riot type of fear that was prevalent in the thirties."