How Bohemian Rhapsody Got Freddie Mercury And Mary Austin's Relationship Wrong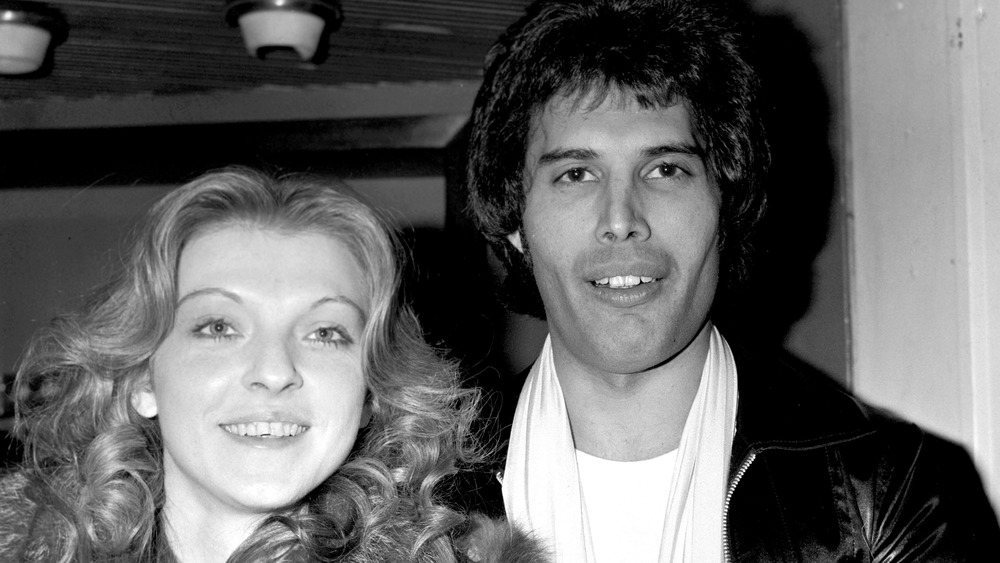 Photoshot/Getty Images
Freddie Mercury is well known for his romantic and sexual relationships with men, but one of his most enduring relationships was with a woman. Per a 2013 interview with the Daily Mail, Mercury and Mary Austin met in 1969 at the English boutique Biba. She was 19 years old, and he was 24 and not yet the superstar he would become as the dramatic, flamboyant lead singer of Queen. They soon began dating, and in 1973, Mercury proposed to Austin.
In the 2018 biopic Bohemian Rhapsody, Freddie proposes with a giant diamond ring. Austin later recalled that in reality, Mercury "gave me a big box on Christmas Day. Inside was another box, then another and so it went on. It was like one of his playful games." The last box contained a small jade ring, and Austin accepted his proposal.
Their marriage wasn't meant to be, however. Mary later spotted an antique wedding dress for sale and asked Freddie if it was time she bought a dress for their wedding; he replied no. Mary was "disappointed but I had a feeling it wasn't going to happen." Eventually, he started staying out late and Austin suspected he was seeing another woman, but in reality, Mercury was seeing men. When he eventually told his fiance that he was bisexual, she replied, "No Freddie, I don't think you are bisexual. I think you are gay," an exchange that did appear in Bohemian Rhapsody.
'To me, she was my common-law wife'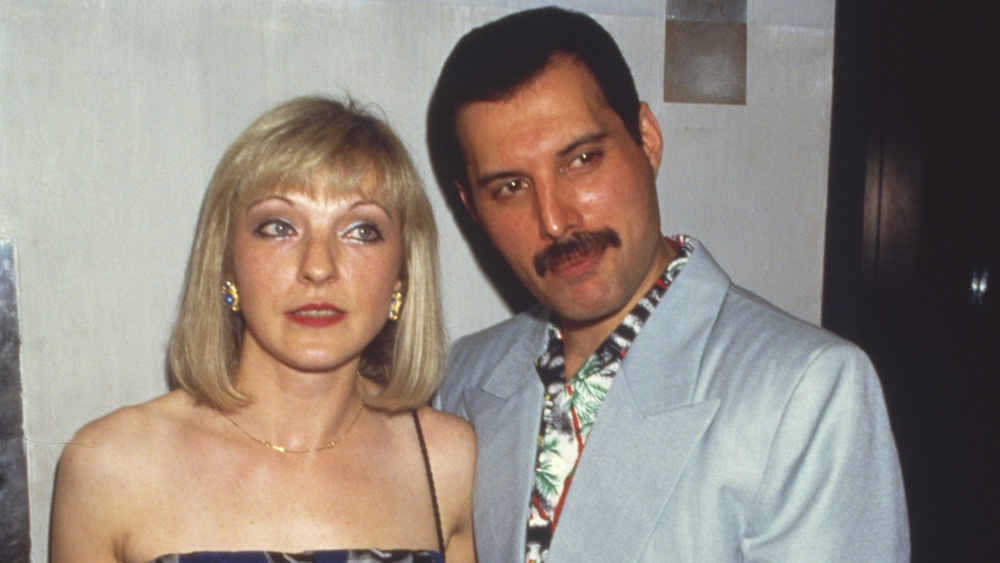 Dave Hogan/Getty Images
While the romantic relationship between the two ended at that point, and they never got married, Mercury and Austin continued to live together on and off for many years. When Austin decided she wanted to strike out on her own, Mercury's music label bought her an apartment that cost over $400,000.
Bohemian Rhapsody portrayed their breakup as more awkward and lengthy than it actually was. In fact, according to her interview with the Daily Mail, for a while the couple continued throwing dinner parties, at which she would sit on one side of Mercury and his latest boyfriend would sit on the other. At one point in a 1985 interview, as reported by the New York Post, Mercury said, "All my lovers asked me why they couldn't replace Mary, but it's simply impossible... To me, she was my common-law wife. To me, it was a marriage. We believe in each other, that's enough for me."  When Mercury died of bronchial pneumonia resulting from AIDS in 1991, he had been in a relationship with hair stylist Jim Hutton for seven years, per Vanity Fair. According to the New York Post, he left Mary Austin most of his $100 million estate as well as his actual estate, a 28-room mansion in London called Garden Lodge.
Austin had two children with painter Piers Cameron and married and divorced businessman Nick Holford, per Biography, but it appears that her unconventional partnership with Freddie Mercury never really ended.