Inside The Failed Rat Pack Reunion Tour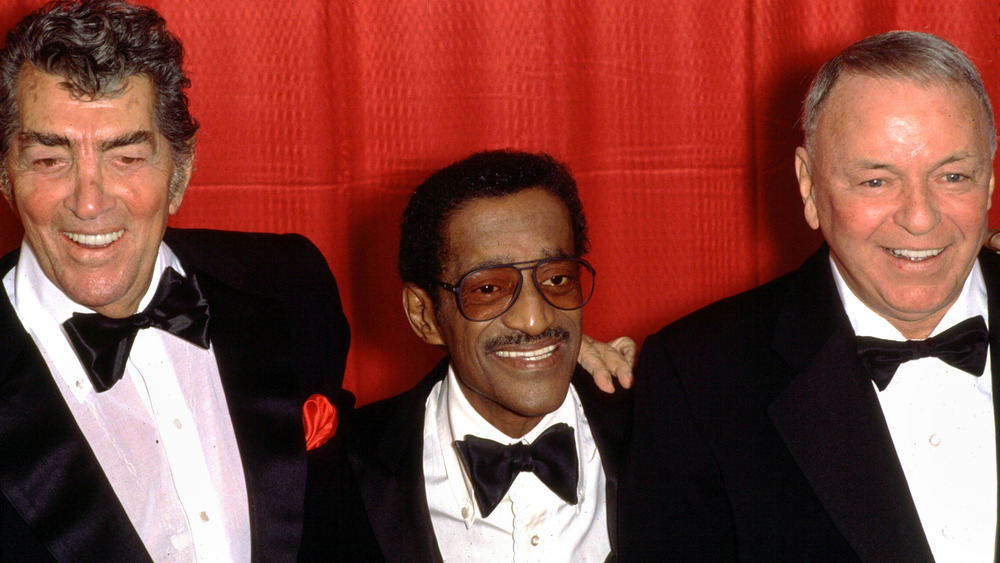 Kypros/Getty Images
The epitome of cool, the Rat Pack ruled the entertainment business from the 1950s until the 1980s. Frank Sinatra, Dean Martin, Sammy Davis Jr., Peter Lawford, and comedian Joey Bishop captivated the world with their antics both on and off stage.
Their story starts with actor Humphrey Bogart, according to All That's Interesting, who would invite famous friends — including Judy Garland, Sinatra and others — for drinks at his home. "You look like a ... rat pack," Bogart's wife, actress Lauren Bacall, said, according to the website. The name stuck, even after Bogart died of esophageal cancer in 1957. Sinatra became the host and "Chairman of the Board." His parties included other buddies — Martin, Davis, Lawford, and Bishop, and the official "Rat Pack" was born.
All were in show business: as singers, comedians, actors and hoofers. They captured attention with their charm and talent, and America watched their antics and enjoyed their performances in Vegas, on stage, in film, on TV.
For an interim, the five supported John F. Kennedy's presidential campaign (no surprise, since Lawford was JFK's brother-in-law), and called themselves "the Jack Pack." A rift in the friendship started when JFK stayed at crooner Bing Crosby's house instead of Sinatra's because of Frank's "ties with the mafia," according to Classic Hollywood Central. Sinatra blamed Lawford and stopped speaking to him. After President Kennedy's assassination in 1963, the group's power started diminishing. The Beatles became the new "It" icon and the Vietnam War and civil rights movement sobered the country.
An almost successful reunion
Patrick Riviere/Getty Images
Sinatra, Martin and Davis reunited for a tour in 1988. The "Together Again National Concert Tour" hit 29 cities. The first night sold out Oakland Coliseum Arena, with 15,000 in attendance, according to UPI  who reported that first the three performers "sang their favorite songs separately, then took the stage together for a well-received finale of jokes, good-natured ribbing and medleys."
The show had problems from the start, however, and Martin left after six shows citing health problems, said People magazine. But even during his performances, he "couldn't remember lyrics, slurred his lines and was so contemptuous that he flicked a live cigarette into an Oakland audience." Allegedly, this angered Sinatra so much he pitched an entire plate of spaghetti at his head.  Rumors riddled the production as well, with accusations that Sinatra's people hogged the profits.
Liza Minnelli, who won an Oscar for her performance in the film Cabaret, joined the boys for a revamped "The Ultimate Event" tour later in 1988, said Deseret News. "The opportunities for 'bad boy' repartee have diminished with the Minnelli-Martin swap," offered the publication. "Davis and a hefty Sinatra supply an ample dose of man-to-man banter while Minnelli stands demurely aside." 
These tours were the last Rat Pack shows. Davis died of throat cancer in 1990. Five years later, Martin died from emphysema; Sinatra, from a heart attack, in 1998. Their impact, though, lives on. The group helped build Las Vegas into a global entertainment center, a must-see performance destination to this day.