Here's Why Bruce Springsteen Hated Born To Run At First
New Jersey native rocker Bruce Springsteen first hit it big in 1975 with his third studio album Born to Run, which reached No. 3 on the Billboard 200 and eventually sold six million copies in the United States. Pazz & Jop, an annual critics poll run by The Village Voice, ranked Born to Run as the third-best album of 1975 (the poll's creator, Robert Christgau, ranked the album 12th on his own year-end list). 
As I Love Classic Rock reports, 1975's Born To Run was Springsteen's effective break into the mainstream. Touting singles such as the titular "Born to Run" and "Tenth Avenue Freeze-Out" (alongside "Thunder Road," "She's the One," and "Jungleland"), the album is still highly regarded by many music critics to this day, with aggregator Acclaimed Music ranking it as the 16th most celebrated album in popular music history. In 2003, it was added to the Library of Congress' National Recording Registry of historic recordings, under the genre of Pop (Post-1955).
And yet, even with all the acclaim Born to Run has received since its release, "The Boss" himself wasn't a huge supporter of his work at the outset.
He wanted to scrap the album, literally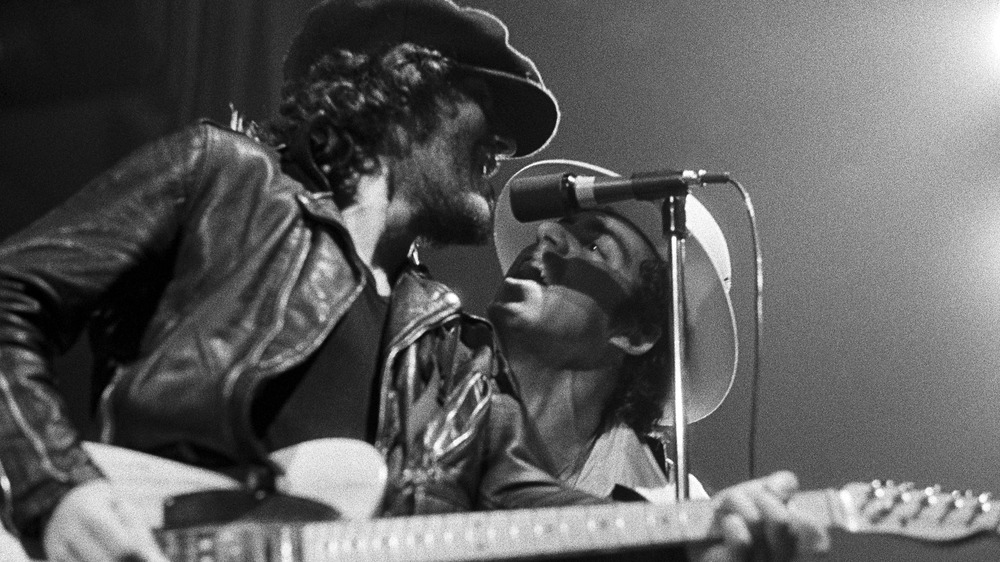 Tom Hill/Getty Images
Per Ultimate Classic Rock, Bruce Springsteen claims that, upon first listening to the rough mix of Born to Run, he wanted to throw the album into a hotel pool. He told Jimmy Fallon on The Tonight Show, "So I'm listening to the mastering of Born to Run, the two of us are standing there. ... Jimmy is trying to get me to say it's okay — 'We can release it?' — and I'm like, 'Into the pool at the hotel!' At any rate, we did release it and it worked out alright."
As the story goes, Springsteen didn't particularly care for how he sounded at first, sharing, "Very often, it sounds terrible to you. You're making all these choices which you end up not comfortable with." But as little as Springsteen initially cared for the production, the rocker seemed to be more favorable toward the album's cover art, as Spin magazine details.
Now regarded as a classic image of music history, the Born to Run cover depicts Springsteen and late saxophonist Clarence Clemons in an image which is only fully revealed when the sleeve is unfolded. In fact, Springsteen has since called Born To Run "one of my very favorite album covers — the one that means the most to me. The nice thing about that cover is, it tells a story. It's the beginning of a narrative. ... It immediately makes you think about friendship, electricity, musical magic. It's the beginning of some tall tale."