This Is Who Gorillaz Owes Its Sound To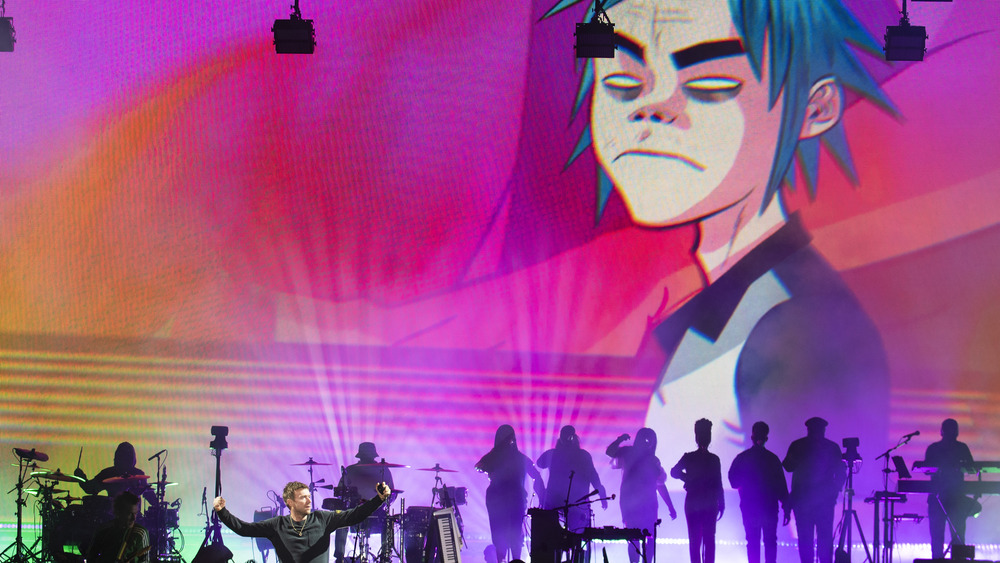 Rodin Eckenroth/Getty Images
Gorillaz is undoubtedly one of the most unique hip-hop outfits to come out within the past 20 years. Formed in 1998, Gorillaz officially consists not of actual people, but four virtual egos: bassist and emo-Satanist Murdoc Alphonse "Faust" Niccals, 10-year old (at least at the start) Japanese guitarist Noodle, lank-haired and dead-eyed British lead singer Stuart 2D Pot, and chunky beatmaster Russell Hobbs. These fictional members are loose analogs for real-life band members, but by using cartoons as frontmen, the minds behind Gorillaz can focus on maintaining the creativity integrity of what is, essentially, an oddball musical side project.
Some of the brightest and cutting-edge musical and visual artists have gone into creating Gorillaz, and as a result, wound up creating a very signature look and sound for the band. Visually, as Illustration Chronicles relates, we have Tank Girl artist Jamie Hewlett to thank for instantly recognizable, heavy-lined, slick, demented, reality-askew stylings.
As The Guardian tells us, Hewlett used to be flatmates with another one of Gorillaz' principal figures, Blur's Damon Albarn. Albarn and Hewlett conceptualized Gorillaz from their West London flat on a frustrated Monday afternoon, in postmodern defiance of the tethers that refuse to separate art from artist. Albarn wanted to do something completely different from Blur, and rather than sink further into public-facing, band-based personas, such as those embraced by then-rivals Oasis, Albarn took an experimental step back. As soon as they brought legendary producer Dan "The Automator" Nakamura on board, things really came together.
The Clear, Guiding Hand of Dan 'The Automator'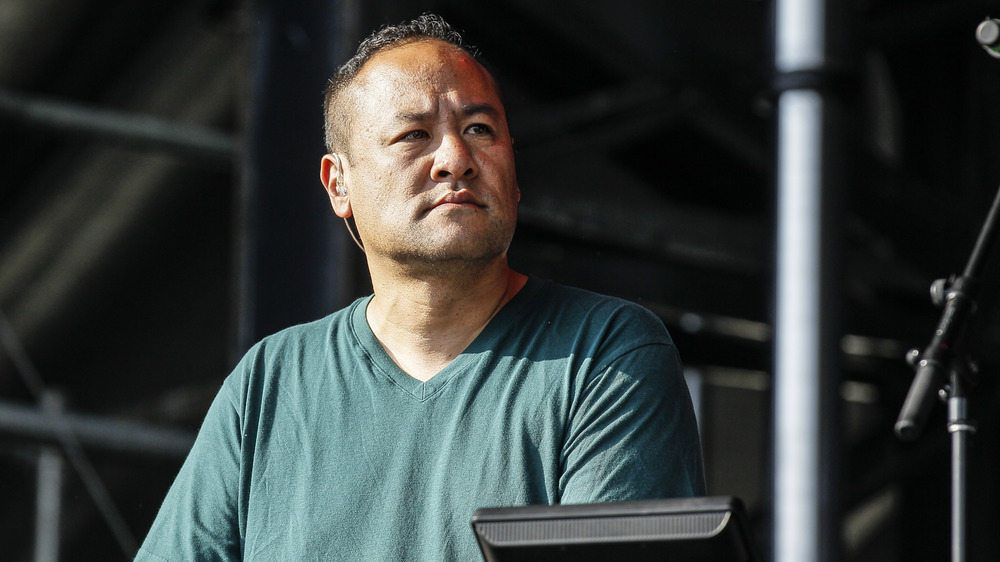 Mark Horton/Getty Images
The Automator's handprint can be very clearly and obviously felt on the 2001 release Gorillaz. The coarse, lo-fi sound quality, the trip-hop and downtempo influences, the extreme attention to instrumental texturing, the trashy, junky beat-mixing: All of it resonates with Nakamura's trademark tone and style.
As MTV News tells us, Nakamura joined the Gorillaz project after wrapping up Del tha Funkee Homosapien's Deltron 3030, a now-seminal, genre-busting underground hip-hop album that doubled as a concept album set in the extreme future. Nakamura was also responsible for Kool Keith's concept album Dr. Octagonecologyst, as well as the singularly unique Handsome Boy Modeling School's So... How's Your Girl? In short, along with a cadre of collaborators, Nakamura has been the linchpin of some of the most forward-thinking, musically progressive projects in hip-hop history.
It was with this pedigree that Nakamura stepped into his cartoon alter ego, Gorillaz' Russell, and lent his talents to the project at hand. Each of the virtual band members of Gorillaz was given a backstory, such as Murdoc becoming the bassist because he didn't get the job as singer, and 2D being only vaguely aware of his membership within the band. Russell was described by Albarn as the "... Conduit for this spirit of a rapper. He's a kind of genie's lamp. Like the Incredible Hulk."
The Automator's Continued Influence on Music and Film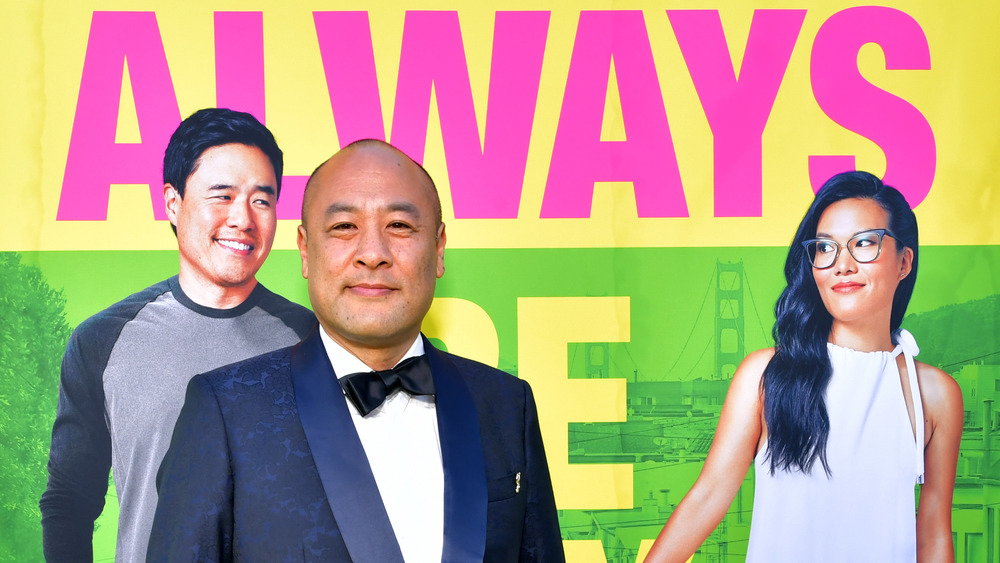 Emma Mcintyre/Getty Images
Nakamura hasn't stayed with Gorillaz for each of their subsequent albums, though. He did as he usually does: slipped into a project, sprinkled it with his artistic magic, and then moved on to other indie pastures, such as a 2010 project with outré singer and multi-instrumentalist Emily Wells, per Consequence of Sound. Gorillaz' second album, 2005's Demon Days, was produced by Danger Mouse, and 2010's Plastic Beach was produced by Albarn himself. No hard feelings or anything for not being involved on the latter albums, though. As Nakamura said, "We didn't have a falling out or anything. It just didn't end up happening." Even though Nakamura has moved on from Gorillaz, he, along with Albarn, crafted a bedrock of sound that has carried all the way through Gorillaz' recent 2020 album, Song Machine, Season One: Strange Timez.
As for Nakamura, a jump over to his homepage reveals some of the other eclectic work he's been busy with in his years since Gorillaz. He's dabbled in a plethora of musical projects, including solo albums, collaborations with alt-rock bands like Kasabian, another Deltron album, and also expanded into film and TV scores, including Ocean's Eleven, Charmed, The Sopranos, Scott Pilgrim vs. The World, Better Call Saul, and Netflix's Always Be My Maybe (you know, the Ali Wong romcom with that self-deprecatory Keanu Reeves dinner scene).
Thankfully, it looks like The Automator has no intention of slowing down his behind-the-scenes influence.