The Truth About MF Doom's Iconic Mask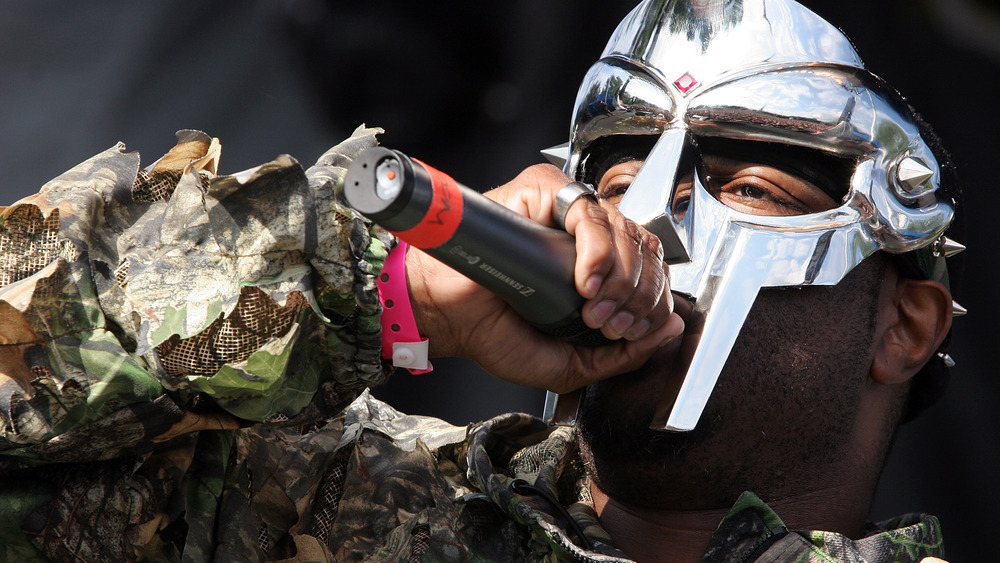 Roger Kisby/Getty Images
"Whether is it animal, vegetable, or mineral / It's a miracle how he get so lyrical."
True 'dat, Doom. Such sage rhymes, pulled from MF Doom's all-food-based 2004 album MM...Food, typify Doom's underground, alt-rap absurdism and self-mythologizing. Doom, one of many characters created by legendary rapper and producer Daniel Dumile (including King Geedorah, Viktor Vaughn, and Zev Love X, as All Music tells us), lives on in hip-hop history not only for his skill on the mic, but his instantly recognizable face. Or rather, his lack of a face. Doom, whose mask generally resembles Marvel Comics' facially-scarred uber-villain Victor Von Doom (Doctor Doom), hides behind a metal faceplate as surely as Von Doom does. And while the two masks might look similar, there are enough dissimilarities to warrant some investigation (and prevent Marvel from suing).  
Even though this most well-known of Dumile's monikers has a number of albums under his belt, Dumile (who in 2009 appended MF Doom to simply DOOM, all caps) worked behind the scenes with a host of producers and hip-hop artists over the years, reports All Music. Danger Mouse, Ghostface, Raekwon, Kool Keith, Damon Albarn from Gorillaz: All of them and more owe pieces of projects to MF Doom's creator — Rolling Stone said his "impact on music is hard to overstate."
Dumile was born in London, reports Rolling Stone, but was raised on Long Island, New York. He was justifiably famous for his touch with a lyric or in a production studio. NPR called him an "Intricate and enigmatic rapper and producer." Certainly his masked alter ego added to the enigma. And the inspiration for Doom's famed facial apparel?
'Are You Not Entertained?!'
Why, one of Dumile's most unlikely collaborators, at least indirectly. We're talking none other than (cue the dramatic musical swell) famed New Zealand actor and reformed bar-fight enthusiast Russell Crowe.
Before Crowe kept questionable tempo in 2012's Les Misérables, and did a funny, brass knuckles-wearing turn with Ryan Gosling in 2016's Nice Guys, he starred in 2000's Gladiator. Ridley Scott's epic historical drama featuring general-turned-slave Maximus Decimus Meridius (come on, you know the line: "Are you not entertained?!") won massive critic acclaim, garnered tons of love from audiences, and earned five Academy Awards (per Britannica), including one for Crowe for Best Actor. It was a breakout film for Joaquin Phoenix, as well, in the role of the mad emperor Commodus.
In the film, Maximus, sold into slavery, works his way up through the ranks of gladiators and arenas. One of the more famous hand-to-hand combat fights in the film features Crowe wearing a pretty bad*** mask. (There are plenty of reproductions available on Etsy.)
And in case you're glancing at those masks and wondering, "Hold up, these look familiar," you're right: That's MF Doom's mask. As OkayPlayer tells us, one of Doom's friends saw such a replica back when Gladiator came out. "... A friend of mine told me he saw this mask that would be perfect for the DOOM character. I trusted him, even though it was kinda expensive." To make a long story short, Dumile got the mask, tried it on, kitted it out, chromed it up, and boom: MF Doom's signature look was born.
Sadly, as Rolling Stone reported, we lost Dumile on Halloween, 2020. He was 49 years old. His wife, Jasmine, made the announcement via his Instagram account. No cause of death was given.