Details We Know About Alexi Laiho's Sad Death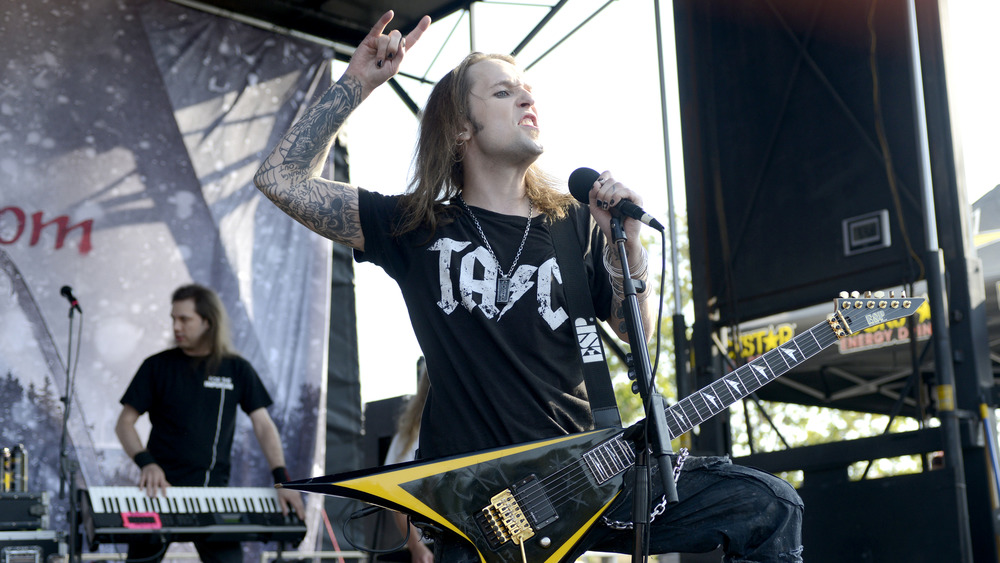 Tim Mosenfelder/Getty Images
Metal fans around the world are in mourning this week, as news breaks of the shocking and untimely death of Alexi Laiho, an icon who in 2009 was voted the best metal guitarist in the world in a Guitar World readers' poll, according to Blabbermouth. According to his obituary in Rolling Stone, Laiho was just 41.
Laiho, who was born Markku Uula Aleksi Laiho in Espoo, Finland, on April 8, 1979, made his name in the 1990s and 2000s with the melodic death metal and power metal band Children of Bodom, which he formed as a teenager in 1993 under the original name Inearthed, per the official Children of Bodom website.  As the "superstar frontman/guitarist" of Children of Bodom, Laiho propelled the band to international success, with albums regularly entering the Billboard Top 200 in the United States, while in their home country their first three albums debuted at the top of the charts, selling more than a quarter-million copies in the process. To this day, Children of Bodom remain one of the best-selling musical acts in Finnish history.
As a metal veteran, Laiho also played with the bands Sinergy, Warmen, Kylähullut, and the Local Band, according to Rolling Stone, and at the time of his death was working with his new band, Bodom After Midnight — formed after the dissolution of Children of Bodom in 2019 — with whom he had recorded three songs and finished work on a music video.
Alexi Laiho suffered from long-term health issues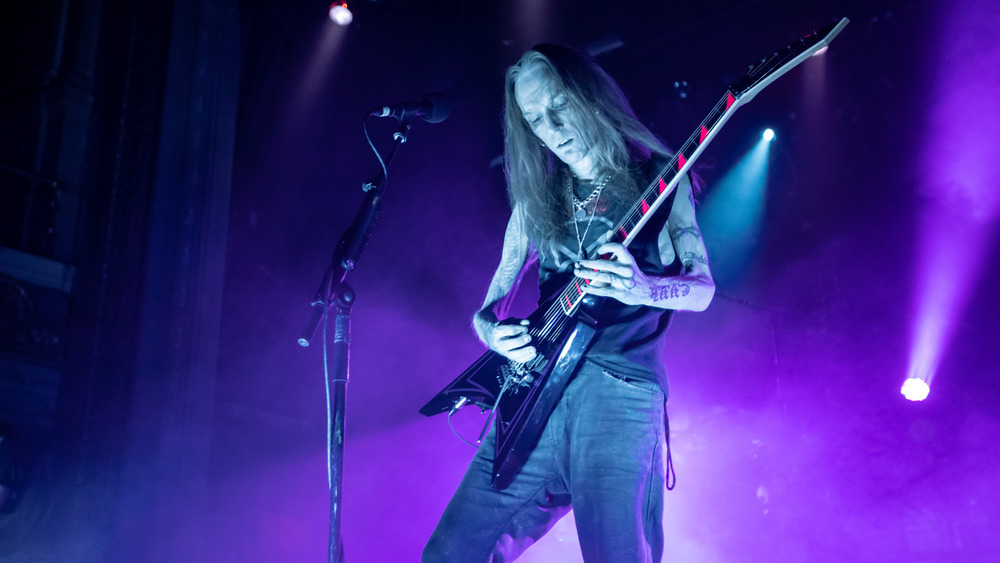 Miikka Skaffari/Getty Images
It is believed that Laiho's final work is currently being prepared for posthumous release.
Few details have emerged from Alexi Laiho's representatives, friends, and bandmates concerning the exact circumstances of the master guitarist's sad death. The news was broken via an official joint statement from the surviving members of Childen of Bodom — Jaska Raatikainen (drums), Henkka Seppälä (bass guitar), Janne Wirman (keyboards) — which informed fans that Laiho had passed away the previous week, at his home in Helsinki, Finland. The statement also revealed that the late guitarist had "suffered from long-term health issues in his last years," giving added poignancy to the music he was creating in his final years, but kept the exact cause of his tragic death private. Express reported only that he "died suddenly at his home in Helsinki, Finland."
The band's statement continued: "More than 25 years of friendship. We lost a brother. The world lost a phenomenal song writer and one of the greatest guitarists of all time. Memories and Alexi's music will live forever. Our thoughts are with Alexi's family during this difficult time."
Per the Guardian, Laiho's wife, Kelli Wright-Laiho, said: "Alexi was the most loving and magnificent husband and father. Our hearts are eternally broken."