Details You Need To Know About Dr. Dre's Relationship With 50 Cent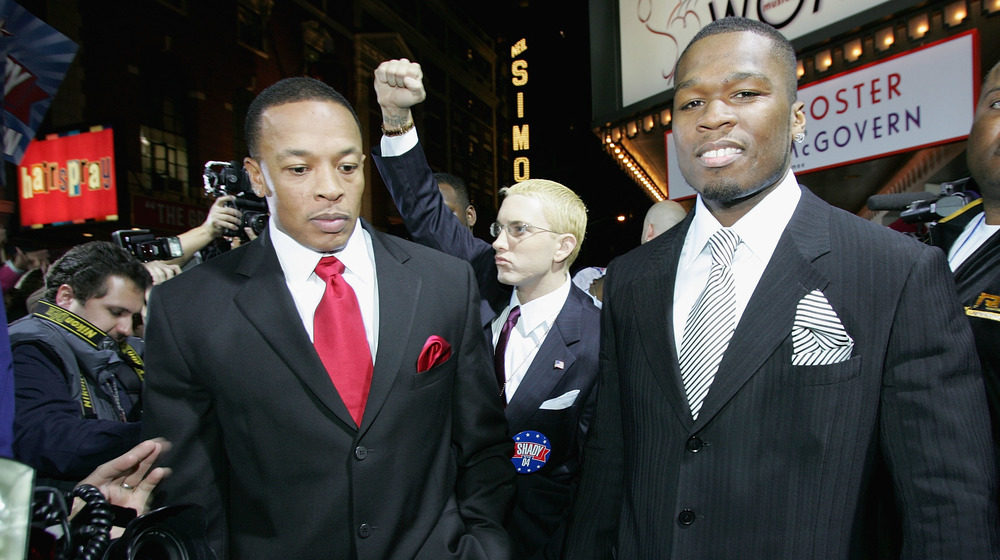 Frank Micelotta/Getty Images
Many people came out with messages of support for rap legend Dr. Dre after he was reportedly hospitalized after suffering an aneurysm on January 5, 2021, per Newsweek, including former collaborator and mentee Curtis "50 Cent" Jackson. 50 Cent tweeted "get well dre, stress kills relax" with an accompanying picture of the two of them.
Dr. Dre produced 50 Cent's major-label debut, 2003's Get Rich or Die Tryin' after Eminem "discovered" 50 Cent and signed him to his label, Shady Records, which ran under Dr. Dre's Aftermath Records and Interscope Records. The three went on to form a sort of mighty '00s triumvirate. AllMusic's review of Get Rich or Die Tryin' credits Eminem and Dr. Dre with "laying out the red carpet here" in terms of producing 50 Cent and introducing him to the public. The album was a huge hit, debuting at No. 1 on Billboard's Hot 200 and went on to be the best-selling album of 2003, per Business Wire.
Like a lot of close business relationships, particularly between people who are also friends, Dr. Dre and 50 Cent have had their share of ups and downs. As reported by The Things, 50 Cent left Shady/Aftermath/Interscope for Capitol/Caroline/UMG in 2014. However, the split was not acrimonious; 50 Cent thanked Eminem and Dr. Dre for the "incredible opportunity" and shared that he'd "learned so much" from them, while Eminem wished him well, stating he'd had "a great friendship with 50 over the years, and that's not going to change."
Did it all come down to headphones?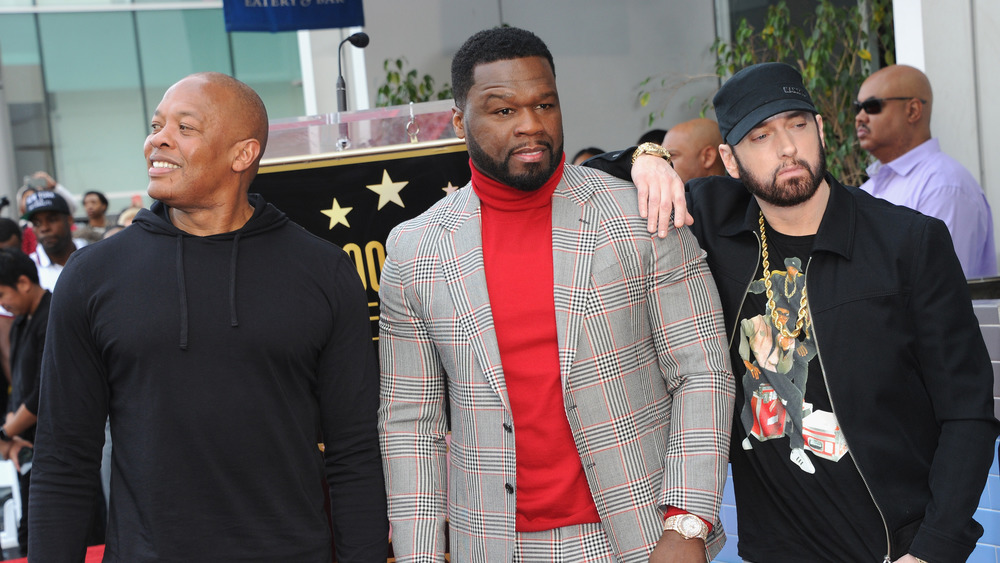 Albert L. Ortega/Getty Images
50 Cent sat down with MTV for an interview a month after he announced he was leaving Aftermath and explained that he'd left because of "an actual fear factor created from the aura of respect that Jimmy [Iovine] has within the Interscope system."
He also criticized Interscope's marketing of Dr. Dre's Beats By Dre headphones, noting, "When you see Interscope turn into Beats Records, where everyone that you see is actually marketing Beats headphones — you don't even see a music video without Beats headphones in it." In fact, 50 Cent owned a majority share in a competing headwear company, which he'd rebranded as SMS Audio, and he complained that an SMS Audio logo had been blurred out in the video for his song "My Life," which was recorded under Interscope. 
This was not the first time there had been a conflict over the two competing headphone brands. In 2011, 50 Cent took to Twitter and told followers "Jimmy Iovine and Dre [are] mad at me cause I'm doing Sleek by 50," per MTV. He also hinted that he had a diss record ready to go, tweeting, "Would you faint if I told you I just wrote a verse about Jimmy and Dre? Oh my god this is hard. This sh– gonna kill." Dr. Dre responded that he'd had "no idea" 50 Cent had headphone plans, stating, "I've never heard of his headphones."
Are there still hard feelings between 50 Cent and Dr. Dre?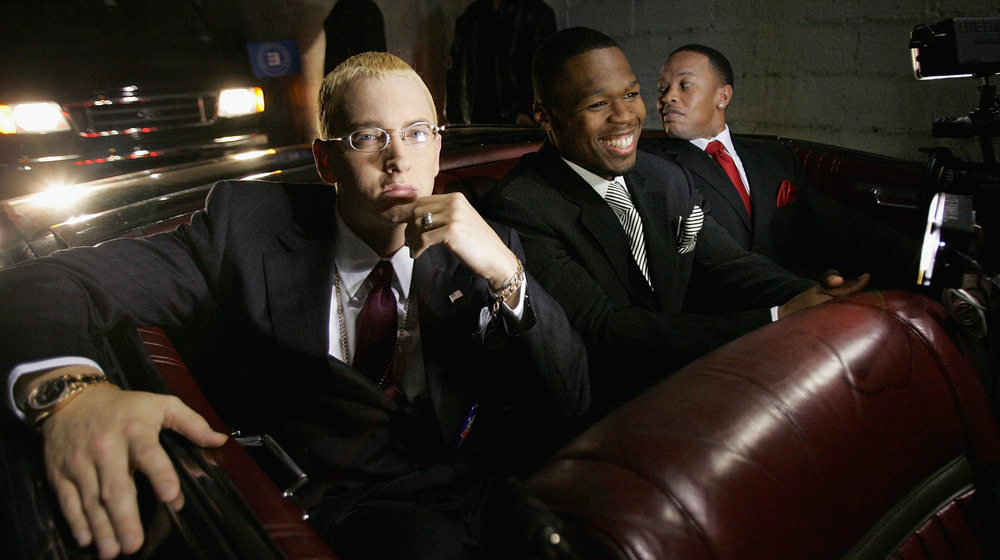 Frank Micelotta/Getty Images
After 50 Cent's 2014 split from Dr. Dre's label, things got more strained as time went by. Vibe reported in 2015 that 50 Cent gave an interview on radio station's Power 105.1 morning show, The Breakfast Club, during which he said about Dr. Dre, "I don't call to talk to him for no reason," noting that he thought "that relationship was business" and once again bringing up his strained relationship with Jimmy Iovine as a main reason for his tension with Dre.
However, it seems that eventually the two let bygones be bygones and reestablished a relationship. Dr. Dre, as well as Eminem, attended the January 2020 ceremony at which 50 Cent was awarded a star on the Hollywood Walk of Fame. During his speech, 50 Cent credited Dr. Dre and Eminem with supporting his career and said, "Dre is a mentor for the whole squad. He was a mentor for the whole squad because he could guide us in different ways without even him knowing it," as reported by Billboard.
Dr. Dre is reportedly recovering from his aneurysm at Los Angeles' Cedars-Sinai Medical Center and, per Digital Music News, took to Instagram to reassure well-wishers, writing, "I'm doing great and getting excellent care from my medical team. I will be out of the hospital and back home soon."