What Is Buckethead From Guns N' Roses Up To Now?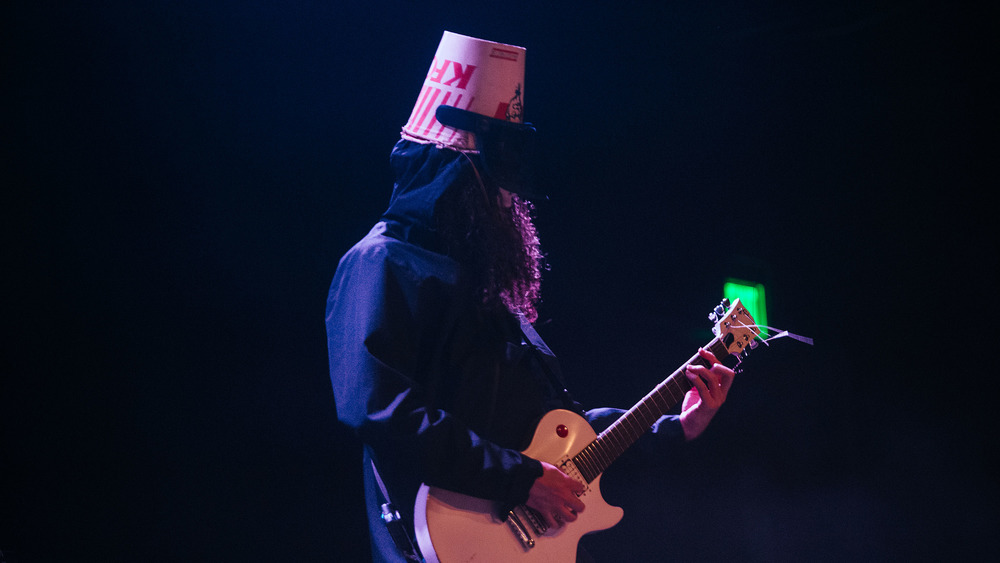 David A. Smith/Getty Images
Is he back in the chicken coop or has his hand puppet Herbie led him astray? Where is the elusive, masked, KFC-bucket-wearing, guitar-shredding Buckethead these days? According to Loudwire, in 2017, he had to stop touring due to a heart problem. Sadly, this was only a year after Buckethead returned to the stage after a four-year absence from playing shows, per Consequence of Sound. However, it seemed nothing could stop the Buckethead from penning his pikes, as the day after a heart procedure, he was back to working on new music — while in bed! One could only expect it, as his prolific writing has led to hundreds of albums and collaborations with some of the world's most popular musicians. In 2019, Buckethead was seen performing on stages around the U.S. to crowds of loyal fans, playing in states such as Kentucky, Missouri, and Maine. Buckethead's shows were seen as a comeback and a tease for the new music he would be releasing in 2020.
Buckethead's newest projects and stories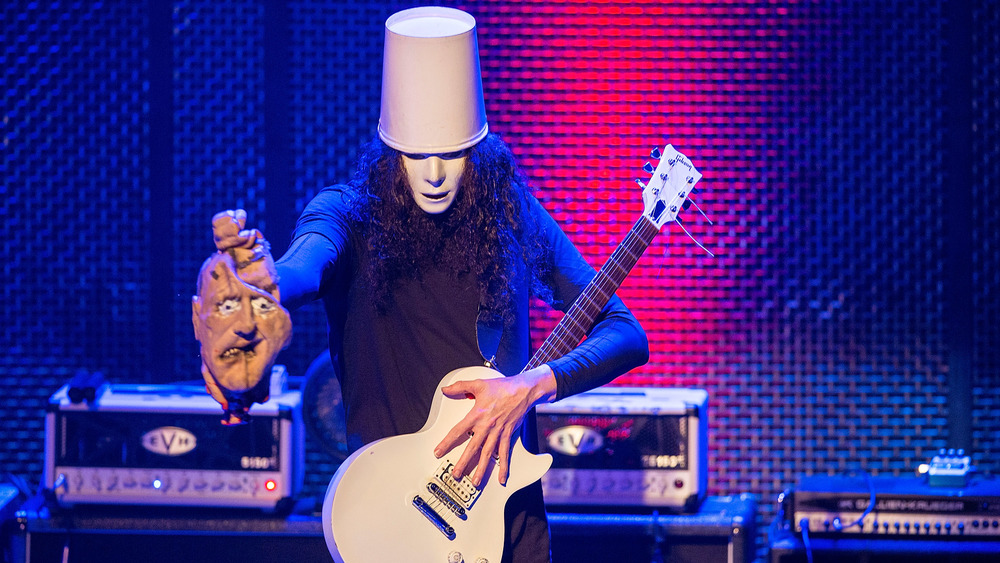 Daniel Knighton/Getty Images
In 2020, legendary bassist Bootsy Collins announced for a second time he would be releasing a collaborative album with Buckethead, per Live for Live Music. Fans waited for their next project to drop, however, in October, Collins put out an album called The Power of One, which didn't feature Buckethead, per Live for Live Music. In September 2020, actor Viggo Mortensen gave an interview (English translation) about what it's like working with the GN'R guitarist, saying: "We have known each other for over 20 years. We get together once in a while and play. We don't record everything, but the music is something. ... I feel like every second of that time was worth it. He knows how to communicate intimately." Mortensen's description of Buckethead's ability to communicate is very different from what many others have experienced while working with him.
In March 2020, Guns N' Roses manager Doug Goldstein gave an interview about his strange way of working with the band, saying: "It wasn't bad. His behavior wasn't bad, it was head-scratching, that's the best way to put it. To hear that he can't play his leads until we build him, literally, a chicken coop in the studio for him to play in, I mean... it's just something you're not really used to dealing with." And one of Buckethead's drummers said he'd only communicate with his band's managers using his hand puppet, Herbie, saying: "[He would] wear out the managers. There's millions of dollars on the line, and they're talkin' to a *** puppet!" Thankfully, Buckethead is still communicating with his music, and released more for fans to listen to in 2020. Let's hope there's more music this year!