The Tragic Death Of Dean Paul Martin
Just as it ain't easy being green, it ain't easy being the child of celebrity. Two of Bing Crosby's sons committed suicide, according to Fabiosa. None of John Wayne's children had particularly celebrated careers as actors. Christopher Robin Milne owned a bookstore before finally writing his own take on growing up in the shadow of Winnie the Pooh. Part of it's genes — you don't necessarily inherit what your parents have got (and let's be honest: That's frequently a good thing). But then there's the story of Dean Paul Martin, who really hit the genetic jackpot — overflowing, and in good measure.
His parents were Dean and Jeanne Martin — Dean, member of the Rat Pack, singer, movie actor, TV variety star, long-time partner with Jerry Lewis on stage, radio, and movies. Dean Paul was the fifth of Dean's eight children, the eldest of the three born during his father's second marriage, says Biography. He was Junior, too, which may or may not have carried its own burden.
There didn't seem to be much he couldn't do
The thing of it was, Dean Paul really did have it all, without having to borrow from Dad. He was born November 17, 1951, and grew up with Frank Sinatra's kids and other families in the entertainment business. His problem wasn't privilege; it was ability — he was too good at too many things. He played tennis competitively as a teenager, then moved to music, forming a band with Lucille Ball's son, Desi Arnaz Jr., relates People. They had respectable pop hits before he dropped music to head back into tennis, playing for UCLA, before he dropped that to marry actress Olivia Hussey (Romeo and Juliet). They had a son, Alex, before divorcing.
He played semi-pro football, raced cars, took yet another shot at tennis, this time on the pro circuit, went back to school as a pre-med major, acted in fairly successful movies. He also remarried, this time to Olympic gold medal skater Dorothy Hamill. At their engagement party, reports People, papa Dean said, "I'm proud of him. I'd be proud even if he didn't become a jet pilot, because he's a good boy. He just doesn't know what he wants to be." (Martin and Hamill divorced three years later.)
He was married to gold medalist Dorothy Hamill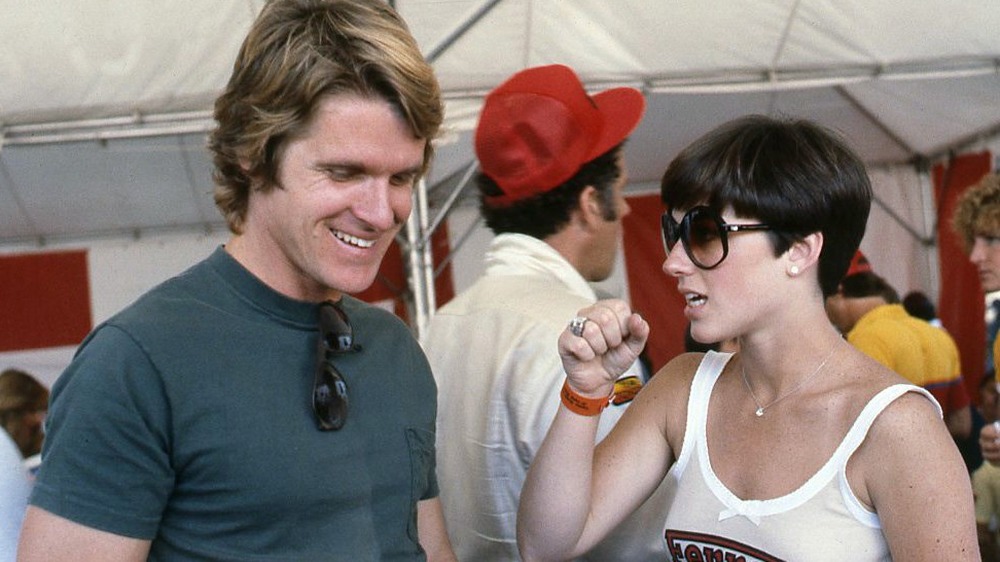 Joan Adlen Photography/Getty Images
With all of his accomplishments, perhaps he took greatest joy in being a pilot. He got his license when he was 16 and was commissioned in the Air National Guard in 1981. Flying was his true passion, and it was flying that killed him.
Martin was the pilot of the F4-C Phantom fighter jet on a training maneuver near the San Bernardino Mountains, reports the Associated Press. On March 21, 1987, they flew into a snowstorm and while the other two pilots in the formation obeyed air traffic control instructions to change direction, speculation is that Martin might have become disoriented or, for some reason, not heard the instructions. His plane was going about 400 miles per hour when it slammed into a peak near Mt. San Gorgonio, east of Los Angeles, said The Los Angeles Times. He and his co-pilot were still on board and died instantly. United Press International (posted by South Florida's Sun Sentinel) quoted Maj. Steve Mensik, who said, "There's nothing to indicate at this point that it was a malfunction of the plane."
The remote character of the crash site meant the bodies would not be recovered until six days later. Martin was 35.