The Tragic Death Of Tommy Lasorda's Son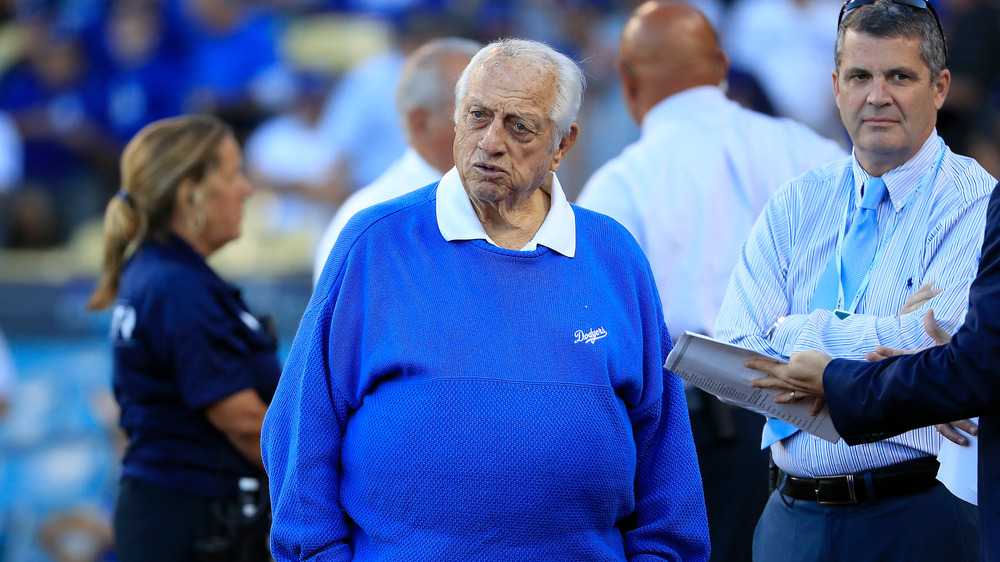 Sean M. Haffey/Getty Images
Baseball lost one of its most well-loved ambassadors on January 7, 2021, when Hall of Fame manager Tommy Lasorda died of cardiac arrest at the age of 93. The Los Angeles Dodgers, the team to which he dedicated more than seven decades of his life, tweeted the announcement following day, stating how the man who had "Dodger blue running through his veins" was able to see his beloved team win the World Series one last time in October 2020, when the Dodgers beat the Tampa Bay Rays in a six-game series.
According to ESPN, Lasorda was fondly remembered by many who knew him. Dodgers owner Mark Walter called him "a great ambassador for the team and baseball, a mentor to players and coaches ... and he was a good friend." Legendary Dodgers broadcaster Vin Scully praised Lasorda's "boundless enthusiasm" and his "determination." And as CBS Sports reported, MLB commissioner Rob Manfred called him "one of the finest managers our game has ever known" and remembered him for his commitment to diversifying the game. "His passion, success, charisma and sense of humor turned him into an international celebrity, a stature that he used to grow our sport," Manfred said. "Tommy welcomed Dodger players from Mexico, the Dominican Republic, Japan, South Korea and elsewhere — making baseball a stronger, more diverse and better game." However, despite his inclusive attitude on the diamond, there was one person in his life whose lifestyle he just couldn't seem to accept for what it was.
Tommy Lasorda wouldn't admit that his son was gay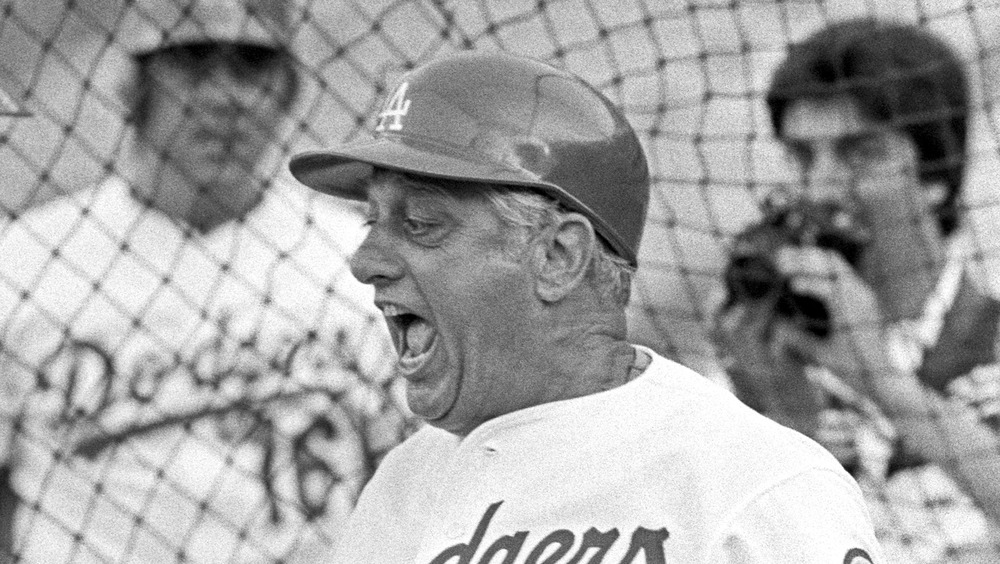 Jayne Kamin-oncea/Getty Images
Lasorda's son, Tom Jr., died in 1991. Nicknamed "Spunky," the 33-year-old had been sick for an extended period of time, and the LA Times reported that the cause of death was "pneumonia and severe dehydration." However, since then, it has been suggested that Tom Jr., a gay man, died from complications of AIDS. But Tommy Sr. never wanted to believe that his son was gay, or didn't want to admit it, at least. In a 1992 interview with GQ, republished by Deadspin, Lasorda refused to speak with the interviewer about his son's lifestyle. "My son wasn't gay," he said. "No way. No way. I read that in a paper. I also read in that paper that a lady gave birth to a f****** monkey, too. That's not the f****** truth. That's not the truth."
He also denied that his son had died of AIDS. "That's not true," he told GQ. "I don't care what people ... I know what my son died of. I know what he died of. The doctor put out a report of how he died. He died of pneumonia." Indeed, that was the immediate cause of death listed on Tom Jr.'s death certificate, which is cited in the article. The third cause on the list reads: "Probable Acquired Immune Deficiency Syndrome." But despite Tom Sr.'s adamant objections to the contrary, others who knew Tom Jr. said that his sexuality was not something he kept secret.
The true identity of Tommy Lasorda's son, Tom Jr.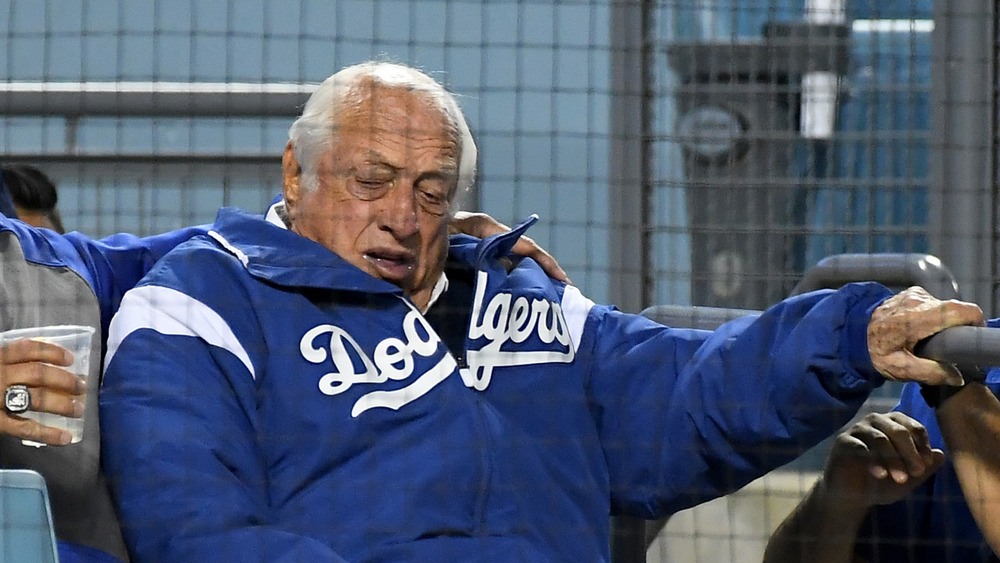 Jayne Kamin-oncea/Getty Images
Despite Lasorda's statement to the contrary, "it was very obvious that he was feminine," said Cat Gwynn, a high school classmate of Tom Jr. "I was enamored of him because he wasn't at all uncomfortable with who he was ... he strutted his stuff." And she was not the only one who told GQ that. Several others who were close Tommy Jr. in the 1970s and '80s all said that there was no question that the famous baseball manager's son was gay. And interestingly, the father and son had an excellent relationship while they were both still alive. Tommy Jr. visited Dodger Stadium all the time, and his father often called him while on the road.
It would appear that what Lasorda couldn't bring himself to accept was that his son had contracted AIDS. After becoming sick, Tommy Jr. changed his lifestyle completely. He went to rehab and stopped doing drugs and no longer had sexual relationships. He went to the gym every day of the week. But the disease had already taken its toll, and Tommy Jr. tragically died a very young man. Although devastated, his father found sanctuary in the game he loved so well. "When I walk into the clubhouse, I got to put on a winning face. A happy face," he said. "If I go in with my head hung down when I put on my uniform, what good does it do?"