Details You Didn't Know About Stefon Diggs' Famous Brother
Bryan Bennett/Getty Images
Buffalo Bills wide receiver Stefon Diggs has some family in the National Football League. His brother, Trevon, who played four seasons with University of Alabama's Crimson Tide, joined the Dallas Cowboys during the 2020 draft.
Stefon, whose team is currently in the playoffs, has helped the Bills earn their spot. According to SBNation, "The Bills' big offseason acquisition went off for 1,500 yards receiving during the regular season and followed it up by catching six passes for 128 yards and a touchdown in his playoff debut for Buffalo." 
His brother's season, hindered by a foot injury, also contained some good moments. As Rotoworld pointed out, "He started all nine games before going down, posting 48 tackles and two interceptions in an every-down role." 
Football was something the two shared even as children, with knee football becoming a favorite game of Trevon's. But Stefon was more than a playmate to him. When Aron Diggs, the boys' father, died in 2008 from congestive heart failure, he told Stefon to take care of the family. Stefon "is like my dad," Trevon said to ESPN. "He was there for me when my father passed, so he has always taken care of me. I always ask him everything, no matter what."
Football and the Diggs family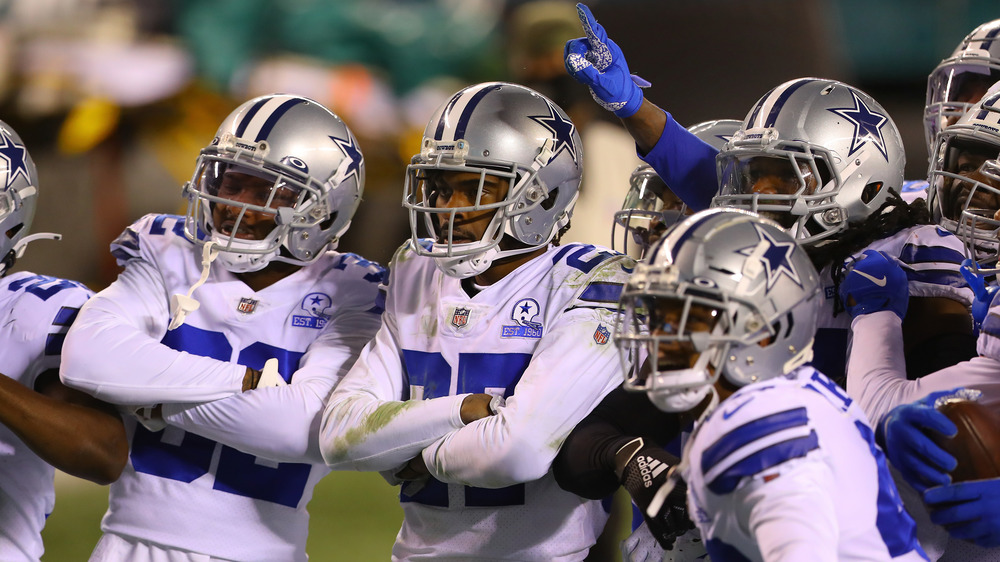 Mitchell Leff/Getty Images
Trevon followed his brother into the sport as did another sibling Mar'Sean, who played safety at UAB and did a Vikings tryout in 2019. Trevon became a wide receiver and defensive back for the Avalon School in Wheaton, Maryland. He chose Alabama for college and played his first season as a receiver, with 11 catches for 88 yards and a touchdown. His brother was always there for advice. "He's always giving me tips and little cues to work on my game," he said to NFL.com. "I'm blessed to have that." 
He switched to a cornerback as a sophomore. By the end of his last year at Alabama, Trevon Diggs had made three interceptions and defended eight passes. No matter what happened, his big brother continued to support him. When he was drafted in the second round of the NFL Draft, Stefon sat beside him [Watch his reaction on Twitter].
Buffalo is a new team for Stefon, who was traded to the Bills in 2020 after spending five years with the Minnesota Vikings. Before that, he played college football at Maryland. He had 127 receptions and 1,535 receiving yards in 2020 — the highest for all NFL receivers. Maybe we'll see more of his work on February 7 at Super Bowl LV.