Browns QB Baker Mayfield Is Worth A Lot More Than You Think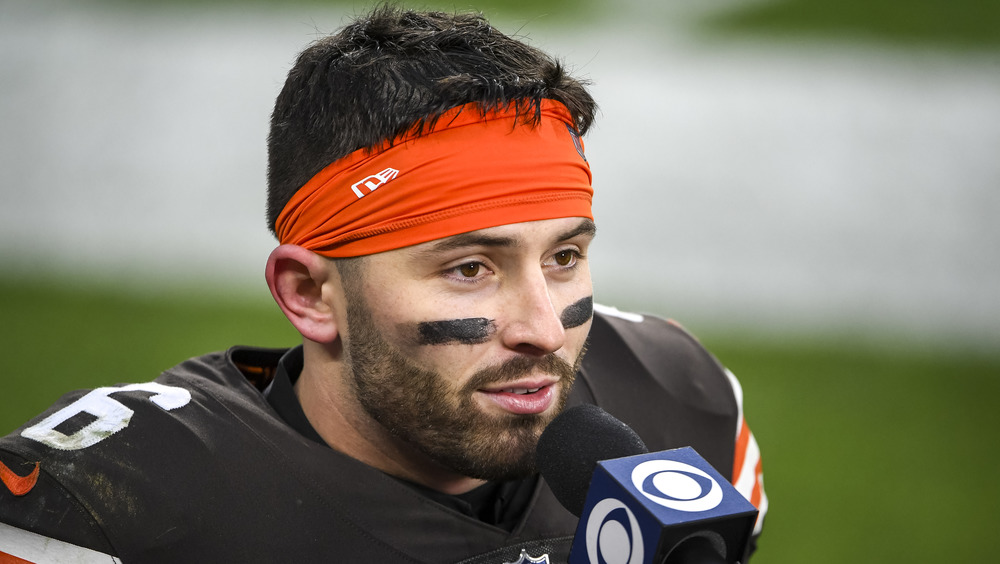 Nic Antaya/Getty Images
All eyes are on the Cleveland Browns after their recent "franchise-defining win" over the Pittsburgh Steelers, as reported by Bleacher Report. Quarterback Baker Mayfield was lauded for his "excellent, mistake-free football" and at 25 years old, he is the oldest quarterback still playing in the AFC finals, per Yahoo! Sports. According to Celebrity Net Worth, he was the number one pick in the NFL draft in 2018, when he signed a four year contract worth $32.68 million that came with a $21 million signing bonus. 
Starting as a quarterback in his home state of Texas at Lake Travis High School, he led the team to a 16-0 record and their fifth state championship in a row as a junior, per Fanbuzz, and went on to start as a freshman quarterback at Texas Tech. There, he won both a "a dance competition among all newcomers to the roster in the team meeting room," where he impressed teammates with his rendition of dances such as the Dougie and the Stanky Leg, as well as the Big 12 Freshman of the Year Award, reports Sports Illustrated. He transferred to the University of Oklahoma, where he eventually won the 2017 Heisman Trophy, as well as the Maxwell Award for college football's player of the year and the Davey O'Brien Award for most outstanding quarterback. With all of these accolades, it's easy to see how be became the NFL number one draft pick the next year.
Mayfield has many lucrative endorsement deals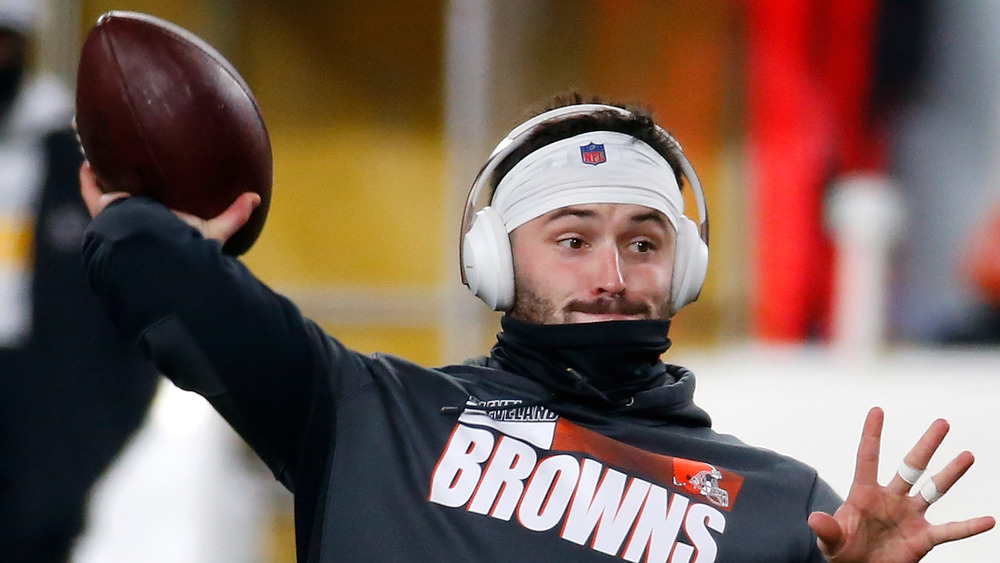 Justin K. Aller/Getty Images
Mayfield's current net worth comes out to $12 million, per Celebrity Net Worth. Further, Spotrac breaks down some of the numbers by reporting his base salary at $750,000 and his roster bonus of  nearly $2.8 million. Of course, professional athletes stand to make enormous amounts of money via endorsement deals, and Sports Illustrated notes that Mayfield is "already a very marketable person" in just his third year in the NFL. The quarterback has deals with Progressive, Hulu, Nissan, Bose, Bodyarmor, Panini, Nike, and HydroHoist, and investments with "multiple other brands," including "PumpJack DataWorks, Legends and Goodmylk." 
Mayfield has even made marketing history in becoming the first NFL player to invest in a CBD company, Beam, and endorse their products. Beam, according to its website, was founded by "avid crossfit competitors, ironman triathletes, marathoners and former professional athletes," so it sounds like a logical (and lucrative) endorsement deal. The partnership caused controversy within the NFL, however. Two days after the announcement of Mayfield's deal with Beam, the National Football League Players Association released a letter in which they announced that "the union does not support players actively endorsing CBD brands as per its agreement with the NFL," as reported by mg Magazine. Consumers can still access a page dedicated to Mayfield's favorite Beam products, including a 30-serving bag of "dream powder" that will set you back a cool $95.