Here's How Much Buffalo Bills QB Josh Allen Is Actually Worth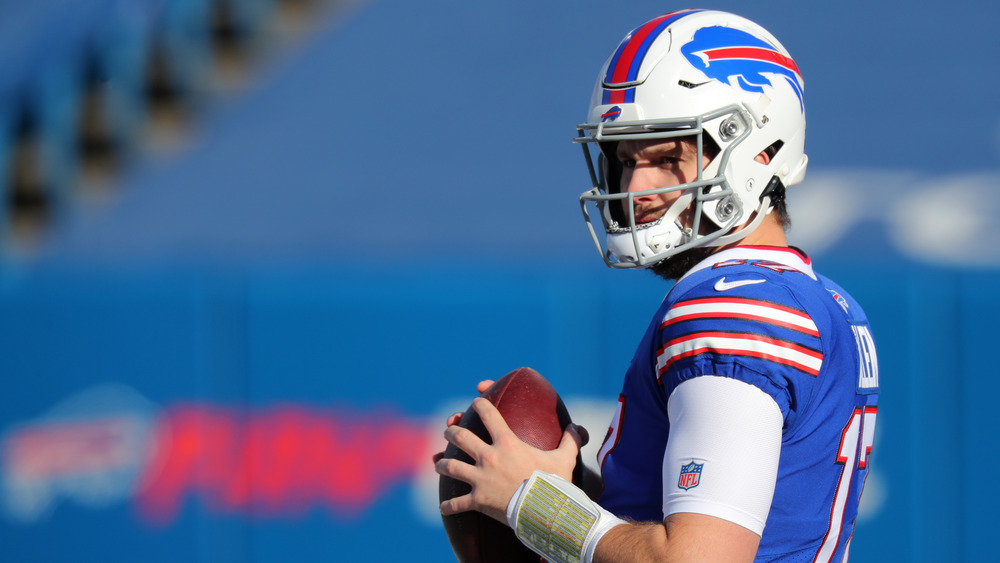 Timothy T Ludwig/Getty Images
Buffalo Bills quarterback Josh Allen is a rising star in the NFL. With the Buffalo Bills entering the mix for the Super Bowl and winning its first playoff game in 25 years, Allen's cache is bound to keep growing.
Allen was the seventh draft pick overall in 2018 when he signed with Buffalo. Before this, he played one year of junior college football and then transferred to the University of Wyoming. In college, he helped his team to win the division title. Allen is in his third season in the NFL, but he is slowly making waves and, if the Bills make it further, he may even find himself a rich man. For his rookie contract, Allen was offered a four-year deal totaling $21.18 million, revealed Spotrac. The deal included a $13.5 million signing bonus bringing him an annual salary of $5.3 million. This year, however, Allen will be earning $750,000 in wages with an additional roster bonus of $1.7 million.
Allen's contract with the Bills won't be up until 2023, but the Bills have been putting a lot of their eggs in his basket. Ringer wrote the team has really taken care of Allen and groomed his talent. The team even backed him despite fans taking their anger out on the quarterback for a spate of losses. All told, this puts Josh Allen's current estimated net worth at $5 million, according to Sportscasting.
Allen has his own cereal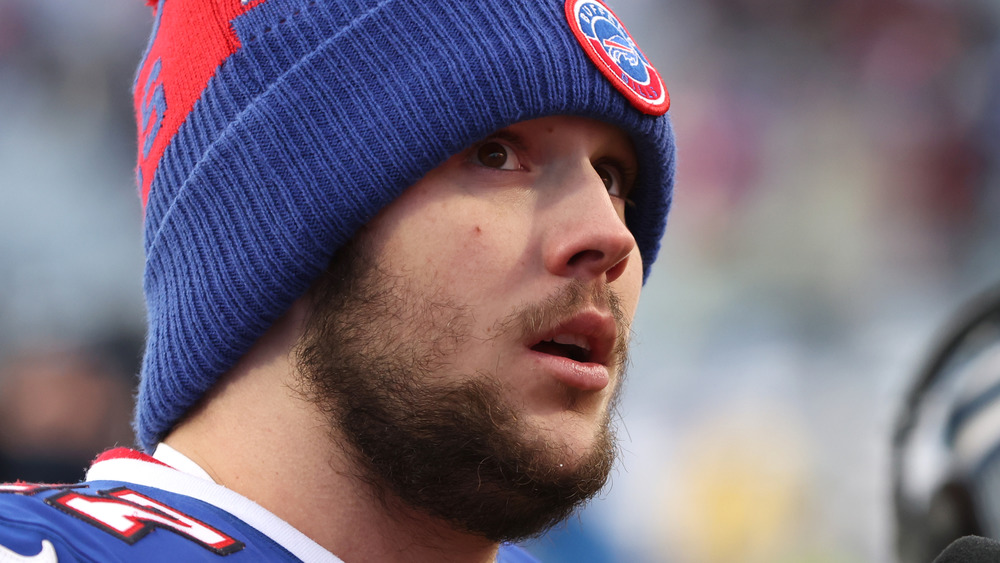 Timothy T Ludwig/Getty Images
While much of Josh Allen's net worth rightfully comes from his football salary, he's been slowly investing his cash into other businesses. 
Buffalo News reports Allen is signed with Nike and is an ambassador for Buffalo-based New Era Cap, which he's collected since he was a kid. He's also appeared in commercials for the Microsoft Surface tablet and a golf equipment brand. In fact, Allen ranks among the 50 top-selling merchandise by the NFL Player's Association. In 2018, Allen was number 46; in 2019, he jumped to 29. He even has his own cereal. Allen's cereal, Josh's Jaqs, benefits the Oishei Children's Hospital in Buffalo, of which he's a patron.
Allen, who grew up on a farm in California, also invested in his family's business. The family plans to produce pistachios though they reportedly haven't settled on a name just yet. Since the Bills are on fire this season, it's likely Allen's bankability will only continue to rise. Who knows, by the time he needs to renegotiate his contract, he might be breaking salary records.