Chris Godwin's Net Worth: The Buccaneers Receiver Is Worth A Lot More Than You Think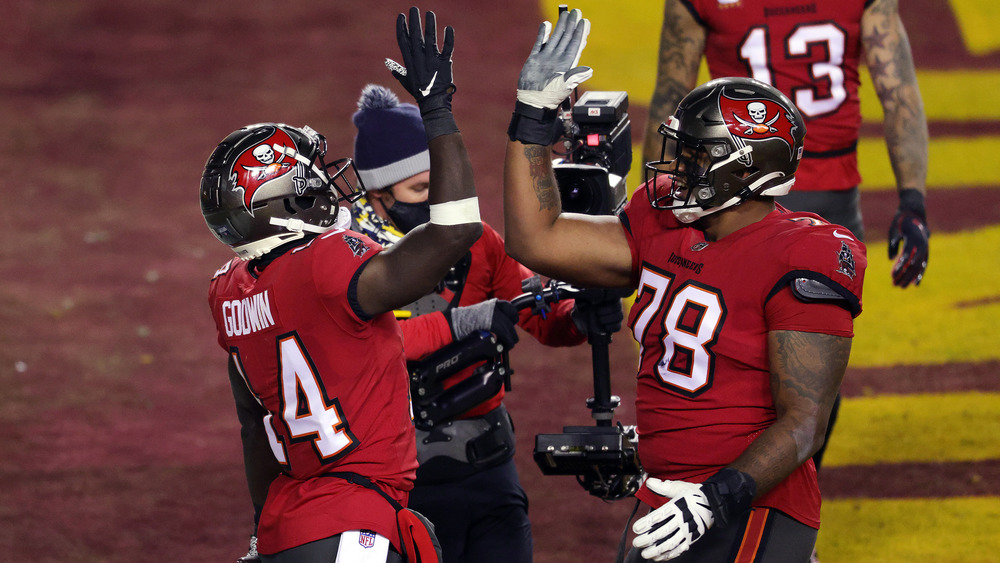 Rob Carr/Getty Images
Just in case you were wondering, Tampa Bay Buccaneers wide receiver Chris Godwin's estimated net worth is about $1.9 million. Most of that is from his salary as a football player, according to FameRanker.com.
Twenty-four-year-old Godwin (#14) signed a four-year $3.28 million contract with the team in 2017, according to Spotrac. This included a $792,164 signing bonus. Not too shabby, right? Still, CBS Sports says the price is a deal. "Tampa Bay is getting tremendous value in Godwin, who is heading into the final year of his rookie deal. ... He's coming off his best season in the NFL, catching 86 balls for 1,333 yards and nine touchdowns, which were all career-highs."
Godwin played college ball at Pennsylvania State University before becoming a Buccaneer in the 2017 NFL draft's third round. During his first season finale against the New Orleans Saints, Godwin showed his worth by catching nine passes for 111 yards and a touchdown. That performance led to him being selected as NFC Offensive Player of the Week.
For Godwin, it's pets, the Super Bowl, and beyond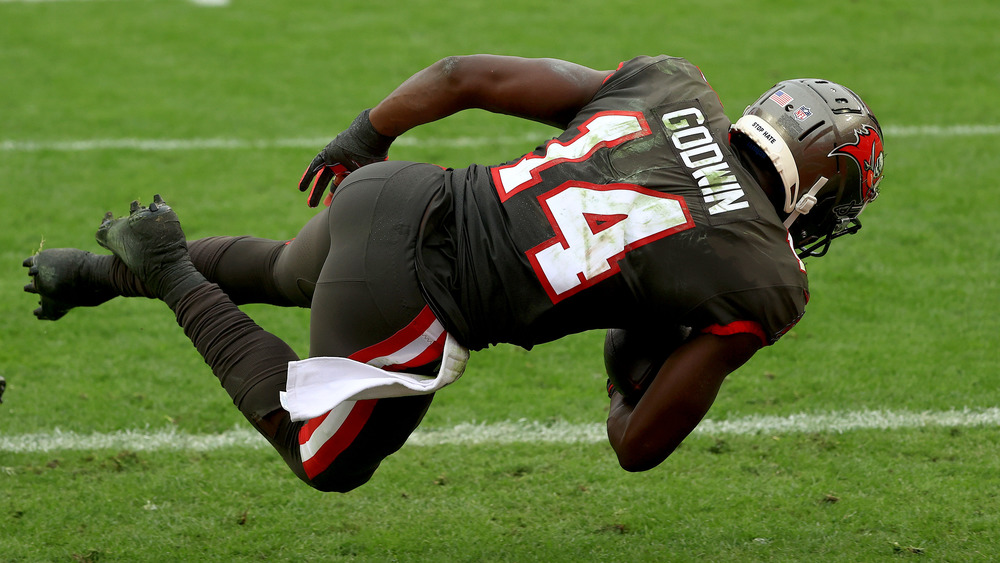 Mike Ehrmann/Getty Images
Chris Godwin continues to show his prowess on the field, most recently helping his team to win on Wild Card Weekend by defeating Washington, 31-28, as the Buccaneers battle in the 2021 NFL playoffs for a spot in Super Bowl LV on February 7. According to BucsNation.com, Godwin played well in the game, with five receptions, 79 yards, and a touchdown, though "he also had four drops, including one in the end zone." 
Still, Godwin may see even more big bucks after his current contract ends in 2021. "His net worth is expected to rise enormously as soon as he signs a new contract," explains Networthland. 
The young football star puts his cash to good use, too. Godwin started a charity with his fiancé, Mariah DelPercio, in 2019. The Team Godwin Foundation seeks to help animals by aiding shelters and rescue groups. Godwin, a dog owner, said to the Buccaneers.com, "We just want to go out there and spread the word and educate people."